Have you ever experienced idea block?
It's kind of like writer's block, except your don't even get to the writing part. You're still stuck on the idea.
You know that posting engaging content on your blog is important, and also that you need to post it regularly. So the idea block? It's totally getting in the way of your success.
That's a crummy, frustrating feeling that can dig away at both your confidence and motivation— but there's a fix. Keep a list of ideas that you can turn to when your school's blog needs writing but your brain goes blank.
To get you started, here is a list of 51 blog post ideas you can use to inspire your own topics or, yes, give your brain a break and swipe them, just as they are.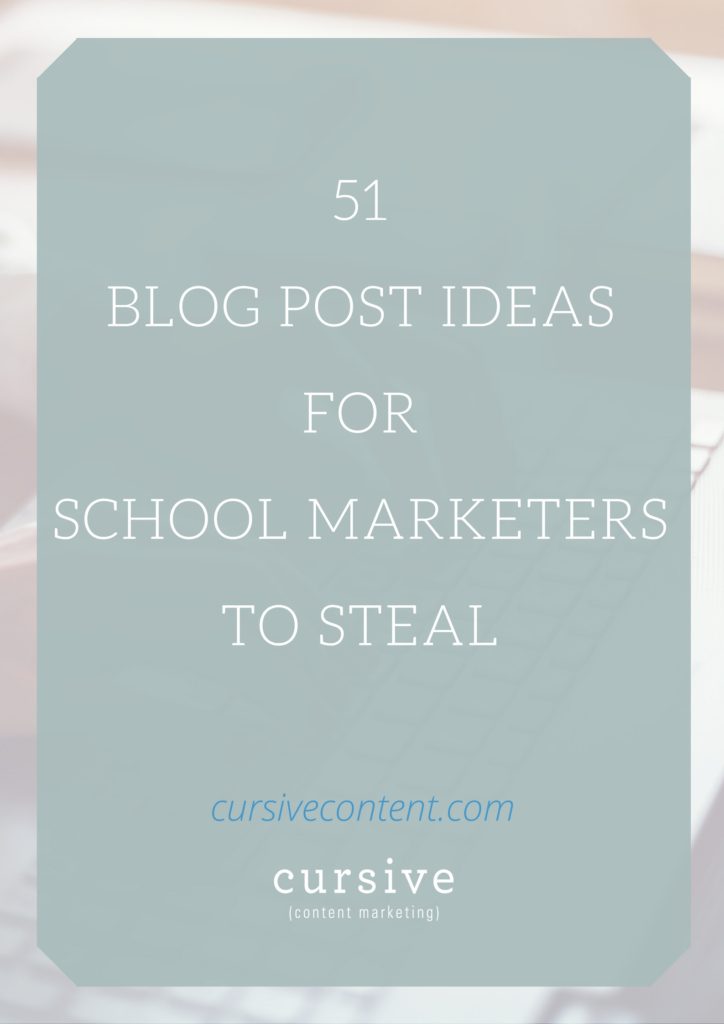 Create "The Ultimate Guide to [Your School]"
Answer frequently asked questions
Go behind-the-scenes of a program
Post an upcoming events roundup
Profile a successful alum
Create a "best of the blog" roundup
Share the story of your founders
Give a glimpse inside a new building
Review an event
Write about local spots to visit during the school year
Compile a list of books to read over summer vacation
Take readers on a virtual tour of campus
Write a "What to expect" post
Address common misperceptions about your school
Share your values/principles/mission by writing a "Why we care about _____" post
List the best study tips for students
Post about things to do this weekend
Share tips for creating a successful school routine
Review a local restaurant
Write a post that answers why students should choose your school
Provide tips for getting along with a new roommate
Make a list of exciting things to do on a rainy day
Share test-taking tips
Give advice on how students can stay organized
Craft  mid-term or final exams survival guide
Share end-of-the-school-year tips
Share admissions tips
Write a post on how to choose the right school
Interview the school president/principal
Profile a student
Capture a day in the life of your school mascot
Share interesting school traditions and their origin story
Write a "Spotlight on _____" a club/program/sport/activity
Share surprising facts about your school
Repurpose a school newsletter or newspaper article
Let a student guest post
Promote an event
Write a teacher profile
Provide an update to an old blog post
Post a tutorial
Share stats about your school
Write a post that supports and promotes other content (ebooks, video series, etc.)
Create an infographic and write about it
Host a giveaway
Ask readers what they want to see on the blog (then use this as a list of even more ideas)
Roundup inspirational quotes for students (create graphics for each to make them extra shareable!)
Start a "_____ of the Month" series. (Get creative with filling in the blank: book, professor, local business, student, major, club, etc)
Write up a Q&A session with a department head
Use terminology specific to your school or a certain program to write a "What is…" post
Write a "Beginner's Guide to _____" to help ease the mind of potential or incoming students
What are your no-fail, go-to ideas? Share them with your fellow school marketers in the comments below.