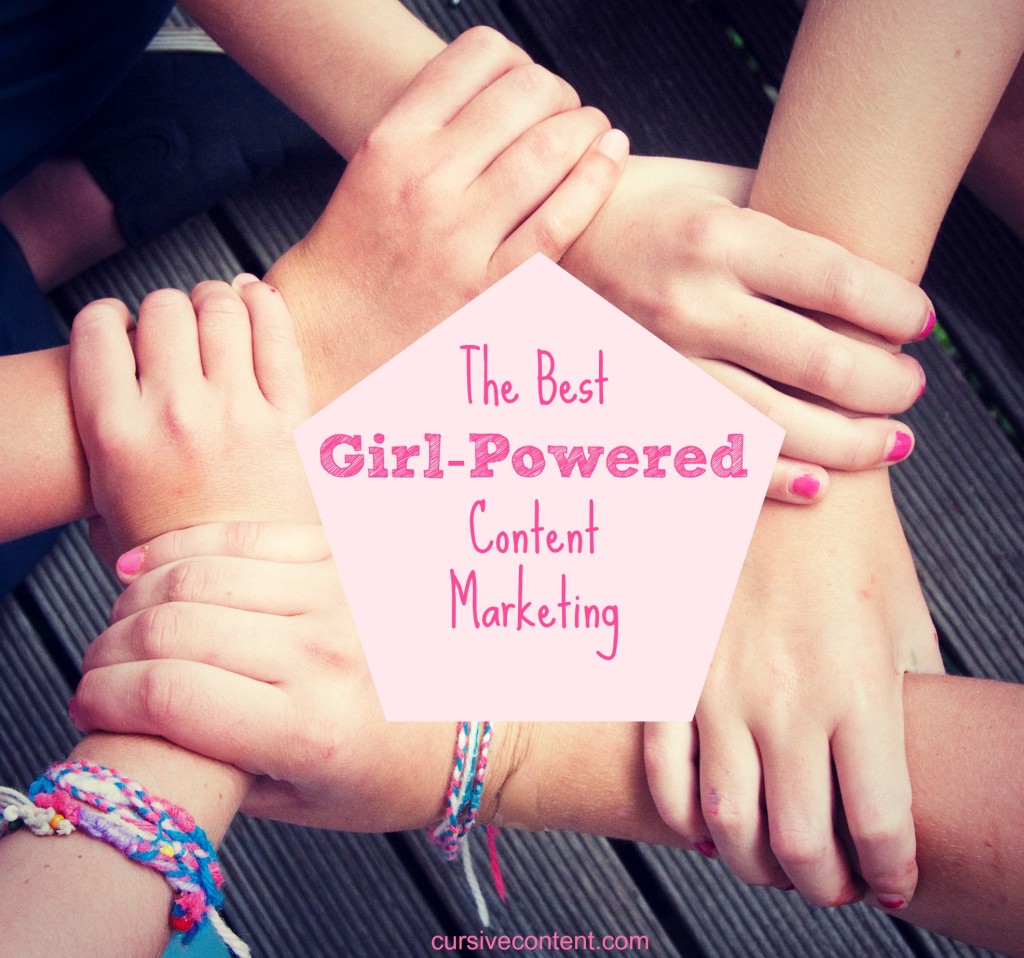 It's Women's History Month, a time to celebrate the kick-ass ladies who have made it possible for ladies to be kick-ass – or, as the more proper WomensHistoryMonth.gov says, "paying tribute to the generations of women whose commitment to nature and the planet have proved invaluable to society."
Here at Cursive, we champion girl power. That's why the recent resurgence in positively powerful female campaigns – with strong content to back them up – makes us want to #leanin and learn more.
Here are some of our favorite female-inspired content marketing programs:
1. #GirlsCan
Journalist Soledad O'Brien is partnering with mega beauty brand CoverGirl to help girls break down barriers and achieve their goals through the #GirlsCan movement.

The campaign brings together some pretty powerful girl voices – Katy Perry, Ellen Degeneres, P!NK, Queen Latifah, Becky G and Janelle Monáe – to change perceptions and be strong. With a GirlsCan YouTube channel and Girls CANversations happening on Facebook, Twitter and Instagram, this campaign is a positive rally cry for any girl or woman who has been told "girls CAN'T."
The Hollywood Reporter reports that O'Brien will work with CoverGirl to develop content that is "dedicated to shining a spotlight on the challenges faced by many young women in the pursuit of education, as well as the underlying causes."
More than just pretty videos filled with pretty faces, this promising campaign aims to tackle bigger issues and demonstrate how #GirlsCan do it all.
2. Getty Images LeanIn Collection
We've all seen that blasé stock photo of the woman in a boxy grey pantsuit running a PowerPoint presentation. Or the mom in sweatpants playing with a cherub-faced toddler.
They're boring, uninspiring … and, according to Facebook's Sheryl Sandberg via The New York Times, "hurting girls and women by feeding into old-fashioned stereotypes."
That's why Sandberg's nonprofit organization LeanIn.org partnered with stock photography provider Getty Images to change the way women were portrayed in these types of images.  The LeanIn Collection includes women, men and children in non-stereotypical roles: women as builders and surgeons; young girls playing sports like hockey and skateboarding; fathers snuggling with babies.
This campaign is a subtle way to take on a big issue, but that's what makes it so intriguing. Imagery – especially online imagery – is more important and influential than ever, so by changing the "normal" way we see women and girls in media, we can begin to change the definition of "normal".
3. BeingGirl.com
The robust content hub BeingGirl.com, developed by Procter & Gamble, is filled with information aimed at helping girls through puberty, from body and image issues to relationships to entertainment and more.

A fantastic example of content marketing, this site educates girls and parents on key issues, while subtly introducing P&G's products as solutions to common problems and needs. With its website at the core, BeingGirl shares its content with communities on Facebook and YouTube. Its "First Time for Everything" and "Period Diaries" video series' have hundreds of thousands of views, and its "Ask the Experts" section sparks real conversation – some of its answers have hundreds of comments.
BeingGirl is a smart hub for helpful and informative information developed with spot-on tone and style for this target audience. It's building confidence in girls – and in the P&G brands – during what can be a pretty stressful time in life. Period.
4. Amy Poehler's Smart Girls
Smart Girls at the Party (known as Smart Girls) is a growing online network and community movement aimed at helping girls and women "change the world by being ourselves."

If that's not rad enough, the community is run by one of the raddest chicks around – Amy Poehler. And she has a huge presence on the site, answering reader questions, starring in both zany and informative videos, and writing frequent blog posts. The site includes fantastic resources, campaigns to take action, and ways to get involved in the community.
While Smart Girls is not brand-sponsored like many of the others included here, it's a way for Poehler and her cohorts to build their personal brands around something that truly makes a difference. Poehler is not only creating her online presence, but she is also positioning herself as a champion for smart, driven girls everywhere.
5. The Girl Effect
Of all the campaigns included, The Girl Effect had the most impact on me. In its own words:
"The girl effect is a movement. It's about leveraging the unique potential of adolescent girls to end poverty for themselves, their families, their communities, their countries and the world. It's about making girls visible and changing their social and economic dynamics by providing them with specific, powerful and relevant resources."

What an amazing cause for the Nike Foundation to get behind, in collaboration with the NoVo Foundation, United Nations Foundation and Coalition for Adolescent Girls.
Although the campaign is a few years old, The Girl Effect website is still stunning, informative and up-to-date. Strong graphics, powerful calls-to-action and compelling news and statistics weave together a story that is hard to ignore. It's a truly immersive experience that I suggest exploring – and using as inspiration to tell your own story in a unique and compelling manner.
6. #BanBossy
While I like the idea behind the BanBossy mega-campaign sponsored by both Sheryl Sandberg's LeanIn.org  and the Girl Scouts – I mean, who doesn't want to "encourage girls to lead"? – I understand the current backlash.
The campaign brings together powerful female voices like Beyonce, Condoleezza Rice, Jane Lynch, Jennifer Garner and many others to encourage us all to stop using the word "bossy" to describe strong-willed little girls.

The argument from many – including The New Yorker, Time.com and content marketer Ann Handley – is that the word bossy is not actually negative, and that focusing on its negative connotations "plays into a negative characterization of feminism more generally," as Ann Friedman writes in New York Magazine. (Plus, isn't it a little bossy to demand people to ban a word from their vocabulary?)
My take? #BanBossy works as a marketing call to action. It's simple, it's easy to remember, and it's easy for people to rally around the idea.
While it may not be the precise wording to represent what the movement is actually calling for (eliminating the confidence gap, disrupting stereotypes, and encouraging girls to stand up for themselves), it works to shed light on the issue and make us think twice about how we perceive girls who take on a leadership role.
What are your favorite girl-powered campaigns? Add them to the comments below, and check out our Cursive Leans In Pinterest board for more inspiration.