What's your favorite consumer brand?
Now, if you're a true fan of this brand, and own many of its products, and keep up on brand news, and talk about said brand to your friends … it's most likely doing content marketing right.
Why? Brands that are able to convey an authentic story while providing you with real value beyond their core product offerings are doing so through smart storytelling – whether you recognize it as such or not.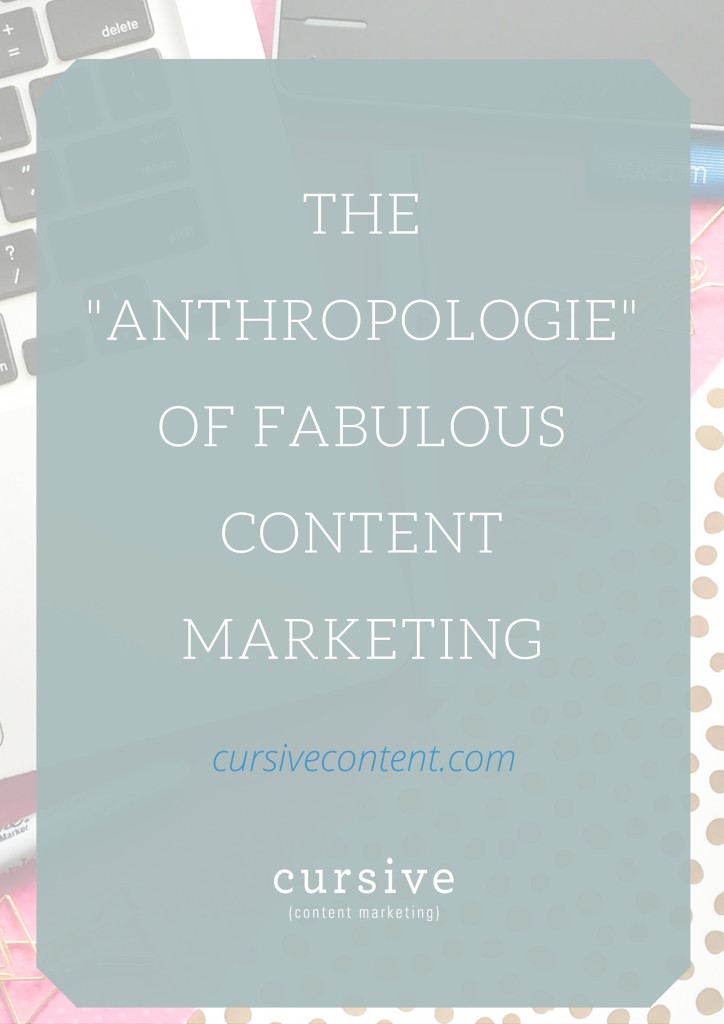 Take one of my personally favorite brands – Anthropologie. This eclectic yet increasingly popular store is a self-proclaimed "destination for women wanting a curated mix of clothing, accessories, gifts and home décor that reflects their personal style and fuels their lives' passions, from fashion to art to entertaining."
I mean, that alone says it all. Anthropologie has mastered the art of balancing curated and created goods in its stores, as well as in its marketing presence.
From its beautiful catalogs to its bubbly blog to its upscale yet estate-sale styled stores, the Anthropologie brand has homespun a lacy web of content confection that dazzles us at home, online and in person.
Here are some of the reasons Anthropologie is a storytelling superstar, examples from which ALL brands – both B2C and B2B – can learn:
1. It hasn't skimped on the print. Yes, print – of the paper variety. Anthropologie's catalogs are beautiful look-books that tell a story and create a fresh, intimate and effervescent world filled with colorful baubles and, oh yes, fantastic clothes. Hidden within its pages are whimsical calls-to-action that I defy you to ignore:
"Here is what you must eat (in Paris): Strawberries with your bubble bath. Macarons (but never less than three). Tartes tartes tartes!"

"A month of champagne cocktails: blog.anthropologie.com"

"We get street style. We get you. Book a free styling session: anthropologie.com/ps"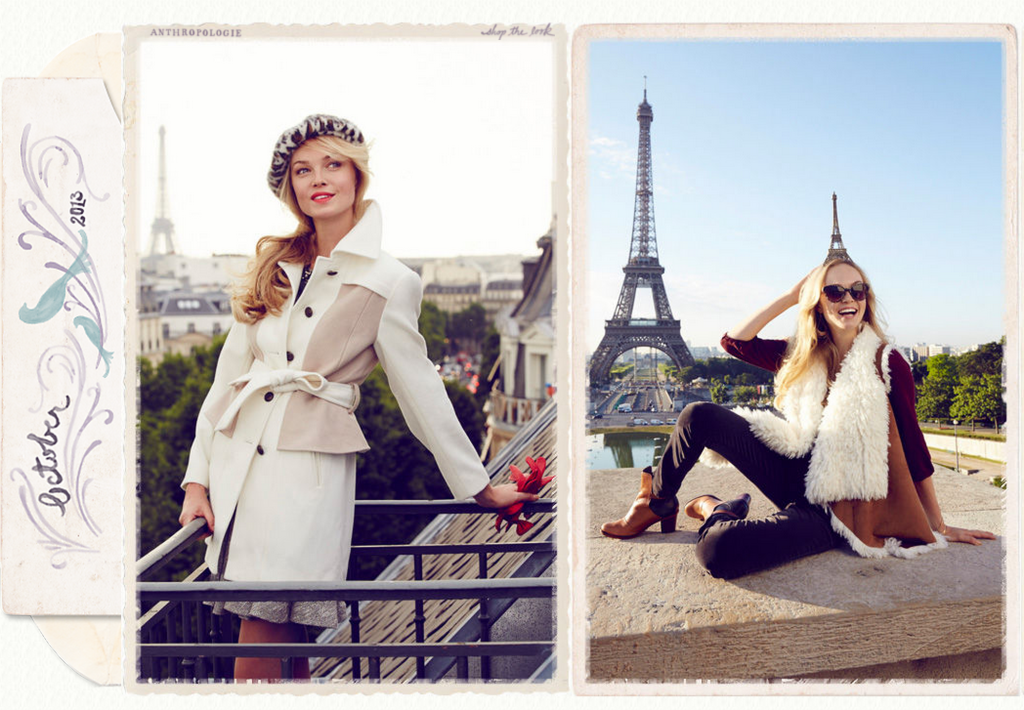 2. Its blog is a brand lifestyle hub to be envied. With a visual Pinterest-esque layout driven by its own stunning product images and clever clips of content, Anthropologie's blog is a collage of living the brand lifestyle, the perfect lesson book for all fans who dream of living within the store's pristinely cluttered walls. From playlists to organization tips to interviews with designers … from recipes to cocktails to snippets from the quarterly journal Darling … this blog covers it all. And it's good. Plus, the content is artfully supported by products that can be ordered then and there. Not too shabby (chic).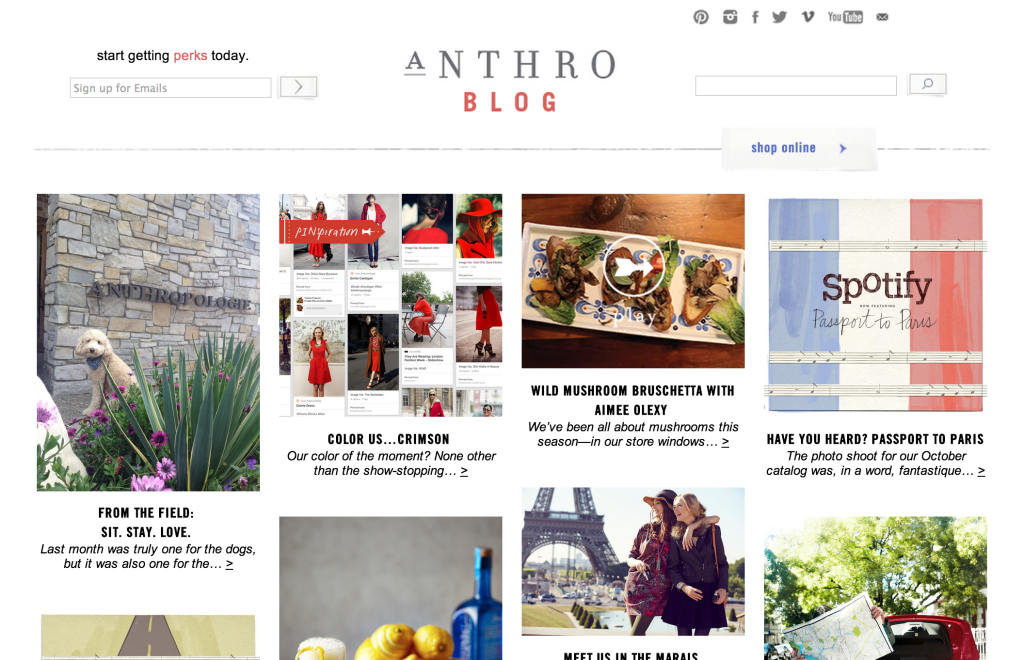 3. It's social savvy. Pinterest, Instagram, Facebook, Twitter, Vimeo, Google+, YouTube … plus said blog. All perfectly coordinated to support the latest brand content. (Right now, it's all about Paris, mes amis.)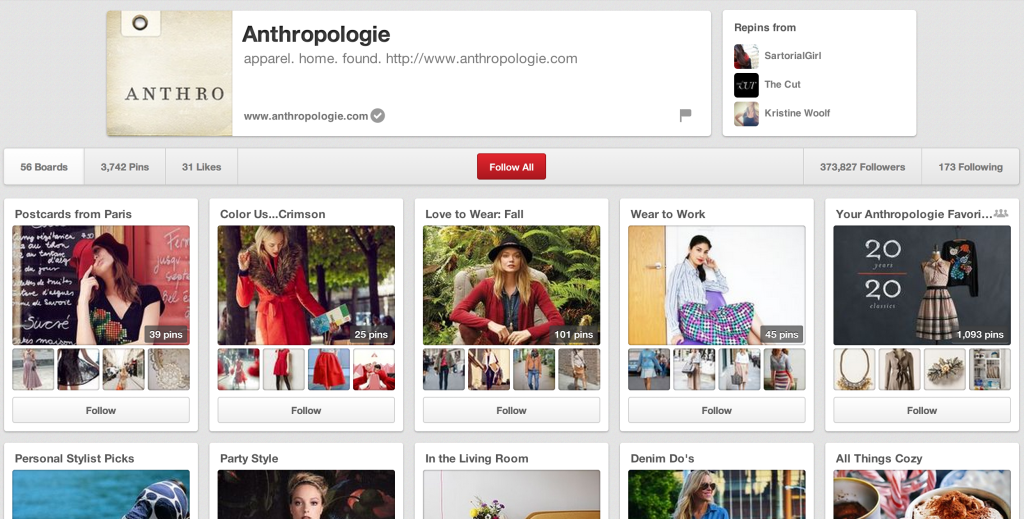 4. In-store still matters. According to the latest research from the Content Marketing Institute, in-person events are still a huge and rewarding component of content marketing. Anthropologie does in-person right, first with its store experience, and second with its in-store events. Fashion shows, in-store concerts, pet adoption days, DIY tutorials and more … these are all events held at local Anthro stores, and fans are invited if they sign up for notifications.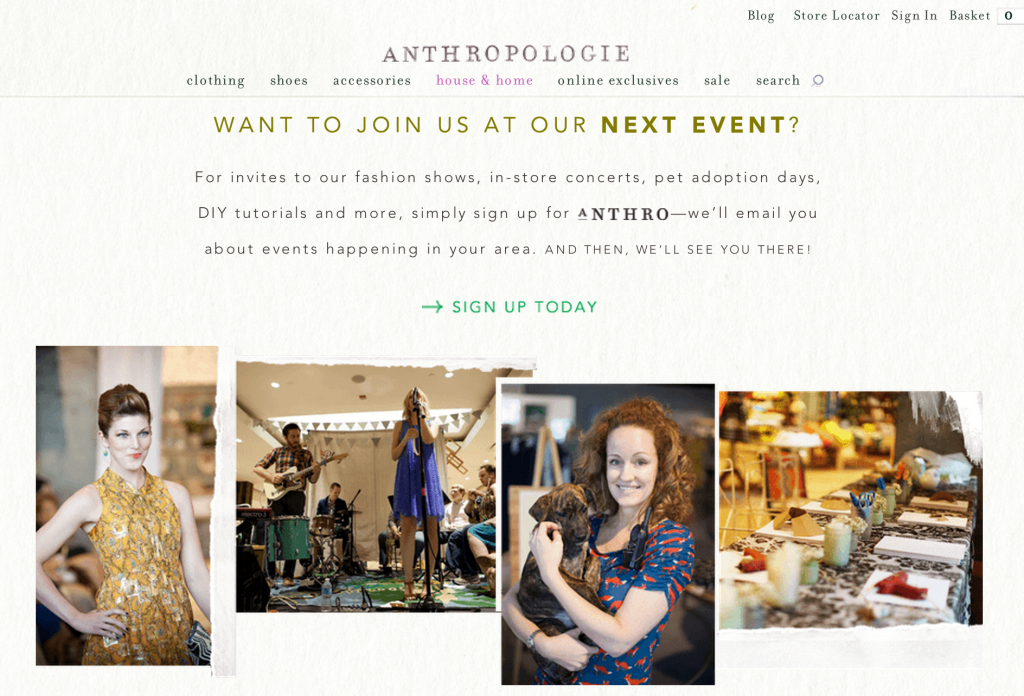 I know what you're thinking: Anthropologie IS also selling items that have a mass appeal. So it may be hard for a B2B marketer to see how to make the leap from this visually stunning brand to his or her own.
But if you strip away the outward beauty of Anthropologie's products and focus on its core content strategy – consistent brand story, hub for smart content, strategic social and inbound efforts paired with traditional marketing – it's something any business can apply. And that's what makes it a great content case study.
(Plus, I got to do some fabulous online shopping while I researched this post. Oh la la.)
Want to learn how to apply an Anthropologie-esque approach to your content. We created the Swipe Workbook for Schools so you can steal big brand ideas and make them your own. Get yours now.
(Images via.)
Emily is the owner of Cursive Content Marketing. She has been content marketing since the sixth grade, when she created a neighborhood newspaper to build her babysitting authority. (It totally worked.) Today, she helps brands drive business with smart content.
BE A CURSIVE INSIDER.
Get weekly EASY, actionable tips you can use right away to strengthen your school story.