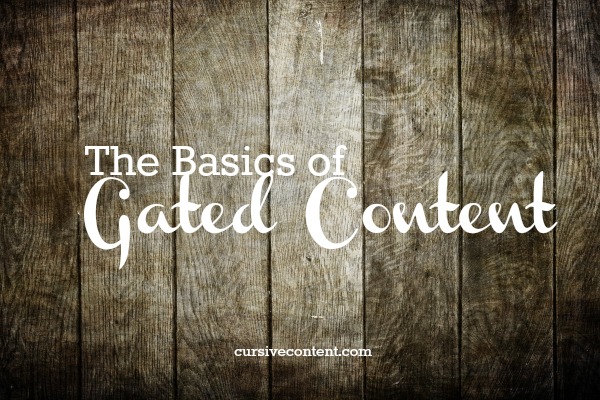 Traditionally, gates exist to keep things in or out. The last thing you want a gate to do is entice those who are out to come in. Unless you're a content marketer.
We create gates in the hopes that people want in. We hope our gated content is so enticing that people want access to it badly enough to give us something in return. Because we know that, when it comes to content marketing, gates can turn strangers into customers.
So, what makes good gated content?
Your gated content should be a step above the content your audience can find in an ungated format. It should be…
Unique: Gate perspectives, insights and data that people can't find anywhere else.
Substantial: This doesn't necessarily mean long. Your gated content can be an eBook created out of a series of related blog posts or a short but insanely helpful checklist. Either way, your audience has to immediately see that there's value in giving you some information in exchange for what's behind the gate.
Pretty: If you haven't taken the time to make your content look professional, it won't be taken as seriously. Make it look as good as it is!
What information should you ask for?
While it would be nice if we could find out every detail of a prospect through one piece of gated content, that's not going to happen. The simpler it is, the more likely your audience is to give you their information. Entering a name and email address takes a few seconds, but entering a name, company name, email address and phone number takes twice as long.
Besides time, there's the general annoyance factor. Why do you need to know someone's phone number if they just want to check out your video? You don't want to frustrate your prospect or make them suspicious of you, so make sure you're asking for necessary information first.
HubSpot's progressive profiling tool provides a phenomenal solution to this problem by asking new questions of repeat visitors, but if you don't have access to such a tool, make sure your ask is in alignment with what the prospect will get.
How should you promote gated content?
If you've created a piece of content that's unique, substantial and pretty, you've invested a good chunk of time into its creation and need that time to pay off. Once you've created and gated your piece, it's time to promote it
Consider adding a sidebar call out to your website and blog. Reference the piece where it makes sense to do so, whether that be in copy on your website or a call-to-action on your blog.
If you're promoting your gated content outside of your own domain, do so wisely. Recently, content hub generator Uberflip received some flak on LinkedIn for a sponsored post about gated content that linked to gated content. My first reaction was similar to many of those on LinkedIn—it feels ironic that an ad about the do's and don'ts of gated content links to a gated webinar. I don't know who Uberflip is, and I barely know what this webinar is about, or why Uberflip has the authority to tell me about it, so why would I give them my information? When I later encountered an Uberflip ad on another site, I was curious enough about this approach to reach out to Uberflip's Director of Marketing Hana Abaza.
Abaza explained that they're testing a few options with their ads. There's a version that goes directly to an ungated landing page, another version that goes to a landing page with a delayed gate and another (the one I saw) that goes straight to a gated page. She acknowledged that they had gotten mixed feedback on the third version but also mentioned that they have seen conversions with that option.
The point? Running A/B tests is an important part of figuring out what works for your audience. While I don't think I would choose to run that third option, Uberflip is testing and adjusting their approach based on actual data. That's smart marketing. If you're not sure what your audience will respond favorably to, testing is better than assuming.
Take the time to come up with a great gated content offer.
Remember: unique, substantial, pretty. To create something that has all of these qualities is not a task you'll complete in a day. Take the time to get it right. A well-done piece of gated content can help create more opportunities for lasting connections with your audience, giving you better chances of turning them into prospects, leads and, eventually, your new favorite client.
Need some help brainstorming the gated content idea that your audience will be clamoring for? Give us a call.