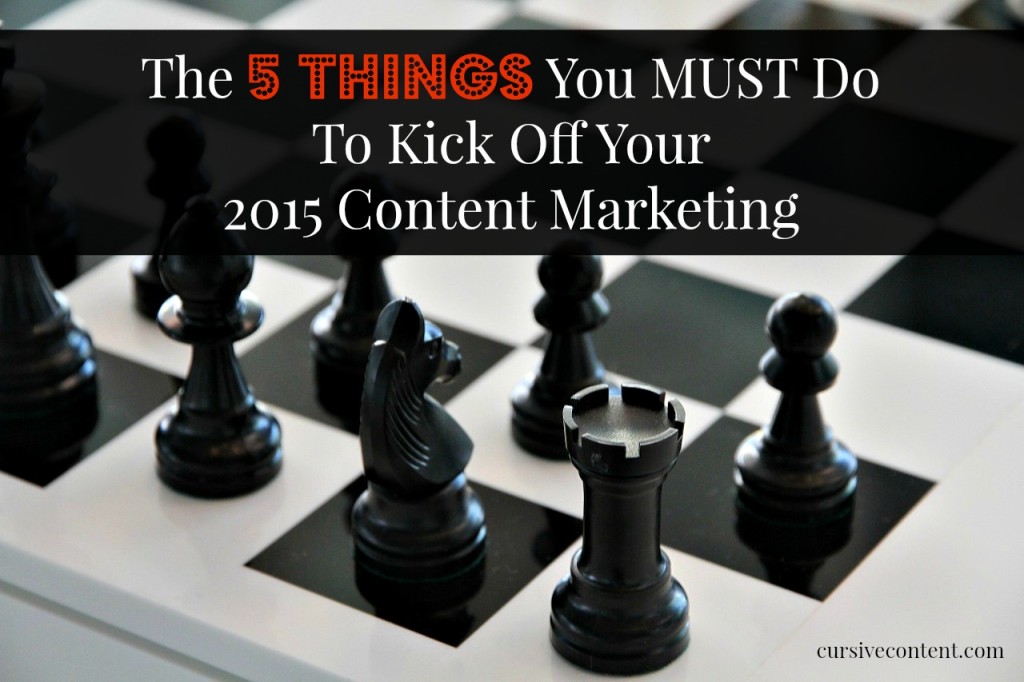 We're in the thick of the holiday season, but 2015 is right ahead. And it wants to know: Are you ready to take on content marketing this year?
Let me answer that for you: Yes, you are. You can do it. You just need to do a little homework.
Here's your assignment: 5 things you have to do before you kick off your 2015 content marketing efforts. If you're just starting out, these may be things you've never done. If you're a content marketing veteran, these are things you need to revisit and refresh. Either way, you've got some work to do before you can greet 2015 with a confident smile. So let's get started.
1. Create Buyer Personas
I personally hate the term "buyer persona" because it feels really, well, impersonal. And creating your buyer personas should be the complete opposite.
The purpose of a buyer persona is to fully understand the individual person to whom you're speaking through your content. As Hubspot defines:
A buyer persona is a semi-fictional representation of your ideal customer based on market research and real data about your existing customers.
Your buyer personas should guide all of the content you produce. If you don't have them defined, you're missing out on an opportunity to truly understand the value you bring to your audiences – and how that value can best translate into consumer action.
I Need To Do That: If you haven't created your buyer personas, start by checking out our Buyer Personas for Content Marketing Pinterest board. You'll find great background materials as well as templates you can use for buyer persona creation.
I've Been There, Done That: Have buyer personas in the can? Go back and review them to make sure nothing has changed. Has one of your audiences migrated to a new social platform? Has a new need or concern emerged? Personas – just like real, live people – are constantly evolving.
2. Perform a Content Audit
One of the misconceptions about content marketing is that you have to create massive amounts of content. Untrue. When you content market, you use smart content to connect with (i.e, market to) your audiences. This means providing content that is meaningful and appealing … not necessarily new.
So before you get lost in the vast emptiness of a blank Word document, it's critical to know what smart content already exists in your organization. And the best way to gain this knowledge is through a content audit or content inventory.
Ruth P. Stevens, author of Maximizing Lead Generation, shared her content-audit wisdom at the recent Content Marketing Institute Master Class. She explained that to complete a successful content audit, you must identity the content you have, categorize that content and find any gaps in information. And she used a massive spreadsheet.
The spreadsheet is what scares people. But it's an important necessity in this process. So if you don't have your content inventory organized in nice rows and columns, do it and do it now.
I Need To Do That: You can find a variety of content audit resources and templates online. How to Do a Content Audit – Step-by-Step on the Moz blog is a great place to get started.
I've Been There, Done That: Have you completed a thorough content audit in the past? Well, it's time to revisit that spreadsheet. Make sure it's updated with all new content, and that any new content needs are identified.
3. Analyze the Competition
Your content will have to compete for your audiences' time and attention. And while online competition is vast (you're not only competing against others in your industry, but also every single content creator on the Internet), it's still important to understand what your competitors are up to.
Here at Cursive Content Marketing, we use our own content marketing grading system to audit the content marketing efforts of our clients' competitors. We give each brand a benchmark grade (including our clients!), and we use that grade to determine areas of opportunity and challenges.
I Need To Do That: If you're doing your competitive analysis on your own, you can use a similar approach. Explore your competitors' online content to determine their strengths and weaknesses. Review websites, social channels, eNewsletters, videos … anything you can access. Make note of content that seems to resonate with audiences, and try to determine trends.
I've Been There, Done That: Even if you've gone super-spy with your competitive analysis in the past, it's important to check in on the competition regularly. Where are they innovating? Or, where have they fallen behind? Stay on top of your industry to stay on top of your audience.
4. Find Your "Sweet Spot"
Before you begin producing content, ask yourself: Why?
Why are you producing content? What do you have to say that is better than what others are already saying? Or, in Joe Pulizzi's words, what is your sweet spot? In his book Epic Content Marketing, Pulizzi says:
"Your sweet spot is the intersection between your customers' pain points and where you have the most authority with your stories. This takes us back to one of the original questions: Where can you be the leading expert in the world?"
You must be able to define your sweet spot before you begin producing content. You need to be able to clearly and succinctly explain your unique perspective and the benefit you provide to your audience. You have to have the confidence to take ownership of your expertise.
I Need To Do That: Find your one compelling statement of worth by answer these questions:
In what area do we have the most authority? What do we do better than anyone else?
How does this authority help our target audience? Why should our audience care?
What will our audience get from listening to our perspective? What pain points will be healed?
I've Been There, Done That: If you have your sweet spot defined, go back and make sure it's still relevant to your organization today and where your brand is headed. You may not have to come up with an entirely new sweet spot, but you may need to retarget.
5. Talk Amongst Yourselves
Once you have completed the background materials, it's time to get the team together for some good, old-fashioned brainstorming.
Your employees are the people who know your brand story inside and out. Make the most of this insight, expertise and loyalty by bringing them into the content marketing conversation. Turn your employees into ambassadors by empowering them to live and share the brand story.
I Need To Do That: Get employees engaged in the content marketing process by making it easy for them to share their thoughts and ideas. Create an employee editorial board that meets regularly to discuss content. Allow employees to submit their ideas via email or a shared online portal. Publish an employee eNewsletter that keeps employees up-to-date on the latest content. Involve them throughout the process to create a captivated audience from the inside, out.
I've Been There, Done That: Yeah…do it again. Unless content marketing is a core component of employees' jobs, they may not recognize the value in the information they posses. Regularly check in with your employees to see if they have new ideas, customer insights or stories to share. Ask them what's working, what's not working, and where they need support. Involve them in the storytelling process.
So there's your assignment. It's a hefty one, but it's one I am confident you can complete. Here's to making 2015 your best marketing year ever!
Need one-on-one support with any of the above? Learn more about our services, or sign up for a Script Your Story session to kick off 2015 with a strong, personalized content marketing strategy.