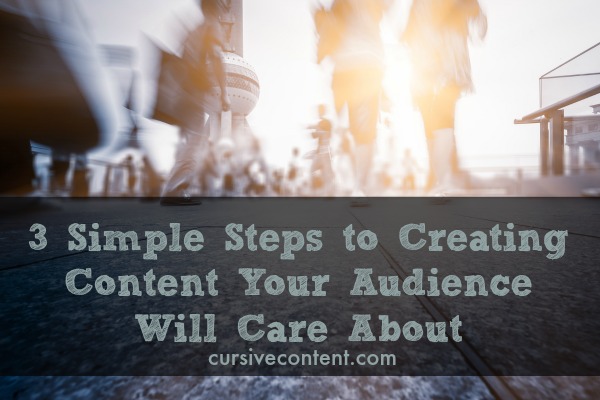 If you want people to read your content, share it, and come back for more (which, of course, you do) then there's an important rule you need to remember:
Write for your audience.
This sounds easy enough, but it's something a lot of companies struggle with. There's a tendency towards the old-school marketing and sales mentality of pushing products and services at every turn. That's not going to help your content marketing plan succeed, but a focus on your customer will.
Here's how to get in the audience-centric mentality:
First, find out who they are.
You've probably already defined your target audience, but it's no longer enough to stick to the basic demographic information. We're in the age of buyer personas. Have you uncovered what your audience is interested in, what they worry about, how they prefer to consume information—even how they spend their free time? The broader the picture you have of this person, the easier it is to write in a way that feels like you're speaking directly to them. Surveys and even informal polls on Facebook can help fill in the answers you're not sure of.
Now, write about topics that interest them, not you.
When you know their interests, worries, fears, strengths and shortcomings, you can start writing content that will impact them. Your editorial calendar shouldn't be filled with content that solely drives an internal agenda. Rework or delete content ideas that fall into this category, even if it means starting over with a blank editorial calendar.
Now, put together a brainstorming session. Include people from throughout your organization—with an emphasis on anyone who interacts with customers. Start by asking them the questions and concerns they hear most often from your customers and potential customers. You'll have a long list within minutes, and each of those questions can be used as the basis for a piece of content.
There's no better example of how well this approach works than Marcus Sheriden, one of content marketing's most well known success stories. He attributes $1.7 million in sales to the first blog post he wrote, which addressed his customers' most frequently asked question.  That's an incredible ROI for a short blog post that Sheriden and his team already had the knowledge to write about (no research or focus groups required). Oftentimes, these fundamental questions get overlooked because they seem too basic. But your content doesn't need to be complex, and every idea doesn't need to be groundbreaking, as long as its focused on what the audience cares about.
Great content ideas are also often passed up because they're viewed as risky in some way. Sheriden was writing about the cost of a fiberglass pool, something that neither he nor his competitors had ever wanted to directly address, because it was a complicated question. But Sheridan's willingness to be honest paid off in a major way. Being vulnerable can actually be a good thing.
When your content is created with the audience in mind, it's more relevant, helpful, honest and interesting. And therefore, so is your brand.
Then, listen for feedback.
Once you've published your content, start listening. Pay attention to the signals that scream more loudly—the comments, likes and shares—along with the softer signals—the amount of blog traffic, how much time people are spending with your content. When looked at together, you'll have a good idea of the overall sentiment towards your content.
Now you can refine your content, update your editorial calendar and focus on getting it right every time. Or at least almost every time. No one is perfect, and in your quest for amazingly relevant content you're probably going to fall short a few times. Devote yourself to understanding why it didn't work. Again, don't be afraid to ask for feedback. People like to have a say, and even just the act of asking can help your brand appear more trustworthy and caring.
If a piece didn't work, you can revise it into something more meaningful to your audience. If a piece was a huge hit, you should repurpose it in another form to get more life out of it. As long as your actions are driven by audience feedback and data, you'll be on the right path.
And consider it part of your content marketing continuum: check in with your audience regularly, review your work to be sure you haven't shifted focus, and analyze your results. Your audience will thank you.
Don't waste another minute on content that doesn't get results. Sign up for our Script Your Story Sessions, where we'll help you develop a straightforward and doable plan for your content marketing efforts.