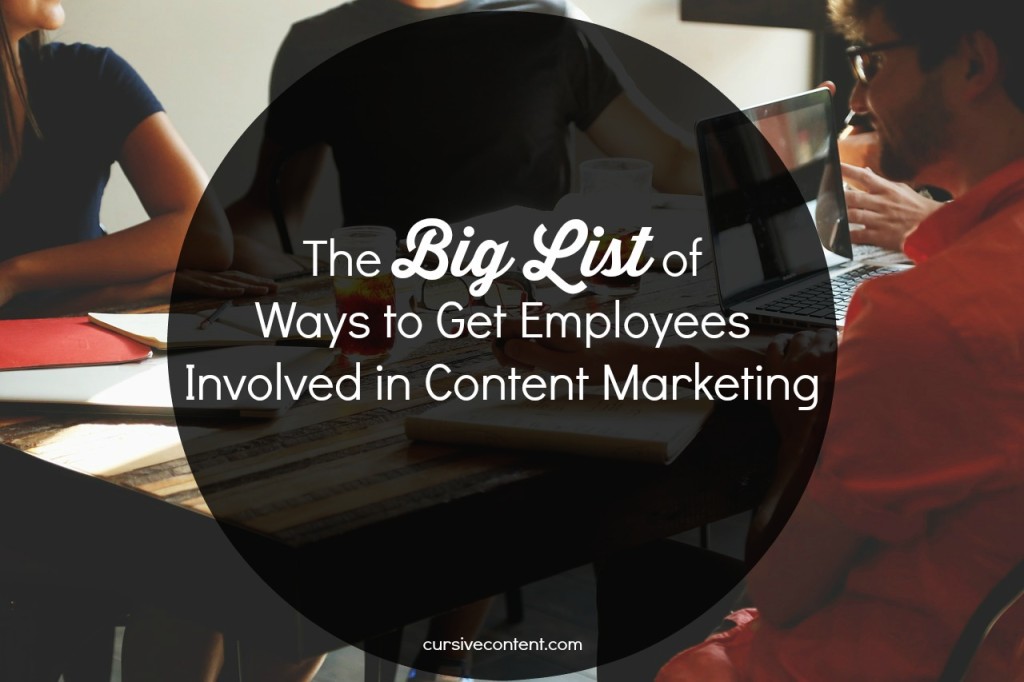 Your employees are a secret weapon for unlimited content marketing inspiration – that is, if you can get them engaged in your content marketing efforts.
And while encouraging your entire employee population to help create content may seem like a daunting task, it's worth it. Your employees are the ones who get the sales cycle. They know your audiences. And they have lots of stories to tell.
So how do you begin to engage employees in your storytelling efforts?
Here's our big list of ways to get your employees involved in content marketing:
Tell them about your content marketing efforts! In order to get your employees involved, they first need to know 1) what content marketing is; 2) why you're doing it; 3) what they can do to help. Keep it simple.
Ask for input. Once employees understand the scope of your content marketing efforts, invite their input. Let them know that ideas and comments will all be seriously reviewed – and if someone submits an idea that changes your strategy, acknowledge it. This way, employees feel invested in the initiative.
Ask about hidden talents. Perhaps someone on the IT team is also a great storyteller. Perhaps a person in accounting is also a maverick proofreader. Let your employees know about the support skills you are seeking, and you never know who might have just the talent you need.
Create an employee editorial board. Include employees from various departments, and ask these employees to contribute stories and ideas. You can even feature your editorial board on your blog or website to give members heightened exposure and credit for their work.
Create story prompts. Often, employees don't recognize the stories they have because these stories are so woven into their daily jobs. Every once in a while, send your employees an offbeat or unusual question. Questions like, "When was the last time you bragged to your family about doing a good job?" and "What happened the last time a customer complimented you?" will help them think about their jobs in a new way.
Host story (happy) hours. Create somewhat informal gatherings on Friday afternoons to kick off the weekend and share stories from the week. Assign one person to make note of any stories that could support your content marketing efforts.
Find out what they read. Employees from various departments will have various professional interests. Find out what business-related publications they read to expand your content curation efforts.
Find out whom they follow. As with what they read, whom they follow on social media platforms can also be a good source for content – or influencer connections – that your content marketing team may otherwise miss.
Ask for interesting articles or news. Use your employees to help curate information from their sources. Have employees email articles they feel relate to your content marketing strategy to either one person on your team or an established email account, so that you can keep an inventory.
Ask for frequently asked questions. Have employees submit the questions they are asked most often by customers, and use these questions for content creation ideas.
Ask for testimonials. Ask employees to share testimonials from happy clients, or have them reach out to clients with whom they have relationships to obtain new testimonials.
Ask them to curate your own old content. Ask employees if there are any pieces of content created by your business that they find particularly helpful or interesting. You may uncover an old piece of content worth updating or sharing.
Have them provide feedback on popular content. If a particular piece of content is performing well with your audiences, ask your employees if they would have anything to add to it or a new take on the topic. This can help you tackle the topic in a deeper way or approach it from a new angle.
Make them video stars. Your employees have great expertise to share. Give them the opportunity to share their thoughts, advice, insights and stories on video. This not only creates great content, but also demonstrates your team's authority.
Provide plug-and-play content. When you publish new content, give your employees ready-to-post social media updates that they can easily share across their own social platforms.
Create connections. Encourage employees to connect with your business and each other on social media platforms. And encourage participation in various groups on LinkedIn so that your employees become part of these online communities, start conversations, learn, and share your content.
Support LinkedIn publishing. Provide copywriting or editing assistance to employees who express interest in writing their own content on LinkedIn. This gives your business a bit of editorial control while increasing the influence of your employees.
Keep them informed. Create an employee eNewsletter that shares your latest content and provides updates on your efforts.
Make it easy. For all of the above ideas, include specific instructions for how employees can join in or support the efforts. Make sure their participation is as effortless as possible.
Send out reminders. No matter how interested they are in your content marketing efforts, your employees will forget about them if they are not prompted. Send out regular reminders asking for ideas, input and stories to keep these efforts top of mind.
Say thank you! A little gratitude goes a long way. Thank employees for their contributions with a personal email or (gasp!) a handwritten note. They deserve it!
We want to continue to add to this list! So add your ideas and your experiences to the comments below, and we will update this post with your input and a link back to your website.