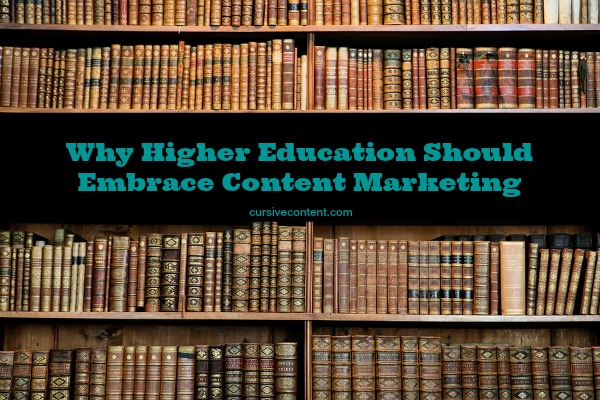 Today's teens (and their parents) are being told it's never too early to start preparing for college. And where do these Internet-savvy students go to start this early college preparation? Online. That's why it's now more critical than ever for higher education institutions to focus their marketing efforts on effectively telling brand stories online.
Here's why content marketing and online storytelling are so important in higher education:
Virtually all popular college search companies suggest that students spend time browsing a college's website to determine if the school is a good fit for them. But internet savvy teens aren't just checking out the courses and professors.
They expect to be able to explore the college through virtual tours, blogs and live chats.
Beyond the website, students turn to social media to help them decide.
Approximately 68% of students say they've used Facebook, Twitter, YouTube, Pinterest and Tumblr to get the scoop on a college they're considering.
45% say they've been directly influenced by their social media experience with the college.
38% say they use social media when making the final decision on where to enroll.
When you consider that the average ratio of guidance counselors to students is 1:471, it's no surprise that students are turning to the Internet to help with the three-phase process of researching, applying to and selecting a college or university. After all, today's high school juniors and seniors connect with their friends, favorite brands and even Hollywood mega-stars online. It's a trusted source of information, and they don't think of connecting with a college any differently. They're used to finding online communities where they "fit in", and want to get the same feeling from a school's online presence.
Another reason students are seeking an online experience that's enticing, engaging and memorable? They're looking for something that tips the scales in their decision-making process regarding where to apply and, eventually, where to attend.
As of 2010, 77% of students applied to more than three schools and 25% applied to seven or more.
Those are numbers higher than ever before, and they don't just mean tougher decisions for students—for schools, they mean more competition.
Colleges and universities have a fantastic opportunity to cut through the clutter and grab the attention of the students who are eagerly browsing their websites and social networks. They need to present unique content and experiences (like these five schools do) because their audience is extremely technologically savvy and places a huge emphasis on what they discover online. But schools can only provide an online experience that appropriately informs, engages and wows by thinking beyond the traditional.
By staying connected with students through fresh content served up in a variety of ways, higher education institutions have a better chance of making it to the top of the list of today's college-bound student.
Want to learn more about content marketing's impact on higher education? Let's chat!