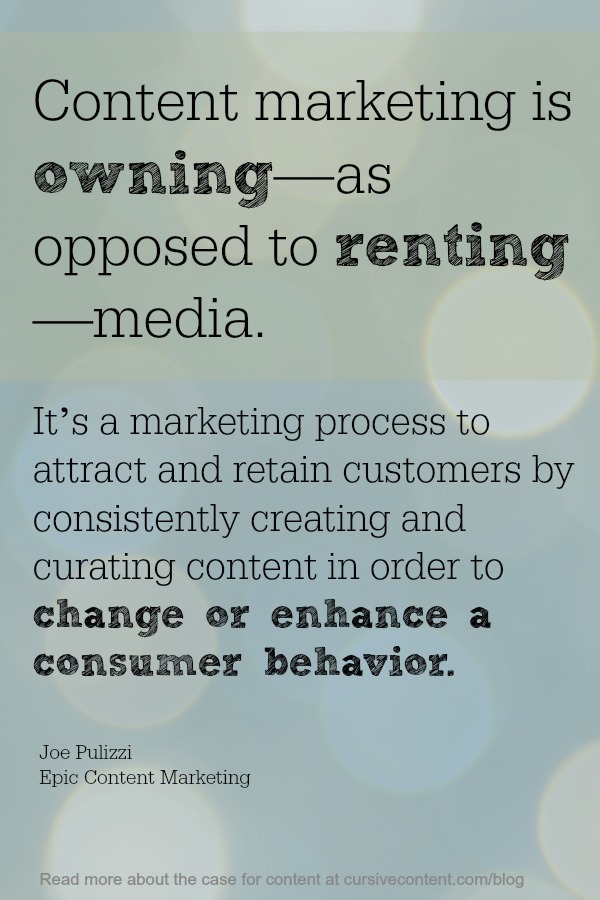 Sometimes, it's best to start with the basics. And it doesn't get any more straightforward than my favorite definition above, courtesy of content marketing master, Joe Pulizzi.
I like this definition because it combines two essential components of content marketing in one concise statement:
Content marketing is all about owning content. When you invest in smart content development, you'll benefit from that investment long term. Evergreen content can continue to attract new customers long after your initial share. 
The purpose of content marketing is to change or enhance a consumer behavior. Creating content alone is not content marketing. Your content has a job to do. It needs to attract and retain customers, and get them to take action. If it's not … you need a better plan.
Of course, there's more to know about content marketing than one simple definition can provide. That's why we encourage you to explore the rest of our series, The Case for Content, and check out these recent articles:
The Case for Content series is designed to give you the ammunition you need to make the case for content marketing to your boss, your team … heck, even your mother. From the simple to the complex, we'll be breaking down our most frequently asked questions into graphics that you can use in your own presentations or blog posts (just be sure to link back here!). 
Have a question or a topic you'd like us to address? Drop us a message, or connect with us on Twitter or Google+!