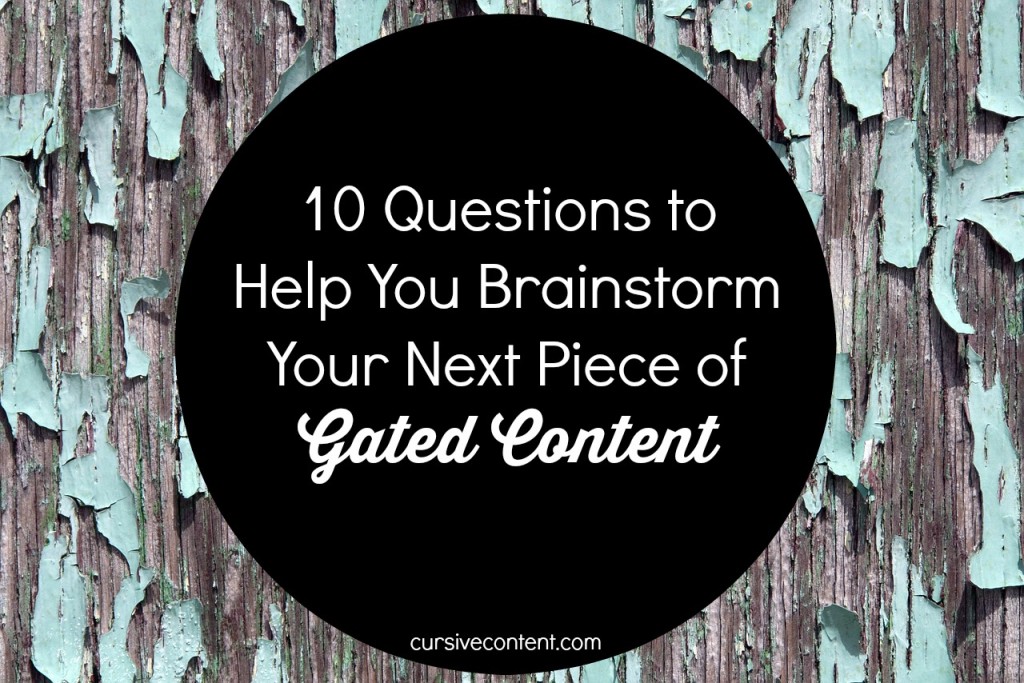 Providing your audience with valuable content while asking for something simple in return (like personal information) is a great way to grow your email list and expand the reach of your content.
Whether you call it gated content or lead magnets or give-me-your-email-and-I'll-make-you-smarter materials, this type of content offering really does work. (We are our own case study – our Jargon Rehab ebook helped us grow our email list by 40%).
But coming up with the perfect idea for the perfect piece of gated content can be a challenge. Where do you begin? What will make that content valuable to your audience? Well, here's some help to get started.
Ask yourself these 10 question to get those gated content brainstorms sparking:
1. What is the most popular post/article/video you've created in the past six months? Take that and build it out into a larger, more comprehensive piece of content.
2. What are the most common questions your customers ask you? Write down as many as you can in five minutes. Now, answer those questions. Could your answers be turned into a short guide debunking misconceptions people have about your business/industry?
3. Is there a process you use that would also be helpful to your customers? Write out all of the steps in that process, providing helpful tips where possible. Turn that into a checklist or template for your customers to follow.
4. Do you have a series of posts or other pieces of content on the same topic? Consider combining those posts into a larger ebook.
5. What is the last reason someone gave you for NOT choosing your business or product? Use that barrier to create an opportunity by directly addressing it in a piece of content that promises to prove the concern is invalid.
6. Is there someone your customers need to convince before they purchase your product or service (i.e., a boss or business owner)? Help them make the case! Create a customizable PowerPoint presentation that they can use to advocate on your behalf.
7. Is there more information you wanted to add to a post or article that didn't make the cut? Perhaps you had to leave some information out for brevity, or because of its complexity. If the post is a popular one, consider creating a piece of gated content specific to that post. Turn the extra information into a checklist or tips sheet, so readers can continue exploring the topic.
8. What free "advice" are people always trying to sneak out of you? If you are in a service-based business, you may get lots of customers and non-customers hitting you up for your thoughts, opinions and ideas. This isn't just casual conversation — it's something valuable you have to offer! Use those insights to create content you can share in lieu of your valuable time.
9. How can you help your customers save (money/time/sanity)? If you can promise your customers a way to save something they don't want to lose, you'll have them hooked.
And finally…
10. Why are you successful? Think about personal obstacles you have overcome, or challenges you have met with a resounding "Take that!" Turn these life stories into life lessons for your audience. Give away your secrets in a special guide that helps them face similar challenges with your personal brand of gusto.
For more on creating crafty and compelling gated content, read up on The Basics of Gated Content, and then find out What Makes The Best Gated Content.
And if you want more of the story, be sure to subscribe below. You'll get even more tips on creating and sharing a story that will grow your business.