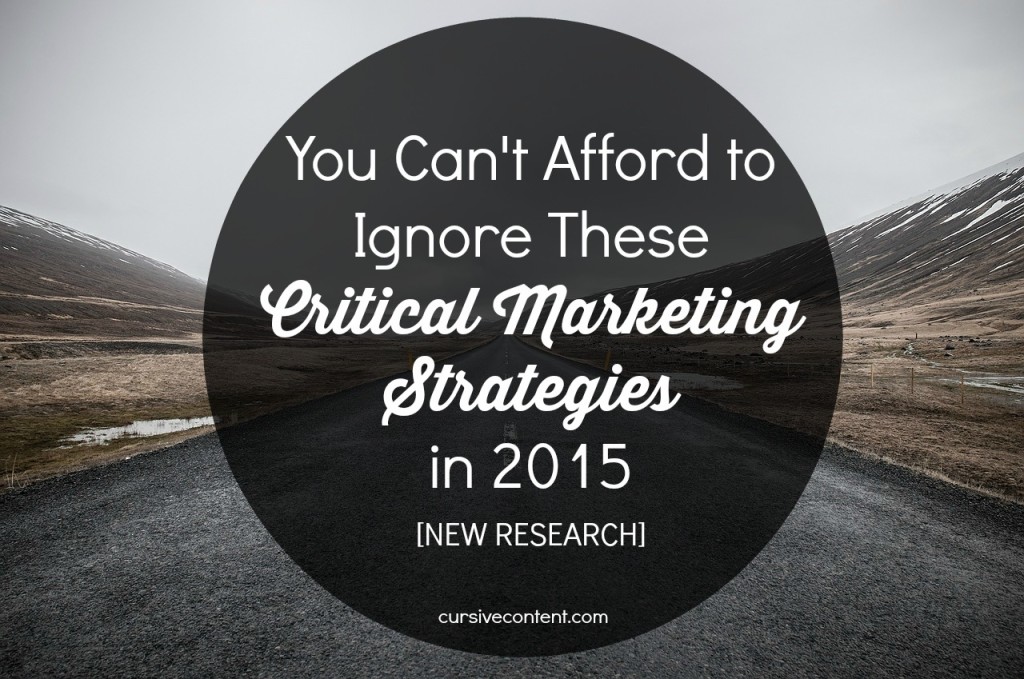 2015 is gearing up to be a year where longstanding content and digital marketing theories come to fruition.
How do we know? The telling results of Salesforce's 2015 State of Marketing report, which summarizes what Salesforce discovered after polling more than 5,000 global marketers.
While some of the findings are obvious (social media spending is on the rise!), there are a few areas that are critically important to your 2015 content marketing – especially if you are a small business marketer. Those areas?
The customer journey, and the importance of email marketing.
First things first, what is a customer journey?
Salesforce defines it as "all of the interactions a customer has with brands, products or services, across all touchpoints and channels."
In other words, it's any path any individual customer takes to interact with or purchase from your brand. A customer journey should be highly personalized, based on the preferences and actions of individuals.
Why is understanding the customer journey a critical focus for all marketing?
As customer touchpoints increase, the ways customers find and interact with your brand become more diverse. So instead of focusing on the various channels customers are using, marketers are beginning to focus on how unique customers are using those channels. The customer becomes the star of the story – not the channels he or she is using.
Salesforce found that "a growing number of marketers today are envisioning their entire marketing strategy under the umbrella of a cohesive customer journey." This is exciting, because it means siloed marketing efforts may give way to a customer-centric approach.
Should you take a customer-journey-focused approach to your 2015 marketing?
Yes. According to Salesforce's findings, 86% of senior-level marketers say that it's absolutely critical or very important to create a cohesive customer journey.
Ok, understanding the customer journey is important. But, email? For real? Do people read email?
Yes, yes, YES. Email in 2015 is arguably more important than ever before. As Salesforce found:
73% of marketers believe email marketing is core to their business, as email is a critical touchpoint along the customer journey.
60% of marketers in 2015 said that email is a critical enabler of products and services, versus 42% of marketers in 2014.
59% of marketers plan on increasing their email marketing budgets in 2015, hoping to give subscribers more email content and a better experience on their mobile devices.
Why is email growing in importance?
Thank your iPhone. Because consumers are now connected 24/7, they have easier access to email. So consumers are relying on email more, and reading email more – on their mobile devices.
Salesforce reports:
One-third of marketers said their subscribers read emails on mobile devices at least 50% of the time.
72% of US online adults send or receive personal emails via smartphone at least weekly.
Does email work?
It does. Salesforce's data reveals that 74% of marketers believe email marketing is or will eventually produce ROI, with 21% reporting email produces significant ROI.
The types of email marketing used, versus their effectiveness, is interesting – and reflected in the chart below. For example, 72% of marketers find a welcome series of emails very effective – yet only 42% are currently using one, and only 29% plan to use one in the next 12 months. This is a great place to start for marketers who are trying to strengthen their email marketing.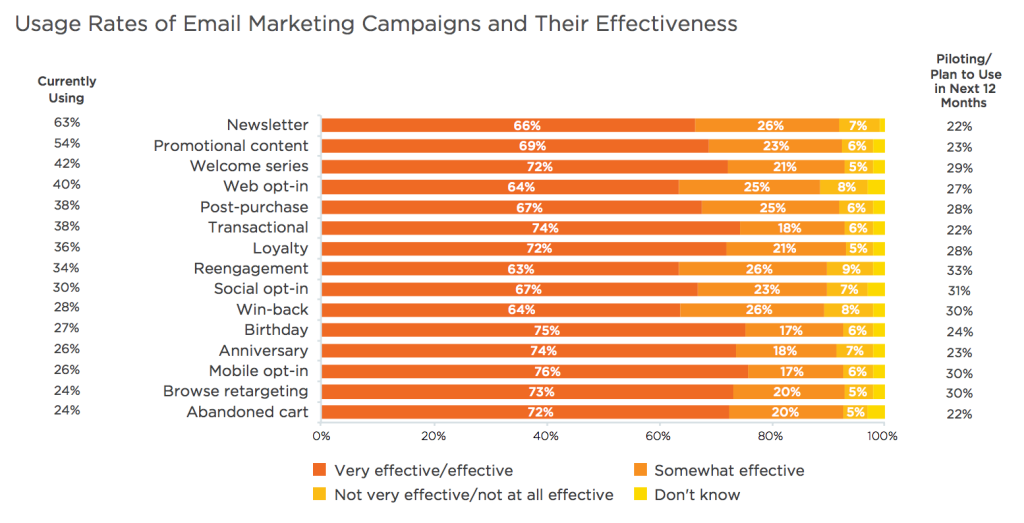 [image: Salesforce 2015 State of Marketing]
In addition, email content and design were ranked as absolutely critical by 79% of marketers, and 66% say it's very effective when done correctly.
So if you're looking for a way to strengthen your 2015 marketing efforts, consider starting with your customer journey or by revisiting your email program.
One thing is certain: one of the biggest challenges of 2015 will be remaining up-to-date with current marketing technology and trends. If you want to alleviate this concern for your content marketing efforts, sign up below to receive our articles and tips delivered weekly.