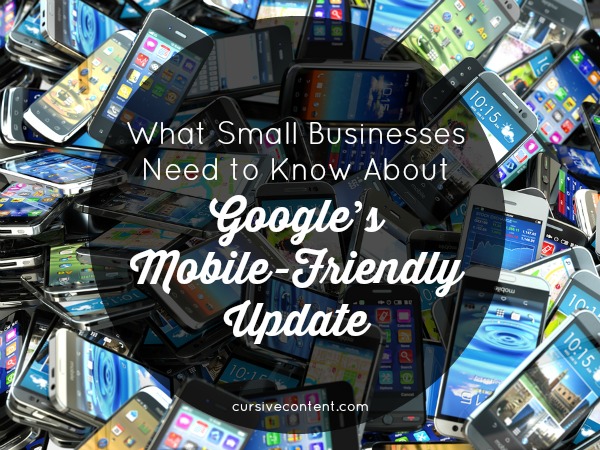 Starting April 21, Google's algorithm is changing to put a greater emphasis on mobile friendliness in mobile search. Sites that aren't mobile friendly will essentially be punished.
Why is Google making this change?
Google wants to keep their place as the world's top search engine. The algorithm they created (and are constantly revising) is designed to serve the people who are using Google search, not the people who appear in a Google search.
Currently, Google when a mobile user does a search, Google returns websites that aren't mobile friendly, creating sub-par experience for the user. That's the opposite of what Google wants, so they're making this change to provide a better experience for the mobile user.
Why does this matter?
This is a particularly impactful change because 60% of website traffic comes from mobile traffic. If a website isn't mobile friendly, it stands to reason they won't see as much, or perhaps any, mobile traffic (Google isn't specific with this; they're just saying the impact will be "significant").
Even without specifics, this doesn't look good for sites that don't work on mobile. And here are some more uncomfortable numbers: According to a 2013 study, the first Google result gets 33% of traffic. The second gets 18%, and it's downhill from there; the 10th gets a mere 2.4%. And that's all still on the first page. In fact, page one gets 91.5% of traffic and page two drops drastically to 4.8%. From page seven onward, traffic is around .1%.
This change is one that will push websites that aren't mobile friendly from their current position in mobile search (which, remember, is about 60% of total web traffic), and, as the percentages above show, that push could make a significant impact on traffic.
How do I know if my site is mobile friendly?
If you aren't sure, you can visit your website on your phone and see how it appears, but the best judge is Google itself. They made a handy little mobile-friendly test. Just enter your website's URL and Google will give you feedback.
What does this change mean for you if your site is already mobile friendly?
If your website is already mobile friendly, it most likely won't make that great of an impact on you—although, if other non mobile-friendly websites are bumped, you may see yourself gain a better SERP (search engine results page) position and benefit from the corresponding traffic increase.
What does this change mean for you if you site isn't mobile friendly?
Don't panic, but this is something you should get sorted out as soon as possible. Otherwise, all that hard work you've done, building content and growing your audience, could go unseen in future mobile Google searches.
In order to get a better idea of how this will impact you, look at two numbers in your Google Analytics for a significant time period (the past 6-12 months should give an adequate view):
Percentage of traffic from mobile
Percentage of traffic from organic search
In order to understand more about how this change will impact your business, you need to understand the traffic you're currently getting from organic search on mobile. The higher that number, the more concerned you should be.
You can look at these numbers separately and together by setting up a custom report:
Separately, look at:

Audience>Mobile>Overview. Find "mobile" in the first column, and look at the associated percentage of sessions
Acquisition>Overview. The first item in the list should be "Organic Search" and will show a percentage of new traffic.

To combine the two, go into the Mobile report (Audience>Mobile>Overview) and setup "Traffic Type" as a secondary dimension. You can then sort by "organic" to get a direct view of organic search coming from mobile.
If, for example, you have a high percentage of mobile traffic coming from organic search, then updating your website should jump to the top of your priority list. Alternately, a large percentage of organic search but a low percentage of mobile search might mean this can take lower priority.
Still, mobile is only gaining momentum. That 60% of traffic coming from mobile was 50% last year. Could we see another 10% increase within the next year? It's very possible, so even if the change that's happening next week doesn't immediately cause a negative impact to your website, fact is, your website still needs to be mobile friendly.
Your website is a major touchpoint with your customers, whether they're on desktop or mobile. Providing a good experience for them is an essential part modern marketing, not just something you should do because Google said so.
For more insights into internet marketing, content and easy-to-understand SEO news, subscribe to our enewsletter using the form below.