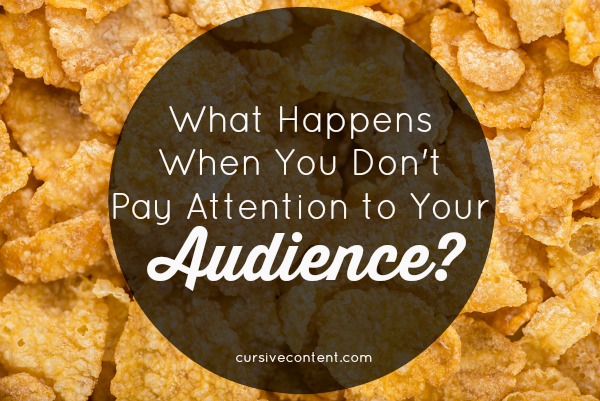 Just because we grew up with Tony the Tiger and Snap, Crackle and Pop doesn't mean our grandkids will.
The 109-year-old company has faced tough times recently, facing leadership and operations challenges while losing money and market share.
According to this article in the March 2 issue of Bloomberg Businessweek, Kellogg's saw a sales decrease for 19 of its top 25 cereals in 2014—despite a hefty advertising budget of more than $1 billion.
I'm not a stock broker, financial analyst or management consultant. But after finishing the Bloomberg article, I knew part of where they have been going wrong.
Kellogg's assumed their audience would never change.
Their products are still largely targeted to children and their parents, but family dynamics aren't the same as they were 50 years ago. So while their target audience hasn't changed, what it means to be that target audience has changed.
Other products, marketed towards adults, also miss the mark.
Lesson to small-business marketers: Don't lose touch with your audience. Pay attention to industry data and implement your own surveys to ensure your buyer personas stay up-to-date.
They assumed the need for their product was inherent.
They sell a product that fulfills a necessary human need. We all need food, and for a long time, we all "needed" breakfast. But in 2015, as the article mentions, few families gather around the breakfast table for a leisurely meal, and few adults make time for it, either. They might still like cereal, but convenience wins—they want something to throw in their bag, they want to hold breakfast in their hand as they run out the door and they want it to be healthy (this means that Pop-Tarts, while they past the hand-held test, aren't in the running).
Lesson to small-business marketers: Don't assume your audience NEEDS your product or service. There will always be a bigger, better, newer thing, or a shift in the way things are done. Stay in touch with the trends.
The audience has changed and what they are looking for has changed—but Kellogg's hasn't.
It's fitting that the cover of Bloomberg Businessweek features a picture of a Tony the Tiger lookalike in a gas mask with the headline "They're Gr-r-ross!"
Today, people are more vigilant than ever about what is in their food, and the cocktail of sugars, artificial colors, artificial flavors and unpronounceable ingredients that are listed on a Kellogg's cereal box are not appealing.
Innovations are few and far between; new almost-healthy sounding cereal flavors include Special K Protein Brown Sugar Cinnamon Crunch (that one started off sounding promising but a quick read through the ingredients list says its not) and Raisin Bran with Cranberries (sounds healthy enough, but 3 of its 8 main ingredients are some form of sugar).
Lesson to small-business marketers: Stay in touch with your audience and don't be afraid to evolve. Understanding how your audience is changing can help you create little modifications over time, thereby avoiding a drastic, overwhelming shift in your business.
There is no connection to today's audience.
After reading that Bloomberg article, I wondered what Kellogg's was doing about all this—I'll admit, I'm one of those vigilant parents who reads every label and makes most food from scratch. So Kellogg's continued fall from grace intrigued me, and of course, my content-marketer mind was working in overdrive thinking about the opportunities.
It only took a few minutes of searching the Kellogg's site to find Open for Breakfast. And it only took a few more minutes for me to be totally disappointed.
Kellogg's Open for Breakfast is answering the question they want to answer, not the question they've been asked.
At first glance, it is promising.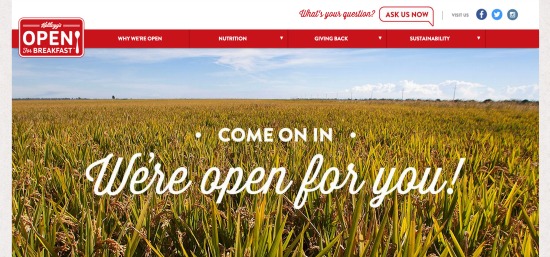 The words "What's Your Question? Ask us Now" stand out from the page. Further down, I found these encouraging words:" We love mornings. And we're doing everything we can to make your mornings the best they can be – so we can earn a seat at your table every day. That's why we're here to listen to you and hear what's on your mind. So pull up a chair, let's talk."
Sounds pretty great, right? And the questions are pretty tough and honest, like "Why aren't you making healthier foods?" Funny, that's exactly what I wanted to know. That's where things started to go wrong, though. The answer falls flat.
It largely ignores the things the audience cares about—most people aren't all that focused on fiber of calcium. And the stats seem significant at first glance, but upon second glance, they're deflective. They only mention Kellogg's in reference to other sources—they're saying they have more fiber than "any other food company" and that cereal only represents 4% of daily added sugar. But the audience isn't here because of those other companies or sugar sources. They're here because they want to know about Kellogg's. The question is about "healthier" foods, but Kellogg's provides an answer from a very limited angle. The tone of the response was set from the moment they answered "We are". There's little authenticity in this response.
Lesson to small-business marketers: Be real, and use your closer-to-the-source position to talk to your audience, find out what they care about and address it. Remember, it doesn't matter what matters to YOU, it's about what matters to your audience. Get that knowledge and put it into action.
Kellogg's is missing the real story.
With their audience slipping away, Kellogg's forgot to do the one thing that could keep them coming back—tell a story.
The attempts at narrative on Open for Breakfast are visually impactful, but then I got lost in all the "we".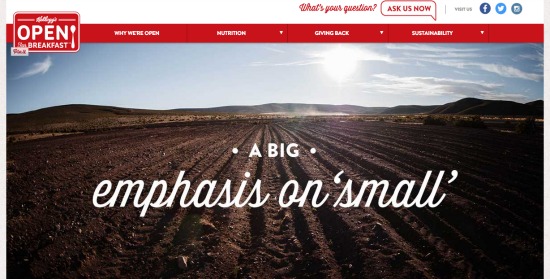 This particular article is about Kellogg's support of small farmers around the world. They give a nod to the fact that these "smallholder farmers" are significant to the global food supply. And other than that, the piece is all about Kellogg's. It's not long, but my eyes glazed over.
The images are stunning, but the Kellogg's-focused story drives me crazy, because those images are a missed opportunity. The story here should not be about Kellogg's, it should be the story of this man.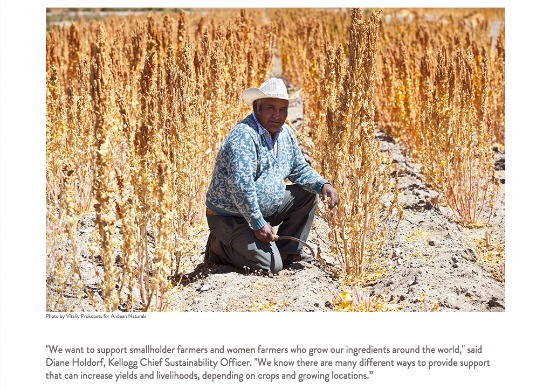 And this woman.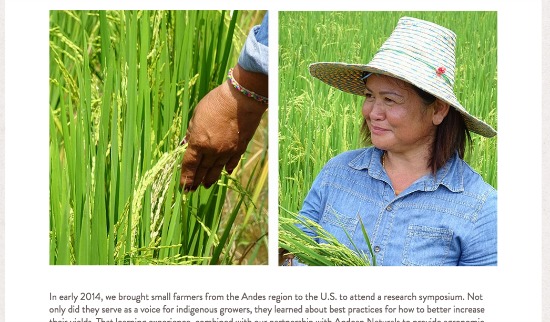 Those stories, however, are nowhere to be found. Are you cringing right along with me at the lost opportunity there? Based on the article, it seems very possible that Kellogg's, through their symposiums, funding and other assistance, has helped changed the lives of these people. That is the story. What's there is a reworked press release. It's not memorable and doesn't do much to distinguish Kellogg's from any other charitable big business.
Lesson to small-business marketers: Find the story your business has to tell. Tell it well, and remember it's not always about you.
Is there still room at the table for Kellogg's?
Most Americans can remember a Kellogg's character sitting on their breakfast table as a kid. For the most part, things that take people back to their childhood sell. Imagine revamped Froot Loops, with the same Toucan Sam but without the artificial colors and flavors, or Frosted Flakes with Tony the Tiger still at the helm but GMOs nowhere in sight.
Kellogg's can still save themselves—but it will never happen if they don't stop talking and start listening.
Struggling with telling your business story? That's why we created Jargon Rehab, a FREE eBook to help you cut the nonsense and tell the business story your audience wants to hear. Download Jargon Rehab now.
Stacy is a content marketing strategist & writer at Cursive Content Marketing. She has more than a decade of marketing experience with a focus on strategy, writing and the interactive experience. Stacy is driven by her strategic outlook, life-long love of words and her innate curiosity. And coffee, of course.
BE A CURSIVE INSIDER.
Get weekly EASY, actionable tips you can use right away to strengthen your school story.