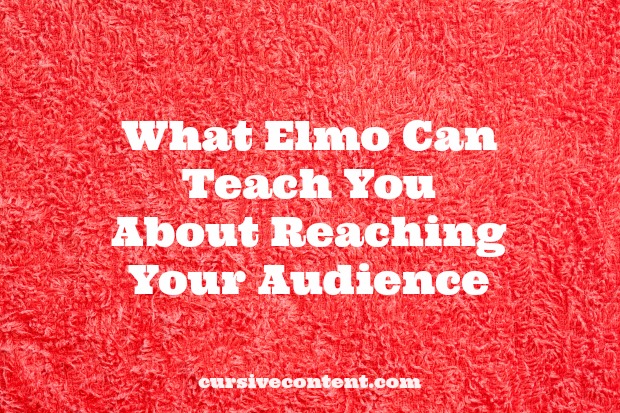 Sesame Street has been a part of the American childhood since the 1970s. Chances are, if I sing "Sun-ny days…." Your mind is filling in the blank with "Sweepin' the clouds a-way." And if you have children of your own, that very song might just be playing in your home right now.
Which is great, because as it turns out, Elmo and friends have one more lesson to share with you. This one's about the importance role of addressing ALL of your audiences through your content marketing.
Know who you're targeting.
It seems rather obvious that Sesame Street's primary target audience is the preschool-aged child. And it would be easy for the writers to tailor all their content to the pint-sized people who will demand it.
But at Sesame Street, they realize that there's someone else calling the shots. The adults. And if the grown-ups find a show silly, annoying or boring, the TV might suddenly become "broken" or the remote might be forever "lost".
Create content for each of your target audiences.
Sesame Street knows this, and along with all the education they provide to our kids, they sprinkle in guest appearances from people a three-year-old doesn't know or care about, but her thirty-something momma loves: think Jessica Alba, Will Arnett, Tina Fey, Seth Rogen…even Michelle Obama. Heck, I'm not a big fan of the Alphabet Song, but when Usher sings it? I'll listen all day.
At its core, Sesame Street is great content for kids. But by serving up pieces of content created with its secondary audience—adults—in mind, they set themselves up for long-term success amongst both audiences.
As marketers, we often fall into the trap of thinking of our audience too abstractly. Most often, they're not right in front of us. We can't see them, so we forget who they are. We forget that everything we do should be for our audiences, both big and small.
But there's no one better to remind us than the gang down on Sesame Street.
This post has been brought to you by the letter "A". If you're interested in uncovering insights about your audience, learn more about our Script Your Story sessions.
Stacy is a content marketing strategist & writer at Cursive Content Marketing. She has more than a decade of marketing experience with a focus on strategy, writing and the interactive experience. Stacy is driven by her strategic outlook, life-long love of words and her innate curiosity. And coffee, of course.
BE A CURSIVE INSIDER.
Get weekly EASY, actionable tips you can use right away to strengthen your school story.