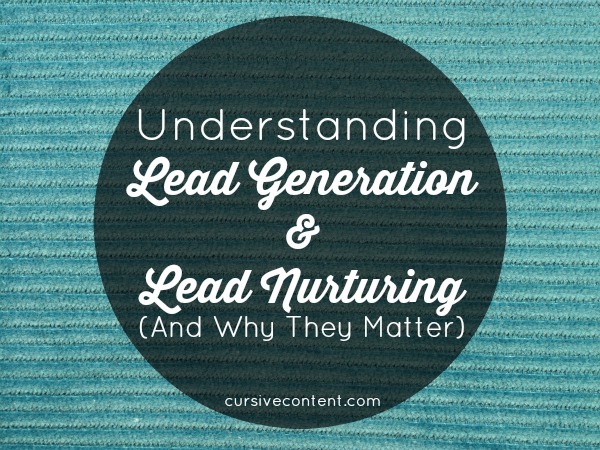 Successful content marketing puts the audience first, each and every time.
That sounds altruistic, but it's not. There is a business purpose to your content: to attract customers and grow your business.
But is your content growing your business? How do you get people to go from reading your blog to being your next best customer?
It starts with generating leads, and continues with nurturing those leads through your sales funnel until they absolutely want to buy what you're selling.
Here's exactly what that means:
A lead is an individual who has expressed interest in your product or service
The process of turning your visitors into leads is lead generation
The process of converting your leads into customers is lead nurturing
In other words, your online audience might be a faceless, nameless group, but they don't need to remain that way.
Leads are members of your audience who want what you have to offer—and they're giving you an opportunity.
When someone makes the move from being an invisible member of your audience to providing you with their information they're telling you they're interested in you and are open to learning more about you.
That is good news, my friends.
This is the convergence of sales and marketing, where the business case for content becomes so clear: with the right elements in place, you can use your content to bring people into your sales funnel and build your business.
Lead generation establishes a unique connection point.
Once a visitor becomes a lead (through taking an action such as filling out a form on your website), you have the opportunity for a direct, one-to-one connection with the individual. Previously, you were communicating to this person through your website or blog—in other words, they were accessing general content that you hoped would resonate. Now you have the opportunity to share content that's directed to them.
This connection also establishes the beginning of a relationship between you and your potential customer where there is no intermediary. No Facebook algorithms messing with your reach. It's just you and your lead.
Leads turn nameless visitors into trackable, individual identities. This allows you to get specific insights and control how, when and where you communicate.
The leap from visitor to lead allows you to gain insights into who this person is—everything from their job title to what they care about.
This is made possible through progressive profiling options available in your marketing automation platform. Progressive profiling allows you to change the questions a visitor is asked each time they fill out a form on your website. For example, a new lead might simply be asked their name and email address. But when they come back to access a new piece of content, they'll be asked new questions—perhaps their job title and stage in the buying process.
This allows you to get a bigger picture of who this person is, and provides you with an incredible opportunity to deliver content that meets them where they are.
The goal of lead nurturing is to help each lead make the shift from interested but uncertain to confident they want what you're selling, and you can do that by answering questions before they ask them and providing content that addresses their concerns.
As you nurture your lead, you want to send them focused content based on multiple factors, including:
Who they are (this might include age, gender, job title)
What they're concerned about
What stage of the buying process they're in
The topics they're interested in
The content they've accessed
These continued, targeted communications to leads are what we refer to as lead nurturing. By delivering tailored content at the right time, you can turn leads into customers.
But it all comes back to one thing…
To attract leads, you need great content
Sorry, you can't get away with a form and a big ol' arrow that says "Enter our sales funnel here!"
To generate leads via your online presence, you need more than just a place for visitors to submit their information, you need to give them a reason to do so.
What can you offer visitors in exchange for your visitor's information?
Weekly eNewsletter
White paper
Access to a free webinar
eBook
Downloadable worksheet
These are just a few examples of types of gated content that your audience might be interested in and willing to provide their information in exchange for.
The focus, as always, is on the audience. And the reward for that focus is a healthy sales pipeline and a growing business.
For more tips on crafting content that will engage your audience and grow your business, sign up for our eNewsletter using the form below.
Stacy is a content marketing strategist & writer at Cursive Content Marketing. She has more than a decade of marketing experience with a focus on strategy, writing and the interactive experience. Stacy is driven by her strategic outlook, life-long love of words and her innate curiosity. And coffee, of course.
BE A CURSIVE INSIDER.
Get weekly EASY, actionable tips you can use right away to strengthen your school story.