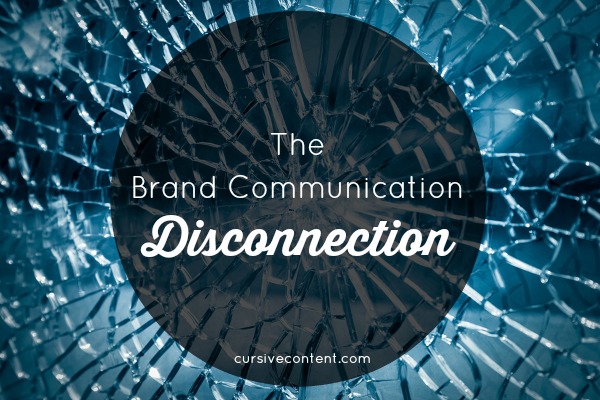 There is one thing that every job in the world has in common, whether you are a marketer, doctor or dispatcher, programmer or preschool teacher:
Communication.
Good communication skills are the key to running a healthy business or building a successful career.
The doctor needs to deliver life-changing news to patients. Whether it's good or bad, it needs to be clearly communicated so the patient understands the news that is being delivered.
The dispatcher needs to give clear, quick, comprehensive guidance to the person on the other end of the line.
The programmer, who has a brain full of tech-y knowledge the average person wouldn't understand, needs to communicate that information to coworkers and clients.
The preschool teacher might have two dozen students in her class, and she needs to stay in touch with parents about their child's progress—often handling difficult learning and behavioral challenges.
What happens to communication when we stop being people and start being "brands"?
We expect all of these people to be able to communicate with us on our level. When our doctor starts rattling off a string of terms not often heard outside of med school, we tell her to slow down and use words we know.
And we feel justified making that request.
So why, as brands, do we fill our communication with complexities, jargon and gibberish that would never fly during person-to-person communication; that we would never expect our audience to follow in real life?
The fact that we can't hear them say "Wait, hold on, what did you just say? That wasn't clear." doesn't mean they understand, and it does not mean we've pulled one over on them, either. If you are trying to confuse or redirect your audience with big words and insider terms, you aren't benefitting. The most complex way to say something is almost always the wrong way, especially in marketing.
Yet we're all so mired in our own set of jargon that we aren't even sure how to step outside of it (and we might not even realize we are doing it).
What are you REALLY saying?
Outside of that brand-speak waits a real story. A unique story. One that is more than just a tale to tell; it is the biggest differentiator your business has.
The brands that are winning are those that have found their story and are telling it. Clearly, constantly and cohesively. Companies that are stuck in the old-guard of marketing will find themselves at an increasing disadvantage as the internet and consumers continue to evolve.
Yet regardless of what changes, the importance of clear communication remains the same.
Tell your audience a clear story that resonates with them, and you will make a connection that outlasts the trends.
Jargon is one of the business world's worst marketing offenses—and it isn't all buzzwords and business acronyms. That's why we created Jargon Rehab, a workbook with easy-to-follow exercises that will help you discover and communicate the real value you bring to the table. Get your free eBook now.
Stacy is a content marketing strategist & writer at Cursive Content Marketing. She has more than a decade of marketing experience with a focus on strategy, writing and the interactive experience. Stacy is driven by her strategic outlook, life-long love of words and her innate curiosity. And coffee, of course.
BE A CURSIVE INSIDER.
Get weekly EASY, actionable tips you can use right away to strengthen your school story.