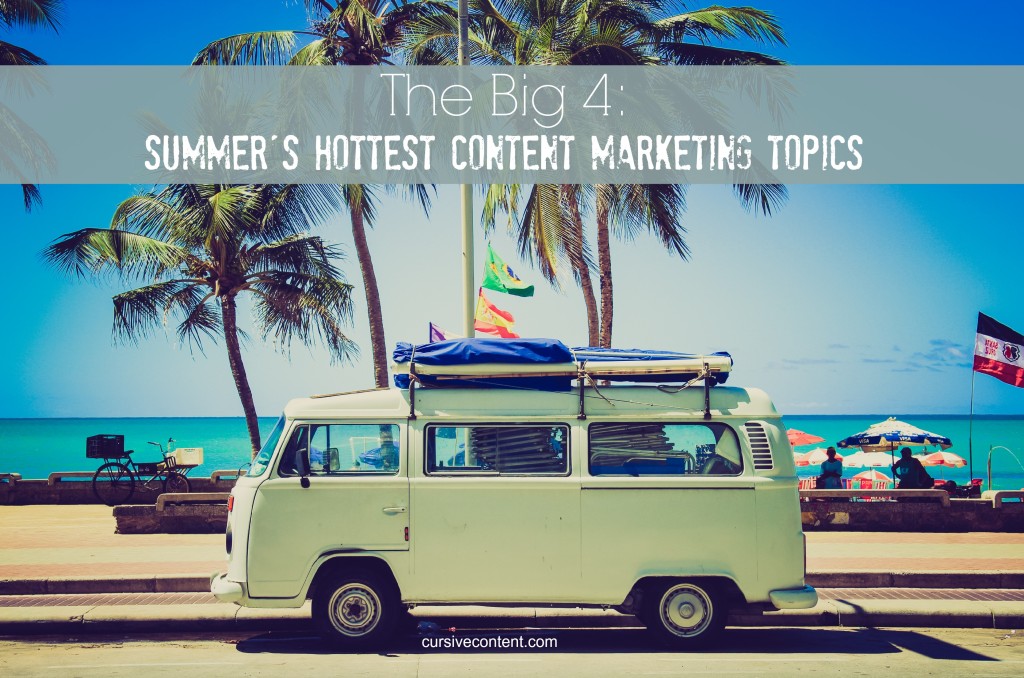 It's finally summer, and content marketing is hot, hot, hot. 
Here are the latest content marketing topics and trends making waves in the industry:
1. Big content can drive big results.
Content marketing is no longer the new kid on the block. Today, even the smallest businesses and brands are becoming online publishers, and the feeling of content shock is all-too real.
So how are successful content marketers getting their content in front of the right audiences? By investing in big content – or valuable content that takes significant time and resources to develop.
Usually this "big" content takes the form of articles that are more than 2,000 words, but big content doesn't have to be long; as SAP's Michael Brenner explains, it simply has to "break the mold of some traditional content types." Big content can also take the form of videos, microsites and more.
Big content isn't new, but more brands are investing in its development. The latest example making news? Netflix's paid post on The New York Times titled Women Inmates: Why The Male Model Doesn't Work, which is bringing to life the need for policies and programs that better meet the needs of women in prison – while promoting Netflix's original program Orange Is The New Black.
As Contently reports, "By sponsoring their own content on The New York Times, and featuring the real-world counterparts of the fictional women we've come to love on the show, Netflix makes a move to lead this discussion [on the flaws in the prison system] in a big way, and demonstrate how serious they are about the issues surfaced by the series."
The benefit of big content? Big content usually has a longer shelf life than short-form content because it requires more research and thought. There is also strong indication that it positively impacts organic SEO. And if that isn't enough, there's the fact that creating a well-researched, well-written, in-depth article on a topic in your business area can help truly position you as a thought leader in your industry.
2. Facebook really wants your advertising money.
Sorry brands, Facebook does not want to be friends.
According to Social@Olgivy, "Organic reach of the content brands publish in Facebook is destined to hit zero. It's only a matter of time." In their analysis of more than 100 brand pages, organic reach usually hit around 6%, a decline of 49% since October 2013. For pages with more than 500,000 Likes, organic reach was down to 2% in February 2014.
On a recent This Old Marketing podcast, Joe Pulizzi and Robert Rose discussed the impact of these changes in organic reach, saying that while we can't fault Facebook for its business model, the changes are a detriment to the smaller brands who have spent time and money building up their online Facebook communities … only to have their access to those communities completely blocked. Unless they're willing to pay for advertising, that is.
As MarketingWeek reports: "Facebook says its platform should be treated like TV, search, newspapers, radio and 'virtually every other marketing platform' and that brands should use paid media to achieve their business objectives." So, there you go. Facebook is now a pay-to-play platform.
3. Mobile-first is growing fast.
A recent Entrepreneur article makes the case that if you don't want to be a content marketing dinosaur, you should consider a mobile-first approach to content marketing.
The article shares some telling statistics: While mobile users are browsing blogs more often, they have less patience than desktop users, resulting in mobile site bounce rates that are 9.56% higher. And interestingly, 77% of mobile searches happen at home or work, where there is often a desktop available.
This shows that mobile devices are becoming many users' primary choice for accessing the Internet – and mobile users want and expect an optimal user experience.
Content Marketing Institute explains how content marketers can deliver: Focus on delivering localized content by researching local search trends; understand mobile search intent and mobile users' behaviors; consider video marketing as a tactic; define your mobile conversion goals and build your content accordingly; and design your content to be touch friendly.
Is mobile-first first on your to-do list?
5. Without net neutrality, we're all screwed.
There's a fierce debate going on right now that is essentially about keeping the Internet free, open and equal to everyone. That concept is called net neutrality, and it's being threatened by recent rules proposed by the Federal Communications Commission that would allow for rampant discrimination online.
SaveTheInternet.com explains: "Under these rules, telecom giants like AT&T, Comcast and Verizon would be able to create a two-tiered Internet, with fast lanes for those who can afford it and dirt roads for the rest of us. These companies would have the power to pick winners and losers online and discriminate against online content and applications. And no one would be able to do anything about it."
So how would these new rules affect content marketing? Well if you want your content to stand a chance against the big-boy brands out there, you should care about preserving net neutrality. Without a level playing field, small brands who can't afford to be on the "fast" lane won't be able to provide an optimal user experience – which will seriously cut down on reader loyalty and repeat visits.
If you need more convincing about why these proposed rules are horrible, let John Oliver explain to you why we need to "prevent cable company f***ery":
We want to know: Which topic are you most interested in or concerned with or simply meh about? Share in the comments below, or join the conversation on Twitter and Google+.
Emily is the owner of Cursive Content Marketing. She has been content marketing since the sixth grade, when she created a neighborhood newspaper to build her babysitting authority. (It totally worked.) Today, she helps brands drive business with smart content.
BE A CURSIVE INSIDER.
Get weekly EASY, actionable tips you can use right away to strengthen your school story.