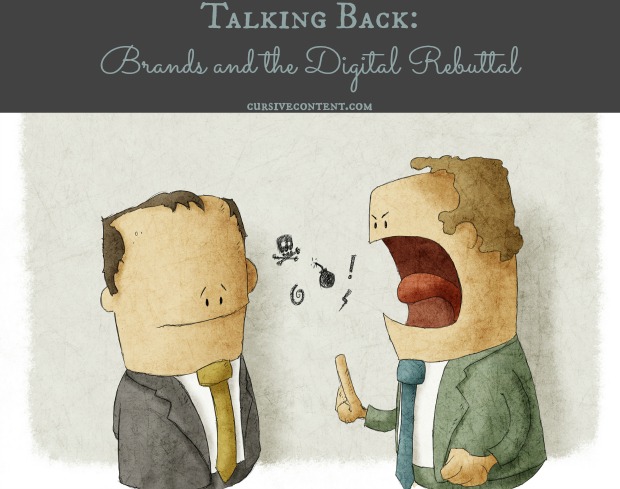 We live in an increasingly connected digital world, and one person's negative opinion can be spread to the masses in amount of time it takes to finish reading this sentence.
What do you do when someone writes negative things about you? Fight content with content, of course.
But when you craft a digital rebuttal, it requires a careful tone, thoughtful approach and a graceful navigation of conflict. It's not a recommended approach for every situation. It may not be right for every company, or every audience.
Here's a few examples of brands whose decision to talk back paid off:
The Inaccurate Representation: Walmart vs the New York Times
Recently, Walmart's director of corporate communications David Tovar took to their blog to address what he felt were some wild inaccuracies found in a New York Times article about the retailer.
If Tovar's rebuttal had been in traditional blog post format, it might have taken on a defensive tone. Instead, Tovar choose to post the original article with his edits in red pen all over the page. We can sense Tovar's disdain from his sarcastic start—the note at the top of the page reads "Thanks for sharing your first draft. Below are a few thoughts to ensure something inaccurate doesn't get published. Hope this helps.", but his edits are fact-driven and to the point.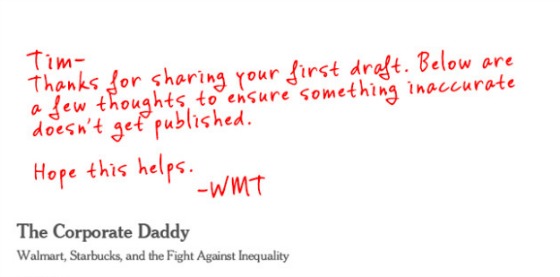 Why it worked: Walmart is no stranger to criticism, and they don't respond to every negative thing written about them. If you're going to take a similar approach, you should do so rarely and only after careful consideration. You don't want your blog to be full of diabtribes against your critics, and you don't want to draw too much attention to negativity.
The Social Media Criticism: Bodyform vs Disgruntled Boyfriend
Most brands have received a complaint via their social media accounts, but there's no one who's turned it into a huge win the way feminine hygiene company Bodyform did back in 2012. In a tongue-in-cheek rant on the Bodyform Facebook page, Richard Neill asked the company why they've "lied to us for all these years" saying that his girlfriend isn't the happy, bike riding, parachuting woman Bodyform conveys women to be when it's that time of the month. Instead, he says, she's more like "the little girl from the exorcist." Neill's tirade quickly received more than 84,000 likes. Still, it could have been ignored altogether—after all, it was clear that he was mostly joking—but Bodyform seized the moment and responded with double the wit and humor. Their short video response is honest, incredibly smart and just plain funny.
Why it worked: Bodyform earns some serious kudos by demonstrating that they get it. Their rebuttal matches the tone of Neill's witty and truthful original comment while making some spot-on points. It's clear that they don't take themselves too seriously—there is, after all, a fart in this video. And while it's all in good fun, Bodyform is admitting the fact that their ads don't portray their customers or products accurately, a bold move for any brand.  Not all comments made on social media require this level of response, but Bodyform seized an authentic moment and made it into something much more powerful, and that's an opportunity all brands should be on the lookout for.
The Brand-on-Brand Brawl: Oreo vs AMC
Ok, so it wasn't quite a brawl, and Oreo's tweet that referenced sneaking snacks into a movie theater wasn't directed at AMC. But the movie theater chain—who has a policy against outside snacks—responded, starting one of the best examples of witty brand banter to date. Their amusing back and forth was unplanned, light hearted and, of course, limited to 140 characters or less.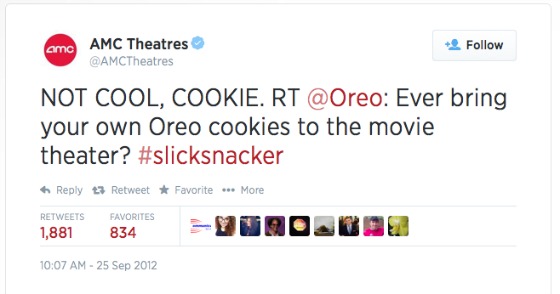 Why it worked: AMC seized a moment to engage with Oreo, who then took the ball and ran with it. And there's no loser here. Both Oreo and AMC came out of this pseudo-conflict looking smart, savvy and personable—and got some serious press. This is the kind of moment that can't be predicted or planned for, but there's no doubt that these brands were successful thanks in part to their social media managers and their willingness to have a little fun. Is your company prepared with the staff and social savvy it takes to pull off an epic comeback?
The digital rebuttal is a tenuous thing. By directly addressing a serious issue, you have the potential to shut criticism down or stir up even more conversation—conversation that's beyond your control. And when you use humor to craft your response, you've got to be sure your execution is flawless.
How you choose to respond depends on the nature of the comment, but one thing remains true: you've got to choose your battles—and your words—wisely.
Stacy is a content marketing strategist & writer at Cursive Content Marketing. She has more than a decade of marketing experience with a focus on strategy, writing and the interactive experience. Stacy is driven by her strategic outlook, life-long love of words and her innate curiosity. And coffee, of course.
BE A CURSIVE INSIDER.
Get weekly EASY, actionable tips you can use right away to strengthen your school story.