You've written a pretty amazing blog post, if you do say so yourself. You've shared that baby across all your social networks, and now you're just waiting for the praise and business leads to roll in.
But have you taken all the steps you can to maximize your content's reach? While the top social sites like Facebook, Twitter, Google+, LinkedIn and Pinterest are usually top of mind when sharing blog posts, one platform is often overlooked: StumbleUpon.
What is StumbleUpon?
StumbleUpon is a great service for both promoting and discovering content:
As a content creator, you can submit your content to StumbleUpon to make it easier for people with interest in your topic to find your content.
As a content curator, StumbleUpon will help you find new, unique and popular content from all over the web, tailored specifically to your areas of interests. You can also follow other Stumblers to see content they have liked or disliked.
StumbleUpon has more than 30 million users, and more than 100,000 brands, publishers and other marketers have used its Paid Discovery platform to promote their products and services.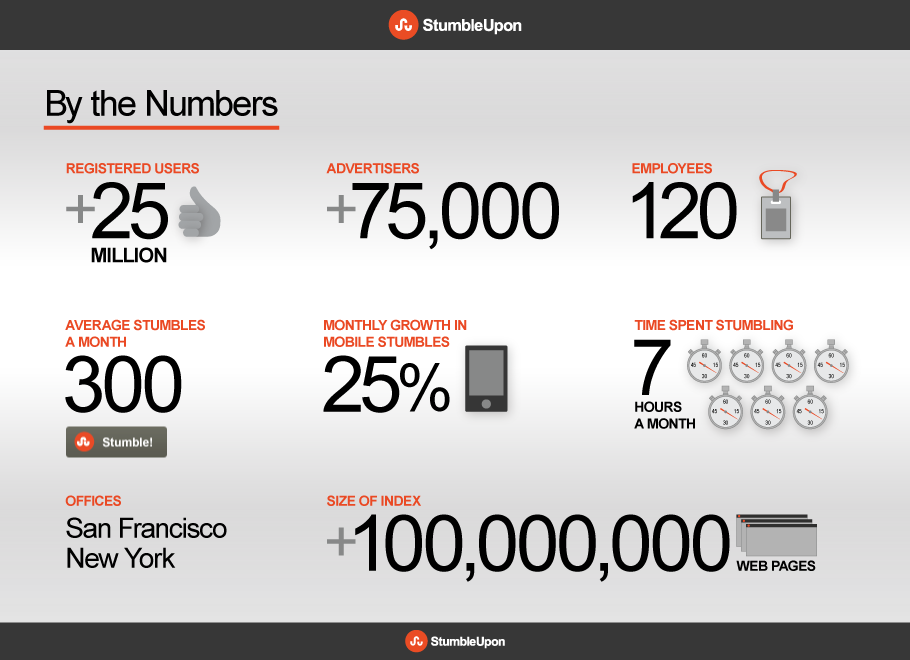 (Image: StumbleUpon)
How Do I Use StumbleUpon to Share Content?
There are a variety of easy ways to submit your content to StumbleUpon. You can:
Download the extensions for Chrome or Firefox and simply click the "I like it" button from the StumbleBar when on your blog post page.
Submit your post directly on StumbleUpon's addition page.
Add your post from your Profile page on StumbleUpon. On the bottom of the left-hand side, click "Add a new page" and you'll redirect to the standard addition page.
Submit directly through a social share plugin, if you have one installed on your blog. The Cursive blog uses the GetSocial plugin for WordPress, and that's how I submit each post.
StumbleUpon Best Practices
When you're submitting your content, there are a few best practices to keep in mind:
Submit your content to StumbleUpon once; take the time to completely fill out the form, including the optional comments and the tags (you can use up to five).
Don't only submit your own content. It can appear spammy and may turn off other Stumblers, which can lower the chances of your content being shared. As you explore the web, or use the Stumble button to find new content, share and like it to create a more robust collection of content on your user profile.
Create your profile to support your business or blog. Use the same photo you use on your social platforms, add a relevant bio and connect your social sites.
Admittedly, I am not very active socially on StumbleUpon right now – yet, StumbleUpon is still the #6 social referral to this website on a consistent basis. And I love using the service when I need some creative inspiration or am tired of turning to the same sources I always do for news.
The Internet is a massive place, and there are hidden gems everywhere. StumbleUpon helps dig them out. And when those gems are on your own blog, you'll be glad you helped other people stumble across them.
What about you? Are you currently using StumbleUpon for content sharing or curation? Share your thoughts on the service below. Oh, and submit this article to StumbleUpon if you've enjoyed it!
(Image, text added: StumbleUpon)
Emily is the owner of Cursive Content Marketing. She has been content marketing since the sixth grade, when she created a neighborhood newspaper to build her babysitting authority. (It totally worked.) Today, she helps brands drive business with smart content.
BE A CURSIVE INSIDER.
Get weekly EASY, actionable tips you can use right away to strengthen your school story.