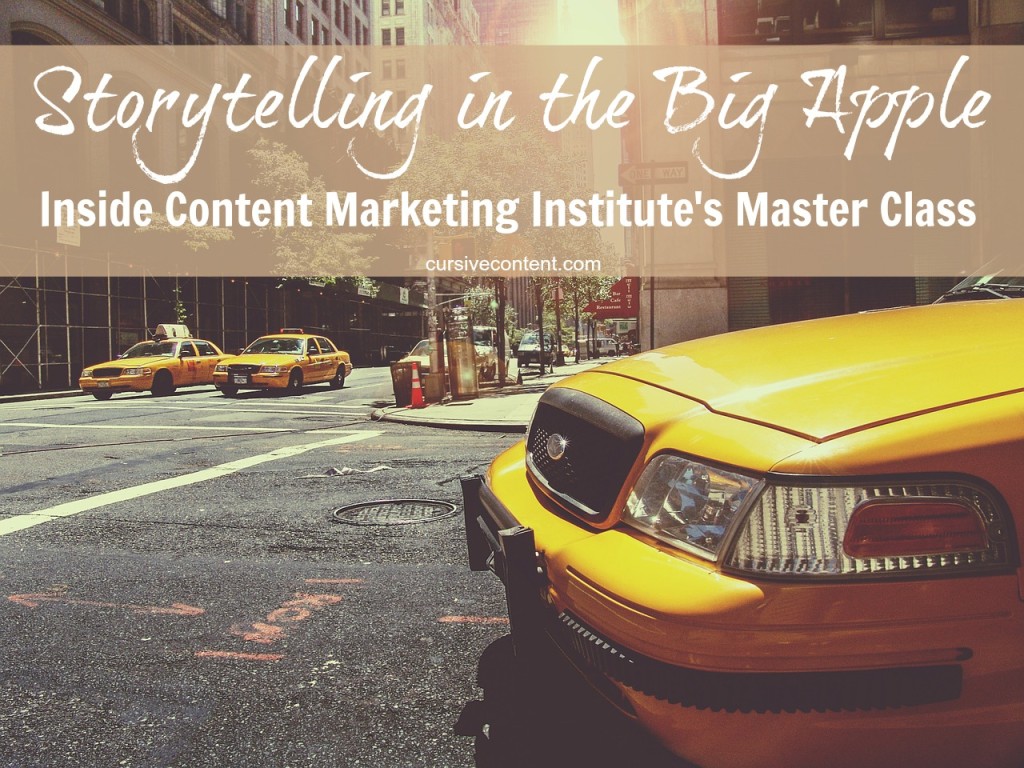 "You don't have to be big. You have to be remarkable."
This, my friends, is my new mantra, courtesy of content marketing mastermind Robert Rose, the chief strategist at the Content Marketing Institute (CMI).
The quote was said in reference to the scope of your content marketing plan … yet, it could have easily been describing the Content Marketing Master Class he was conducting when he spoke the words. Because, wow. It was a small but mighty event.
I was lucky enough to attend, and I'm so thankful I did. The Master Class was an intensive eight-hour advanced course in content marketing strategy, storytelling and measurement, with Rose playing the role of esteemed professor. (His teaching assistant for the day? None other than the ever-engaging Joe Pulizzi, CMI's founder.)
I left with a notebook and a brain overflowing with ideas – and some pretty nerd-tastic content marketing swag (but we'll get to that in a minute).
While there's no way I can reteach what the masters did, I want to share some of the gems I plucked from the course to help inspire you to dig deeper and learn more about discovering, developing and sharing your unique story.
Here's a small bite of what the Master Class brought to the Big Apple:
#1: Goals are important. For your brand. Your business. Yourself.
Both Pulizzi and Rose discussed the critical role goal-setting has in their own lives – and not only the setting of goals, but also the continuous review of those goals.
From the goals you assign to your content marketing program, to those you set for your own personal growth and development, goals are not meant to be established and tucked away. They should become your roadmap, the guide you use to stay on track. And their measurement should be meaningful. So, go ahead, write those goals down – today – and keep them on hand. You're going to need them!
#2: Consumers have adapted. Marketers need to catch up.
Relationships between consumers and marketers are ever-evolving. Unfortunately, as Rose explained, while consumers have naturally adapted their content consumption (and development!) methods with the rise of social media, marketers are still stuck in an old-school, campaign-focused mindset.
That's not good, because consumers' expectations have changed. Consumers are now loyal to a brand's approach, not necessarily its products or services. And it's therefore up to marketing to differentiate that approach.
#3. Start at your weakest point.
Creating a content marketing strategy can be overwhelming. So where should you begin? Rose says to look at your existing sales funnel or buying cycle and identify the weakest points – the spots that hurt your business the most.
Start there. Develop content that strengthens these weak points in the minds and hearts of your consumers. Create value that is separate and distinct from your product in order to drive business results.
#4. Content is not a tactic.
Don't you love it when someone says that we should "do content"? 
Rose emphasized the point that content is not something you just "do"; it's not a tactic. Instead, content is a strategic function and an action worth taking seriously. It needs to be considered business-critical and approached with function before form. An organization needs to "make content important" in order for it to be successful.
 #5: Analytics are B.S.
Ok, Rose didn't say that in so many words, but he does have an issue with the ways marketers bend results in our favor. Web traffic on the rise? More Facebook likes? A huge jump in Twitter followers? All of these metrics are meaningless if they're not driving business.
In general, marketers need to change the way we think about measurement and make it (much) less self-serving. We need to measure content in terms of business goals, not in terms of our own team's benchmarks.
#6. Not everyone has to like you.
Marketers hate one thing more than being wrong, and that's being un-liked. We need to learn that it's OK if our content strategy is not for everyone. In fact, trying to open up a successful content marketing strategy and make it work for multiple audiences is one of the fastest ways to destroy something great.
Rose says to focus on one audience at a time – whether it's the one that is hurting you the most or the one that offers the biggest opportunity. You want to have effective, consistent experiences with targeted audiences rather than broad interactions with general audiences.

Good stuff, right? And those are just six quick takeaways from a days worth of content gold.
The class also featured thoughtful and entertaining presentations from Buddy Scalera, SVP of Content Strategy & Media at Ogilvy CommonHealth (comic books teach content marketing!); Ruth P. Stevens, author of Maximizing Lead Generation (content audits are super fun!); and Steve Rotter, Global VP of Digital Marketing Solutions at Brightcove (video! video! video!).

And then, there was the swag. Orange notebooks, content marketing/pop culture mashup buttons, and bright orange beer koozies. Sweet.

All in all, a fabulous day with fabulous people learning fabulous things. If you haven't, I highly recommend learning more about Content Marketing Institute and its events. They're definitely an experience, not an interaction.
Are you a fellow Master Class alumni? Let's connect and get all nerdy about our love of content over on Twitter or Google+.