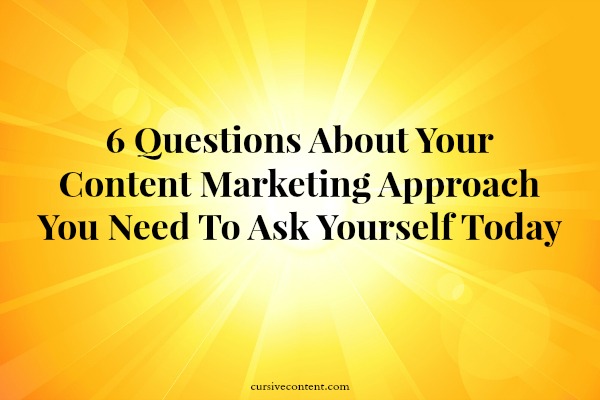 It's time to spring ahead, folks. And I'm not just talking about resetting your clocks. It might be time to reset your content marketing strategy.
How do you know if your content marketing approach is on the right track? Ask yourself these questions:
Do we have a documented content marketing strategy?
Are our content marketing efforts consistent?
Have we developed a plan for content production, including a detailed editorial calendar?
Are we measuring the results of our content marketing efforts?
Have we developed a good mix of content (original, repurposed, and curated) and types of content (blog, eBook, podcast, SlideShare, social media, etc.)?
Does creativity play a role in our content marketing approach—are we thinking outside the box to find the best ways to help our audience?
If you answered "no" to any of these, it's time to get to work.
But before you've defined where you want to go, it's important to understand where you are. Lee Odden recently defined the stages of content marketing evolution. During the first stage, Stasis, focus on content is minimal and involves the standard things that need to be done, such as writing press releases or copy for a new product or service. In the next stage, Production, more content is developed and shared, but it's developed for SEO, not the consumer. And since the consumer doesn't really care about the content, it drives more web traffic but doesn't lead to an increase in sales.
If either of these stages describes you, you're not alone. According to the Content Marketing Institute, 90% of marketers say that content marketing is a part of their 2014 marketing plan, yet only 39% have laid out a content marketing strategy.
Is it any surprise, then, that only 34% consider their content marketing effective? Without a strategy, you have an infinitesimally small chance of moving past Stasis or Production to any of the final, vastly more successful, stages of content marketing maturity (Utility, Storytelling, and Monetization).
So as we head toward a fresh new season, embrace that extra hour of sunlight in your day. Use that time to consider what you want to accomplish and how you can move your content marketing forward.
At Cursive Content Marketing, we're passionate about content. Let's grab a cup of coffee and chat about how we can help you develop a fresh new content marketing strategy.
Stacy is a content marketing strategist & writer at Cursive Content Marketing. She has more than a decade of marketing experience with a focus on strategy, writing and the interactive experience. Stacy is driven by her strategic outlook, life-long love of words and her innate curiosity. And coffee, of course.
BE A CURSIVE INSIDER.
Get weekly EASY, actionable tips you can use right away to strengthen your school story.