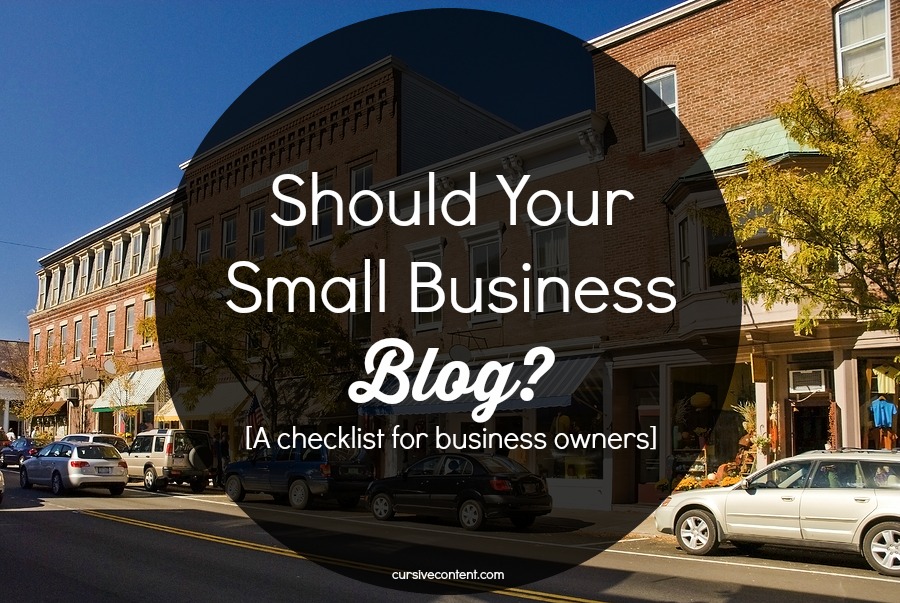 When you run a small business, saying that you have quite a few responsibilities is like saying that Tokyo has quite a few residents.
In order to stay on track, it's important for business owners to be careful and selective with the tasks you take on — which is especially true when marketing your business.
So when you see a statistic like this one…
B2B companies that blog generate 67% more leads than those that don't. (WebDAM)
Or this one…
42% of consumers look to blogs for information about potential purchases; 52% say blogs have impacted their purchase decisions; and 57% of marketers have acquired new customers with their blogs. (InboundWriter/LeadersWest Digital Marketing Journal)
…you may start to wonder if it makes sense to add blogging to your already intense list of to-dos.
Before you jump on the business blogging bandwagon, however, it's important to understand WHY you are considering starting a blog. Because without the WHY, blogging is certain to become a line item that is quickly pushed aside for more pressing concerns.
Here are 14 questions to ask yourself to see if blogging is right for your small business:
• Does your business, or your employees, have expertise that your audience doesn't know about?
• Does your company have a unique approach to solving a customer problem?
• Do you want the ability to demonstrate what makes your business different?
• Do you want to be recognized as an authority in your industry?
• Do you want to build up your audience database?
• Do you want to grow your social media following?
• Do you want to be able to connect with your audience directly, rather than through a third-party marketing or social media channel?
• Does your audience have misperceptions that you have to continually address?
• Do you struggle to make a boring topic interesting?
• Do you want to improve your customers' experience?
• Do you want to get your employees more engaged with your brand and your message?
• Do you have fantastic success stories that no one knows about?
• Do you want to authentically improve SEO – without all the tricks and constantly changing tactics?
• Do you want to create more public relations opportunities?
You can see where I'm going with this.
If any of the above are key goals for your business, you should consider starting a blog.
Whether in a traditional blog format or some other form of online storytelling, consistently creating and sharing content that interests your audience is the best way to build relationships and position yourself as a thought leader in your industry.
Yes, content marketing can be challenging. And writing is hard. But with statistics like this one …
61% of consumers say they feel better about, and are more likely to buy from, a company that delivers custom content. (Custom Content Council)
…you can see why so many small businesses are beginning to blog.
Ready to learn more about how to get your business blogging? Sign up for Script Your Story, a customized, virtual consulting session designed to give you the one-on-one content and social media advice you need to create a smart, achievable content marketing plan. 
Emily is the owner of Cursive Content Marketing. She has been content marketing since the sixth grade, when she created a neighborhood newspaper to build her babysitting authority. (It totally worked.) Today, she helps brands drive business with smart content.
BE A CURSIVE INSIDER.
Get weekly EASY, actionable tips you can use right away to strengthen your school story.