The Hallmark channel is playing Christmas movies. Target is filled with tinsel and stockings and egg-nog flavored treats. I went to Starbucks today and guess what? The bright red holiday cups have arrived.
Part of me screams: "It's not even Thanksgiving yet, people!" and part of me starts to get really excited.
Because the end of the year? That's when we start planning all our goals for the year to come. And, my marketing friends, that is the most wonderful time of the year.
There's nothing quite like thinking big and planning big to make those big dreams a reality.
(Actually, two of our big goals for 2016 are happening THIS WEEK- starting with tomorrow's webinar. It's not too late to sign up, so join us!)
If you're ready to think big, dream a little, and put some action steps behind what you want to really go for in 2017, here's what we recommend: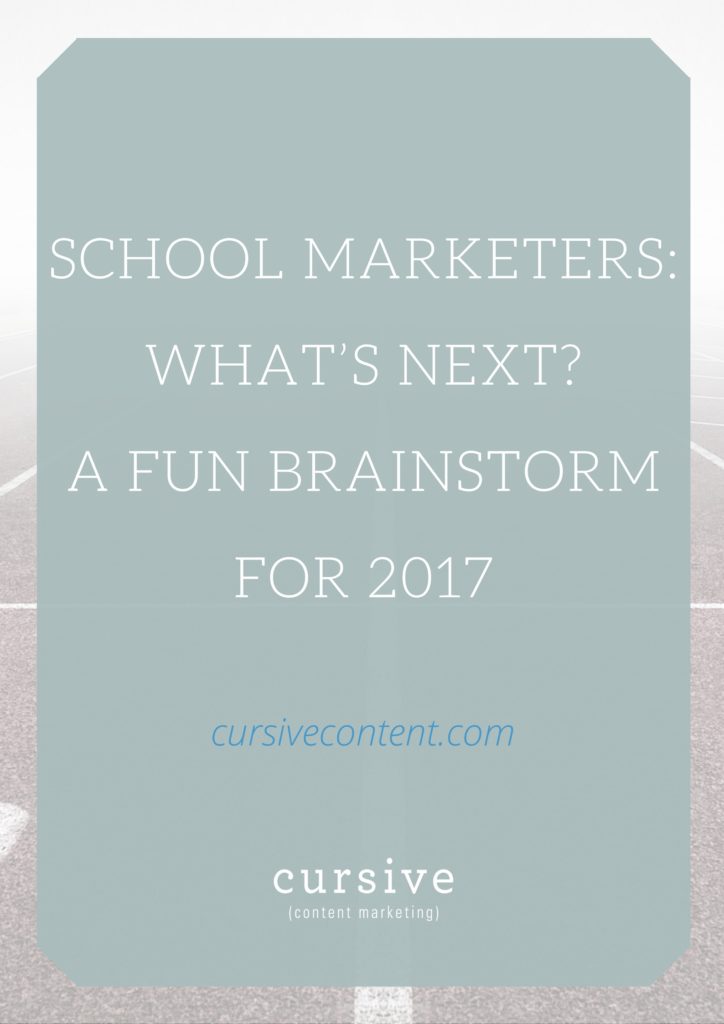 Don't hold back
The first step to making the coming year amazing is to envision what your perfect year would be like. Don't limit yourself to what you think is doable (you'll add a reality check later), just dream. Think about:
What big projects you want to complete
What you want to achieve
How you want to feel
How you want to grow professionally (or, how you want your department to grow)
Just brainstorm. Have fun with it. Create a list of things to do in 2017 that gets you energized.
Prioritize
Look at all the ideas you have and create a priority list of the three things you most want to accomplish. Maybe your website needs revamping NOW, you want to jumpstart your blog in 2017, and you want to rethink your Instagram presence. What are the things that matter most to your audience, will make the biggest impact, will help move your school forward? For now, focus on those.

Get real
What would it take to accomplish those three things? What's in your control, and what's outside of it? Do you need help or buy-in from anyone else?
Write down the things it will take to get you started and set up for success from start to finish. Envision the roadblocks and the ways to avoid them or simply knock 'em down.
Make a plan
Jot down rough milestones so you know what you need to accomplish by when in order to achieve your goal. Create a timeline or add notes in your 2017 planner—whatever will keep your goal projects top of mind. Think of how much energy these creative and important ideas gave you while you were brainstorming, and use that to fuel your gettin'-stuff-done attitude.
Things will change—they always do—but by creating an outline of what needs to be done you'll be able to proceed with clarity and confidence.
If you're in a goal-setting state of mind, get more inspiration here:
Stacy is a content marketing strategist & writer at Cursive Content Marketing. She has more than a decade of marketing experience with a focus on strategy, writing and the interactive experience. Stacy is driven by her strategic outlook, life-long love of words and her innate curiosity. And coffee, of course.
BE A CURSIVE INSIDER.
Get weekly EASY, actionable tips you can use right away to strengthen your school story.