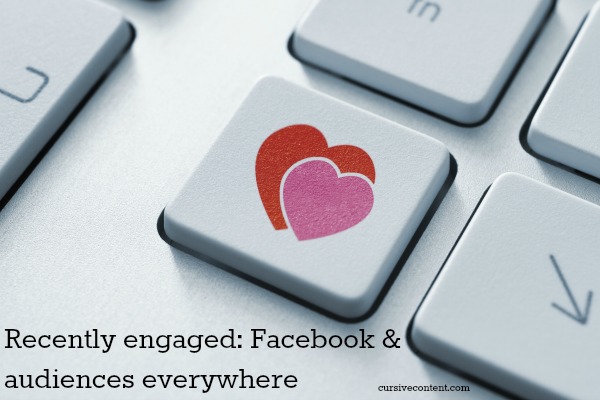 If Facebook plays a role in your 2014 content marketing strategy, you're in luck. According to the Pew Research Center's most recent stats, Facebook has the most engaged user base of any social networking site. That's great news for marketers— but before you start planning the wedding, here's a refresher on what to keep in mind as you aim to create that coveted union with your Facebook audience:
Keep it short.
Think about how your utilize your own Facebook news feed. Chances are you aren't even reading it as carefully as you did the recipe to make last night's dinner. You're scanning, and so is everyone else. Save the lengthy commentary for your blog— make Facebook a place for quick updates and teasers.
Use visuals.
What are you doing in the competition for attention with photos of cute babies and adorable kittens? You need to be posting attention-grabbing photos of your own. People love visuals, and they can sometimes explain or share an experience better than words alone. Weave them into your updates and watch your engagement increase. It's ok to share Instagram photos to Facebook, so let one photo do double duty.
Give them a reason.
Again, consider your own Facebook account for a minute. Who are you friends with? Most likely it's a wide variety of people, from your cousin and best friend to your old high school boyfriend and the local news station. Why have you let each one of those "friends" in? Whether we're talking about an individual or a brand, it's because you have a relationship with them. How can you bring value to your audience so they actually want to engage in that relationship with you? The days of just saying "Like us on Facebook" are long gone. Your audience's news feed is full, and you need to be worthy of each and every like through the content you provide.
Has your Facebook audience said "yes!"? Let us know how you've found success.
Stacy is a content marketing strategist & writer at Cursive Content Marketing. She has more than a decade of marketing experience with a focus on strategy, writing and the interactive experience. Stacy is driven by her strategic outlook, life-long love of words and her innate curiosity. And coffee, of course.
BE A CURSIVE INSIDER.
Get weekly EASY, actionable tips you can use right away to strengthen your school story.