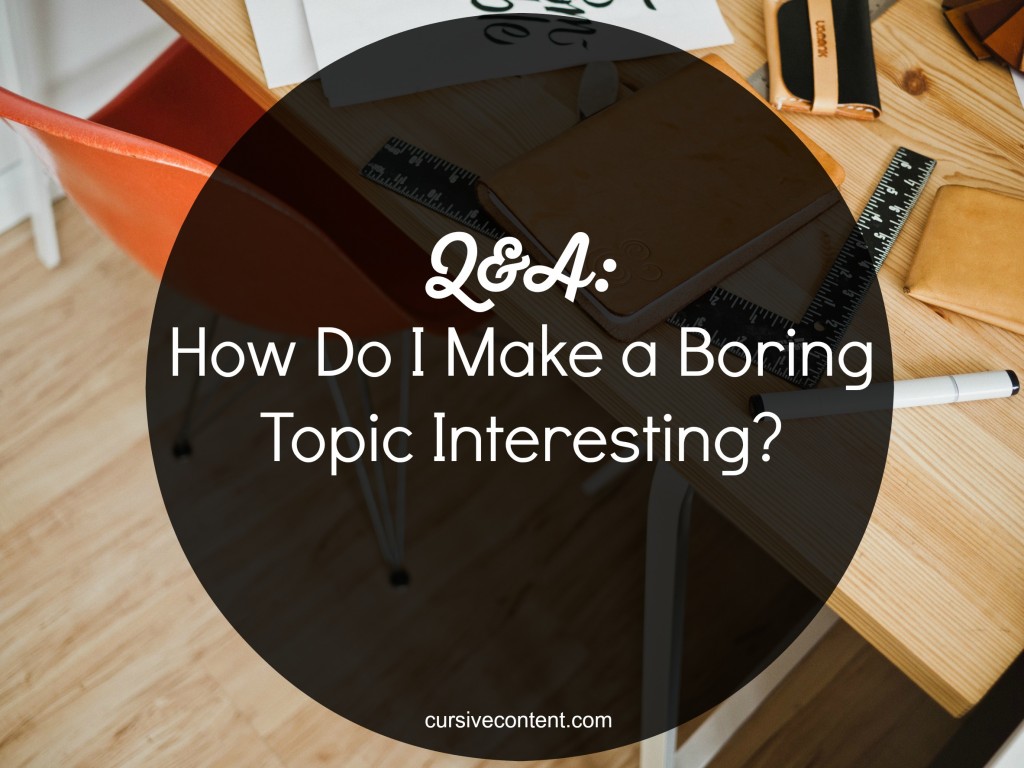 You ask, we answer!
As we work on creating some exciting new things for you, we will be answering your most frequently asked questions here on the blog. So keep them coming! (Submit yours using the form below.)
First up, a question that echoes a concern we often hear: How do I make a boring topic interesting?
Q.
My business is a technical service and I want potential clients to see me as an authority in my field. I am passionate about what I do but I realize it can be very boring to talk nuts and bolts to people who like to see results but don't care about what happens behind the curtain. As I consider topics to write about, how should I voice my blog? 
A:
There are a few important points in your question that show you are already on the right path. So, cheers to that.
First, you recognize your audience: "people who like to see results but don't care about what happens behind the curtain." This gives you a good place to start. Explore who these people are a little bit more by creating top-level sketches of their personal and professional wants and needs.
What are their professional titles? What do they care about most? What keeps them up at night? Who or what influences their decisions? If you want to go a little bit deeper with this, you can work on creating buyer personas for each audience you're trying to reach. But it's OK to keep it top-level at the beginning.
Now you can apply your technical knowledge to speak to those exact wants and needs. And the key here is to think about the end result of the "nuts and bolts" of your technical service. What is the outcome for the audience? Will their job be easier or more profitable? Will it save time and resources? Is it a quick fix they can make with little effort? It's always, always about what's in it for them.
This should give you a great list of topics to kick off your blog. But of course, then it's time to write. And your voice is something that is at once strategic and personal. Start by looking at other blogs or publications your audience reads, and try to get a sense of the tone and style used to present similar information. Then, make it your own. Bring your personal style and your authentic voice to your writing.
Because the thing that will make you an authority is the ability to present your expertise as yourself.
Before you begin to publish anything on your blog, write a months' worth of articles. This will give you time to find and refine your voice, and it will help keep you ahead of your publishing schedule.
Remember, it doesn't have to be perfect. Better yet, it won't be perfect. But it will be yours. And that's a freaking amazing feeling of accomplishment that will just build and grow over time.
Want to get your own question answered? Submit it here! And be sure to subscribe below to make sure you never miss an answer.
What do you want to know about starting a blog for your business?
Emily is the owner of Cursive Content Marketing. She has been content marketing since the sixth grade, when she created a neighborhood newspaper to build her babysitting authority. (It totally worked.) Today, she helps brands drive business with smart content.
BE A CURSIVE INSIDER.
Get weekly EASY, actionable tips you can use right away to strengthen your school story.