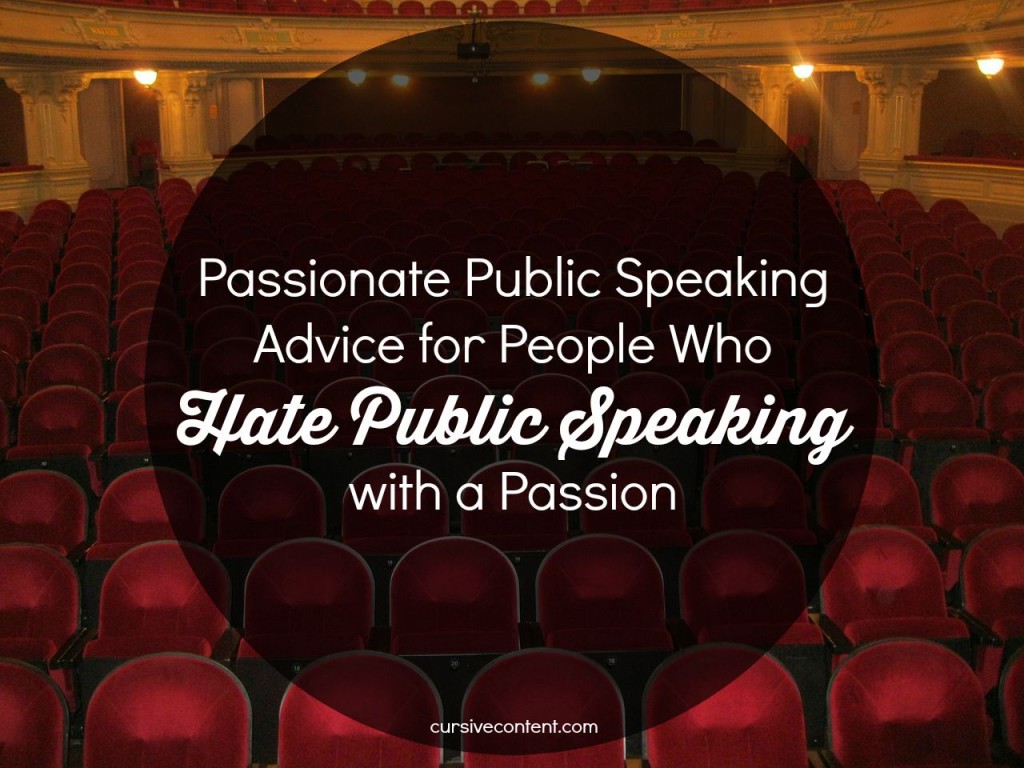 I used to think that you were either good at public speaking, or you were not. And I assumed that I would always be one of the "were nots".
The idea of public speaking used to cause a serious visceral reaction in me — my mouth would dry up, my heart would flutter like a trapped moth, my palms would sweat. So cliche, but unfortunately so spot on.
I would even experience mild versions of this public-speaking-paralysis in simple situations, like when introducing myself for the first time in a college class, or when running into someone unexpectedly in an out-of-context location (think: my doctor at the grocery store). It was a little bit ridiculous.
But once I became a "professional", I realized I had to seriously cut the crap and get over my fear. As the director of strategy at a marketing agency, I had to pitch the business and present to clients on a regular basis. I even had to speak about social media on a panel in front of hundreds of people — in 2009, when social media was just starting to be a thing (my first legit public speaking gig).
And when I started Cursive Content Marketing, public speaking quickly became an important part of my job. It was a way to establish my brand and personal name as a solopreneur newbie; it helped me reach new audiences and create new connections; and it won me business.
Can't beat that.
And yet … I still get the paralysis. Although now it's more like symptoms rather than a full-blown affliction. And symptoms, I can deal with.
The point is: there's hope for all of you scared-sh!tl&ss public speakers out there. Because there's no way you are more scared-sh!tl&ss than I was.
So how did I get over my full-blown public-speaking paralysis?
It's super easy…
I forced myself to do it.
Even though I didn't want to.
Even though I couldn't sleep for nights before.
Even though I had anxiety every time the topic was brought up.
Every time I was asked to speak at an important event, I said yes.
We have started seminar 2 of #npse with @EmilyCretella of @cursivecontent pic.twitter.com/taz0T4RFG9

— iMission (@imissionpartner) March 27, 2014
I went against every instinct in my body and instead listened to the nagging in my mind — the one that said: You want to say no because you're afraid, not because you can't do it. You want to say no because it's easier. You want to say no because yes is uncomfortable.
So my go-to answer became yes. Of course, that yes was just the first step. Then came lots of brainstorming, lots of hard work, lots of practice and lots of watching the experts do their thing (i.e., go watch some TED talks!).
My first few presentations were … meh.
I jumped right into the content. I didn't connect or interact with the audience. I just got through it.
And I realized: meh is not for me. So I worked harder.
Had a blast presenting to and meeting the fabulous members of @CAISCT last week. Thanks for sharing your stories! pic.twitter.com/g3Ng0imkW3

— Emily Cretella (@EmilyCretella) April 29, 2015
With each yes, the no voice became quieter. Now, I welcome and seek out speaking opportunities. Dare say, I enjoy them. (Something the red-faced, introverted college Emily would not believe.)
I truly believe it's mind over matter. It's confidence over fear.
It's choosing yes over no.
So inspired by the passionate communicators at #SchoolsAimHigh. Thanks for being such a fun group! #ISMarketing pic.twitter.com/xWDAihhpt9

— Emily Cretella (@EmilyCretella) July 15, 2015
So believe me, you can do it. You won't die. You won't bomb. You will get through it. And you will get better.
If you're reading this and still thinking, "Yeah ok, but no thanks," check out these articles for some more passionate public speaking advice:
Need a bigger kick in the butt? Below is a great infographic by London Speaker Bureau with more tips to make your next public speaking opportunity worthwhile — and paralysis free. 
And if you liked this article, never miss another! Subscribe below to get weekly tips and stories delivered right to your inbox. 
Emily is the owner of Cursive Content Marketing. She has been content marketing since the sixth grade, when she created a neighborhood newspaper to build her babysitting authority. (It totally worked.) Today, she helps brands drive business with smart content.
BE A CURSIVE INSIDER.
Get weekly EASY, actionable tips you can use right away to strengthen your school story.