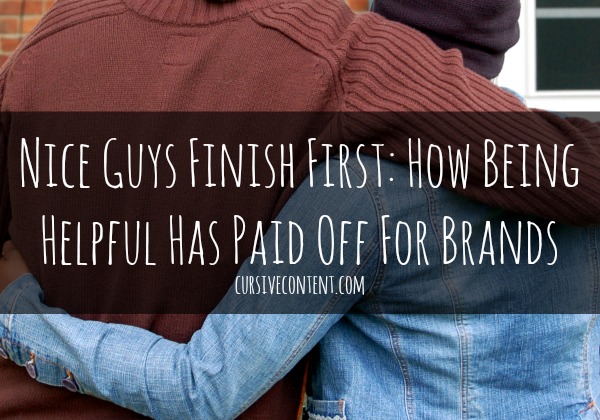 "Focusing on what the customer wants is more important than what you have to sell."
That line is one of the best from Joe Pulizzi's Epic Content Marketing; a guiding principle of content marketing so succinct, it's impossible to ignore.
Yes, it's true. It's NOT all about you.
Brands who have achieved success through content marketing think this way. They're truly trying to build relationships with their customers, so they've stopped thinking like sales people and started thinking like publishers. They're creating content that fulfills their brand promise. Which, remember, is a promise to the customer.
They're creating content that their audience wants to read, content that appeals to their curiosity, lifestyle, concerns, fears, hopes, dreams, whatever is right for the people they want to reach. And they know how to create that "right" thing because they know their audience. They're doing what it takes to make them happy. And their audience feels it. Which means the brand feels it back.
Customer-focused content wins.
Perhaps one of the biggest examples of helpful brands, American Express Open Forum is also often held up as one of content marketing's strongest examples. Open Forum contains mostly unbranded content that isn't directly related to AMEX products or services. In an interview, Jennifer Eldin, Senior Manager of Marketing & Content Innovation, says "We found that leveraging the voice of experts in the space versus our own has been really successful in driving engagement. And I think also, we've started to really leverage data and look at it very closely on a very frequent basis to try to understand what people are coming to us to learn about. So I think it's helped us cover the right topics and get the right folks writing for us."
By listening to what the customers want—even when it meant that American Express wasn't necessarily the voice doing the talking— Eldin and her team have managed to attract millions of visitors per month.
Authentic content is likable content.
Being helpful just makes sense. Think about your own personal buying experiences. You hate the hard sell, don't you? It doesn't feel friendly or welcoming. It makes you want to get up and leave. And that's just what many audiences do when content is all about the brand and not about them. It becomes boring. Sales-y. Self-involved.
In other words, yawn.
So make it about your customer. Mollie Chen, Editorial Director at the explosively popular subscription beauty product company Birchbox, explains the customer-centric question that drives all of their content creation: "We approached it really simply: What would we, as women, want to read?"
Notice she isn't asking, "What do we want to write about" or "What does Birchbox want to promote?" From the start, it's all about the customer. The focus on great, helpful content that women honestly like (which includes an online magazine, blog and YouTube channel) has paid off. Birchbox has around 800,000 subscribers and an estimated $96 million in sales since they started doing business about four years ago.
Not bad for a company whose subscription costs a mere $10 per month—because they've been able to make it about much more than that. Back in 2013, co-founder Katia Beauchamp shared the fact that 15% of their online sales of full-sized products come from buyers who aren't subscribers—a fact that Beauchamp credits to the great content that draws people in.
Let's take it back to the playground, people.
The rules for making friends have always been simple: be nice. That's how you make friends. That's how you KEEP friends. Yes, we're all grown up now. We're marketers. Business people. We've got sales goals, budgets and bosses to answer to. But we're all people, so the rules are still the same.
Creating helpful content is one of the best ways for brands to show they care. And the response to that content proves that customers return the love.
How have you been showing your customers they're the center of your universe? We'd love to hear how being helpful has paid off for you, so leave us a comment below or join the conversation on Facebook or Google+.
Stacy is a content marketing strategist & writer at Cursive Content Marketing. She has more than a decade of marketing experience with a focus on strategy, writing and the interactive experience. Stacy is driven by her strategic outlook, life-long love of words and her innate curiosity. And coffee, of course.
BE A CURSIVE INSIDER.
Get weekly EASY, actionable tips you can use right away to strengthen your school story.