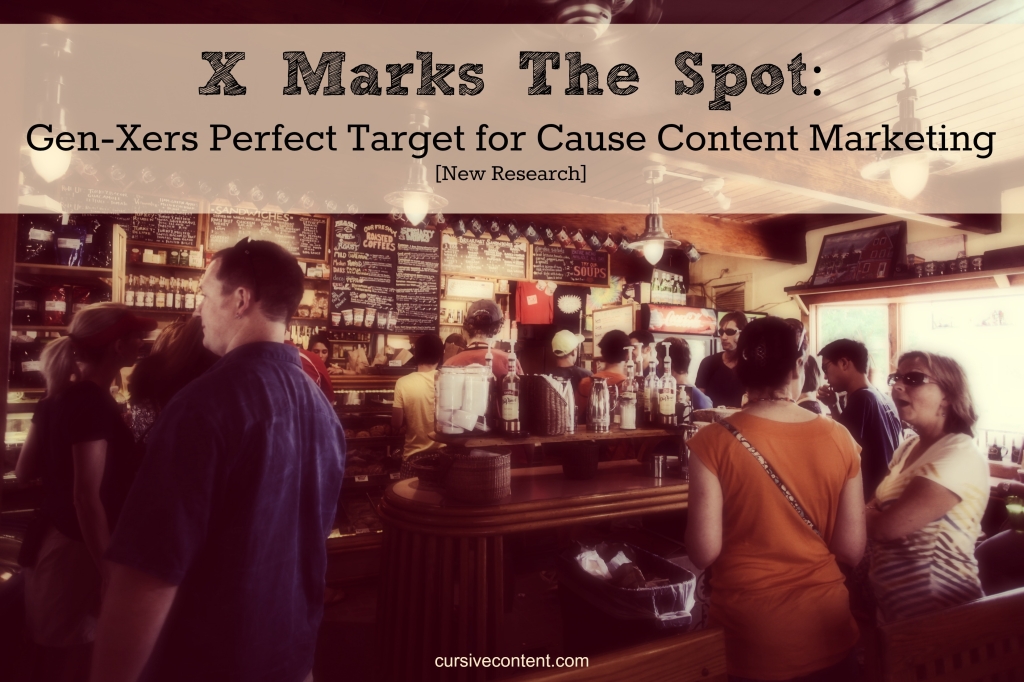 Reality no longer bites for Generation-Xers – and content marketers need to take notice.
A recent study from Shullman Pulse, reviewed by MediaPost's Research Brief, shares some interesting facts about this often-overshadowed audience group:
Both personal health and family health are top concerns for 33% of mass-market Gen-Xers.
Mass-market Gen-Xers also worry about the price of gasoline (39%), having enough money for a comfortable retirement (33%) and the impact of "Obamacare" (29%).
Personal health is the top concern for 43% of upscale Gen-Xers (those that are millionaires or have a household income of $250,000+).
Upscale X-ers are also concerned with economic recession (30%), arranging for their children's or grandchildren's education (25%), crime (22%) and climate change (21%).
Concerns of a recession aside, 54% of upscale Gen-Xers plan to spend slightly more in the next 12 months than they did in the past 12 months – as do 35% of mass-market Xers.
So who are Gen-Xers? Well, this "complex yet generally upbeat" audience is:
Currently 34 to 48 years old
25% of all adults (about 60.4 million people)
The #1 generation based on total net worth and income – Gen-Xers hold 29% of estimated net worth dollars and earned 31% of total income dollars
OK, so what have we learned? 
Gen-Xers have some weighty concerns.
These concerns – personal health, family health, education, crime, climate change – would be perfect for an organization or brand to address with targeted content created specifically for this audience.
They are concerns that need exploration and attention, and we know that Gen-Xers head online when they need information. In fact, global mobile Internet usage is at 66% for Gen-Xers, which is second only to Millennials. And by 2017, more than 76% of Xers are expected to use social media (source: Statisa).
Gen-Xers also have some weighty pockets.
Most are willing to spend on things that personally matter to themselves and their families. This includes traveling for pleasure for 60% of all Gen-Xers, and purchasing luxury items for 34% of all Gen-Xers (51% of all upscale Xers).
And where do Gen-Xers turn when they want to make a purchase? Online, of course. They have the highest online shopping penetration of all generation groups, and they use mobile to search for coupons, research stores and compare prices before making a purchase (source: Statisa).
Marketers: X marks the opportunity.
It's time to reconsider Gen-X when it comes to your content marketing plan. While it's not the largest generation group, it has a lot of potential.
Now excuse me as I go research some issues that are meaningful to me and plan a vacation or two …
Do you have a plan for targeting Generation X? What's worked for you? I want to hear about it on Twitter or Google+!
Emily is the owner of Cursive Content Marketing. She has been content marketing since the sixth grade, when she created a neighborhood newspaper to build her babysitting authority. (It totally worked.) Today, she helps brands drive business with smart content.
BE A CURSIVE INSIDER.
Get weekly EASY, actionable tips you can use right away to strengthen your school story.