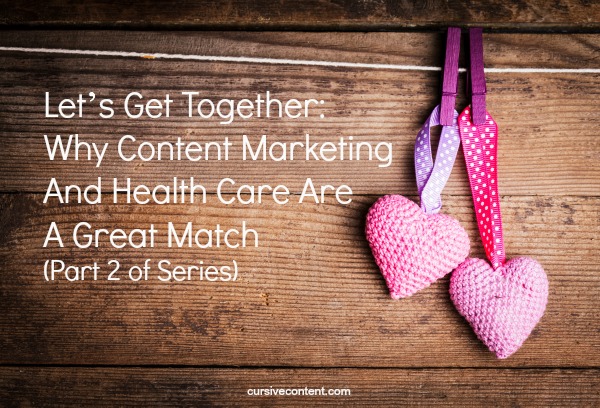 The stats show that if you're in health care, content marketing is your perfect match.
Why? Starting a relationship with content marketing is easier and more effective than speed dating other marketing trends and tactics. With content marketing, the relationship becomes stronger when you're simply yourself. It allows you to form a true connection with others. And admit it: Your other marketing efforts are no longer exciting your bottom line.
Trust us, it's time to make the first move with content marketing. So what's your excuse?
Excuse #1: I'm afraid I won't be able to capture the attention of my audience, and I don't know what to write about.
We understand: You're worried that you'll finally get up the courage for that first date with content marketing, and then…you'll run out of things to say. But there's really no need to fear.
Look at your medical practice. Doctors, nurses, medical assistants—even the receptionist—talk to patients all day long. What common questions or concerns are they hearing? Talking to those who interact with patients is a great way to come up with topics that you can use in your content marketing efforts. You should also look closely at your practice and the industry as a whole. Does your practice have a unique approach or focus you can talk about? Is there new research in your field that you can help your potential patients understand? There's so much happening in health care that, if you prepare correctly, it's almost impossible to encounter an awkward silence.
Scott Linabarger, Director of Digital Content at the Cleveland Clinic, offers another great tip: establish a group within your organization that can help monitor your messaging to make sure it's accurate and aligns with the beliefs of your practice. This will help ensure that, even if you outsource your content development, there is regular oversight and adjustment when needed.
Excuse #2: I'm concerned that HIPAA regulations mean content marketing is a bad choice for my practice.
The possibility of a misstep is not an excuse to avoid that date altogether. Just remember to think before you speak. HIPAA is not an excuse.
Yup, you heard us. HIPAA is simply not an excuse to avoid content marketing. HIPAA was created to protect the medical data of individuals, and rightly so. As a medical professional, you're undoubtedly aware of the regulations that HIPAA imposes on you. So follow them! Without permission, you clearly can't write about a specific patient using identifying details. But maybe you have patients who are willing to share their stories, especially if that story will help others.
Regardless of whether you're telling a personal story or not, use your existing knowledge of HIPAA (along with the system of checks and balances established within your review board) to help guide your content creation. And if you're ever unsure if information is ok to publish, either consult your legal advisor or simply skip the questionable content. Just don't skip content marketing altogether or that competing practice down the street (you know, the one with a great blog) might end up running off with all the new business.
Excuse #3: I'm not convinced that content marketing can help my practice, and I need to allocate my marketing budget toward something with a strong ROI.
There are few guaranteed outcomes in the marketing world (as it is with medicine, too). But let us show you some statistics that should help boost your confidence:
For every nine leads generated by paid search efforts, 31 are generated by content marketing efforts
Blogging pays off: 82% of marketers who post daily saw a positive ROI
Outbound marketing efforts have a 1.7% close rate, compared to a 14.6% close rate for organic search leads
Leads generated through search have a close rate eight times higher than those created through direct marketing
The ROI of content marketing compounds when you think of its many uses: a blog post can be shared on your social networks; a brief story on your website can be expanded on in an e-newsletter. That content you're creating now can also be shared and take new forms long into the future. As the experts at the Content Marketing Institute put it, "creating quality content that has longevity will continue to bring value to your brand long after customers have moved on to new platforms or have downloaded newer social apps to engage with."
Beyond your return on investment, content marketing can help potential patients feel like your investment is in them—78% of people felt that organizations who offer custom content want to build solid relationships with their consumers. That trust factor is huge for any relationship, but is especially important for medical practices.
Can you see now why content marketing is an important part of your future? Are you feeling ready for the commitment? Contact us, and let's get this relationship off the ground.
Up next: we'll show you how the union between content marketing and hospitals and medical practices have produced some beautiful results.
Stacy is a content marketing strategist & writer at Cursive Content Marketing. She has more than a decade of marketing experience with a focus on strategy, writing and the interactive experience. Stacy is driven by her strategic outlook, life-long love of words and her innate curiosity. And coffee, of course.
BE A CURSIVE INSIDER.
Get weekly EASY, actionable tips you can use right away to strengthen your school story.