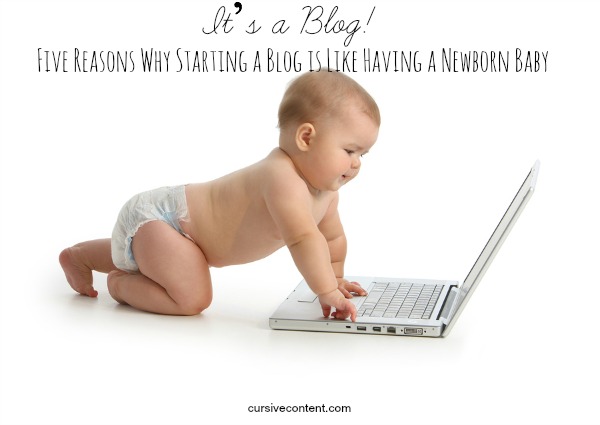 Congratulations; you've made the decision to bring a new blog into this world.
While this is an exciting time for you, it can also be filled with uncertainty and confusion. Don't fret; as a blogger and a new mother, I'm here to help. Here are five things to expect as the caretaker of a new blog:
It might seem all-consuming at first, but eventually you'll get on a schedule and hit your stride.
You've launched your blog. Hooray! Your celebration may seem short-lived, though, when you realize the work is not over. Now you need to create content for that blog on a regular basis, be it every day, weekly, or somewhere in between. It's a task that might seem daunting, but once you make it part of your routine, it will become second nature. Creating a content calendar and pre-scheduling posts are just two things you can do that will help you feel like an old pro.
You can't leave it on its own and expect it to thrive.
Setting up your blog and posting a few articles is just the beginning. In order to raise a successful blog, you have to create good content and post regularly. You should also monitor and respond to comments daily, and take part in conversations on topics related to your blog that are happening on other blogs, websites and social networks.
The wisdom of those who already have one is priceless.
Nothing beats learning from those who have "been there, done that". Ask your fellow blog writers how they keep up. You'll probably hear a few tips and tricks you hadn't thought of that just might make your life easier  – and your blog better. The best part? You can learn from the mistakes of others without having to make the same ones yourself.
Just because it's little at first doesn't mean it won't grow to be big and strong.
Everybody has to start somewhere, and just because you build it doesn't necessarily mean they will come. You might start out with three readers (and one of them might be your mom). Remember to be patient, keep feeding your blog with great content, keep sharing it with the world and eventually you'll find your loyal audience.
It's ok if you don't know everything at first. You'll learn as you go.
If you wait to start a blog until you're absolutely sure you know everything there could possibly be to know about blogging, you'll never start. The truth is, platforms and technologies change, the rules surrounding SEO are in fairly constant flux, and your skills as a blogger will only grow by doing. As long as you're prepared and know the basics, don't wait to get started. Let your common sense, along with the expertise you have in your field, guide you. You might make some missteps, but they won't be that serious in the big scheme of things.
I'm writing this blog post clutching a cup of coffee while my four-month old daughter naps. As a new momma and someone who has written for numerous blogs, I've found another similarity between having a blog and having a baby—your coffee consumption goes way up. But I also promise you that your blog will always let you sleep through the night and you'll never, ever have to wonder what that smell is. So go ahead, start that blog. Me, I've got a diaper to change.
Want to talk blogging? We're up all night! Contact us for help bringing your blog into this world.  
Stacy is a content marketing strategist & writer at Cursive Content Marketing. She has more than a decade of marketing experience with a focus on strategy, writing and the interactive experience. Stacy is driven by her strategic outlook, life-long love of words and her innate curiosity. And coffee, of course.
BE A CURSIVE INSIDER.
Get weekly EASY, actionable tips you can use right away to strengthen your school story.