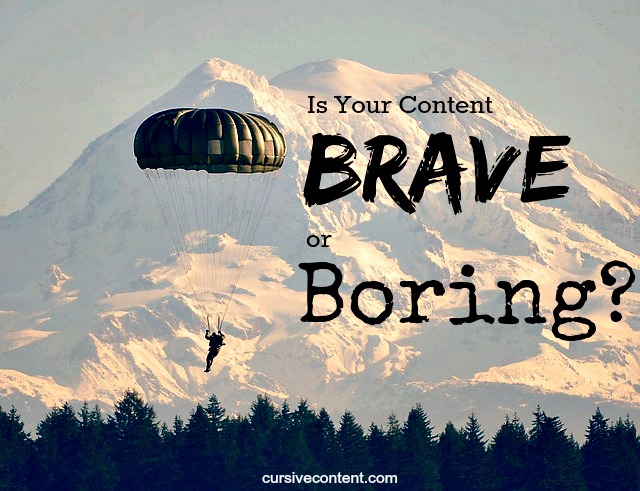 The awesome thing about the Internet is that it's a level playing field. (For now. Don't get me started on net neutrality.)
The frustrating thing about the Internet is that … it's a level playing field. Which means that anyone can claim their expertise on any topic, and shout their advice and opinions to the masses.
The appeal of claiming your expertise online has led to what many are referring to as content shock, defined by Mark Schaefer as "the emerging marketing epoch defined when exponentially increasing volumes of content intersect our limited human capacity to consume it."
In short, there's more content online than we can read … and a lot of it is garbage.
So what happens if you really ARE an expert? If you really have something important to say? How do you cut through the content clutter and get your message to your audience?
It's easy, actually.
Stop writing boring stuff.
You know who you are. The ones who blame your boring content on your boring industry. The ones who think all the good content on your topic of choice has already been written. The ones who think your expertise can't compete with Mr. Big Influencer's expertise.
If you are spending any of your time producing content that is meant to impact your business, you need to put those fears aside.
You need to be brave to write good content.
As Stephen King says in his moving memoir On Writing, "The scariest moment is always just before you start. After that, things can only get better. … You can, you should, and if you're brave enough to start, you will."
So how do you transform your "expert" article from boring to brave?
1. Take a stand.
It's not enough to say that you're an expert in your field. You need to be able to clearly and succinctly explain your unique perspective and the benefit you provide to your audience. You have to have the confidence to take ownership of your expertise.
To Do: Write down your opinion – before reading anyone else's. Don't search for what others have said before crafting your point of view. Trust that you have the knowledge and the insight to develop a meaningful, unique story. Once you have a rough concept of your position, then go out there and see what else has been said on the subject.
2. Use bold word choices.
While writing quickly or under deadline, it's easy to fall into a pattern of using clichés or common catch phrases to describe your subject. Consider the popular:
Think outside the box …
But at the end of the day…
The fact of the matter is…
When it's all said and done …
So what's wrong with relying on catch phrases to describe the simple and mundane? It's lazy. It's uninspired. It's inauthentic. It doesn't require you, as a writer, to explore how you really feel about a topic and examine how you would describe something naturally.
To Do: It's important to police yourself and frequently check your work for inauthentic or meaningless phrases. I often find myself falling into this trap, which is why the editing process is so crucial. Read your work, and read it again. Take a critical look at your word choices. Can they be better? If the answer is yes, screw the deadline and take the time to do it right.
3. Write for your audiences. (For real. Don't just say you do.)
When we think about engaging new audiences with an initial piece of content, we need to stop thinking about it as lead generation or prospect outreach and start thinking about it as meeting new people.
In other words, think of your content as your handshake.
Too often, passionate organizations let the details of what they do overpower the impact of what they do. When this happens, the impact becomes less, well, impactful. The story gets too complex to be compelling.
To Do: Focus on creating content that is personal and powerful. Don't write for a buyer persona. Remember that there's a real, individual person on the receiving end. Explain your point of view to that person, in simple terms that he or she would care about. Create a connection, and your content will take on new meaning.
So, are you ready to sit down and stare that ominous blank Word document in the face? Go for it, you expert you.
This post was originally published on LinkedIn Pulse – click through to join the conversation or to follow future posts.