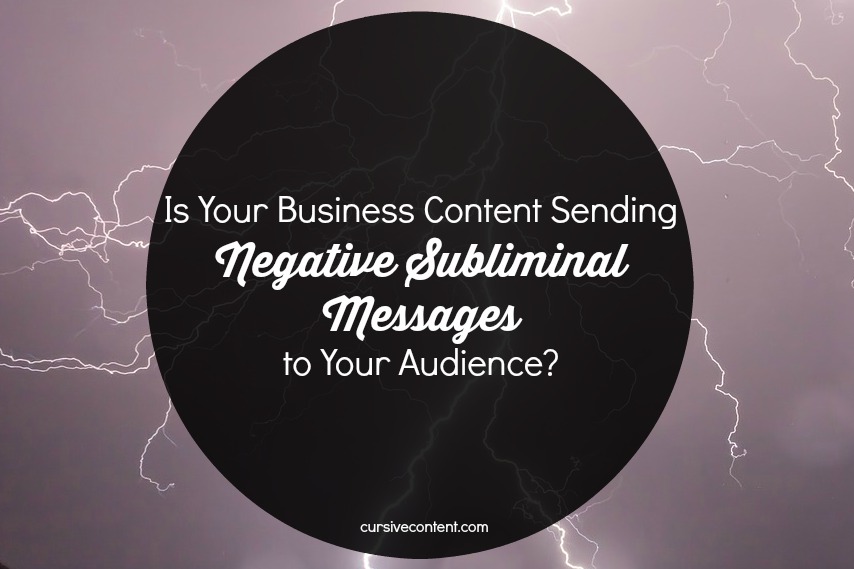 It may be innocent and unintentional, but your communications may be sending negative messages to your audience.
Here are three major, yet common, subliminal messages that creep into business content and make audiences stop reading … and stop paying attention to your brand.
1. You have an agenda.
Is your "white paper" the same content as your sales brochure, just in a different format? Is your "webinar" actually an hour-long promotion of your latest product?
There's nothing worse than disguising a straightforward sales pitch as a valuable piece of content – especially if you require your audience to provide information such as a name or email address to access it.
Audiences will feel cheated if your content doesn't deliver the value promised. And being duped breaks the most important component of a genuine relationship – trust.
Read: "What Makes Marketing Content Valuable?"
2. You don't know who they are.
As mentioned above, your content needs to be more about them and less about you. Every piece of content you produce should be approached from your audience's perspective and crafted to provide them with a unique benefit.
If you don't understand your audience's needs, wants, challenges and goals, your content won't hide it. That's why it's critical to do the research and get to know your audiences before you begin content marketing. Without this understanding, your audience will not connect with your message.
Read: "How to Use Buyer Personas to Create Valuable Content Marketing"
3. You don't care.
Buzzwords, catch phrases, clichés … using jargon that means something to your business but little to your audience is a sure way to repel your readers.
Jargon makes content seem lazy and uninspired, and it undermines the hard work you've put into creating your communications. Make sure you (or someone on your team) closely read all content to make sure no jargon-y words or phrases are polluting your writing. Keep your language simple and clear, and your message will resonate.
Download: Jargon Rehab, our FREE eBook that will help you cut the nonsense and tell the business story your audience wants to hear.
If you want to learn more ways to improve your business content, subscribe below. We'll send you more tips on crafting and sharing a story that will engage your audience and grow your business.
Emily is the owner of Cursive Content Marketing. She has been content marketing since the sixth grade, when she created a neighborhood newspaper to build her babysitting authority. (It totally worked.) Today, she helps brands drive business with smart content.
BE A CURSIVE INSIDER.
Get weekly EASY, actionable tips you can use right away to strengthen your school story.