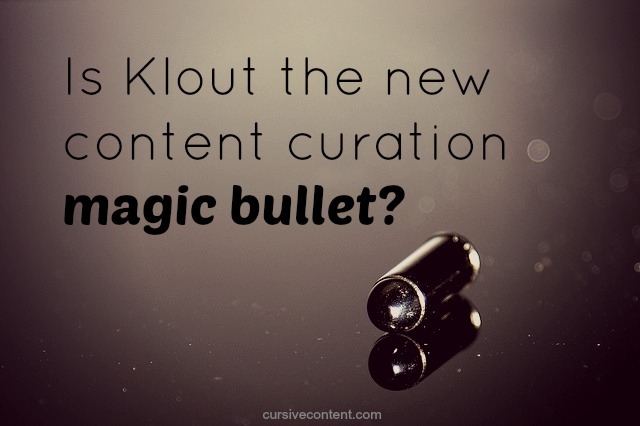 Klout is no longer just your most judgmental online frienemy.
The social scoring service, best known for branding social users with a Klout Score that measures your individual influence online, is now branching out to help its users create great content.
The reason? By creating great content, you'll increase your influence. Which will raise said Klout Score.
In Klout's own words, the #newKlout is aimed at helping people be known for what they love.
Klout Chief Product Officer Sanjay Desai explained in a recent blog post:
"Unlike most apps that suggest content for your personal consumption, Klout intelligently recommends content that will strike a chord with your unique set of friends, fans, and followers. Helpful tags highlight fresh content that is starting to trend as well as items that closely match the interests of your audience members and are likely to resonate with them."
In essence, Klout knows what you're interested in – and what you hope to be known for – across all your social platforms. With that knowledge, it can provide you with customized content recommendations that it knows would be of interest to you and to your followers.
And it's actually pretty good.
Here's what my main screen looks like: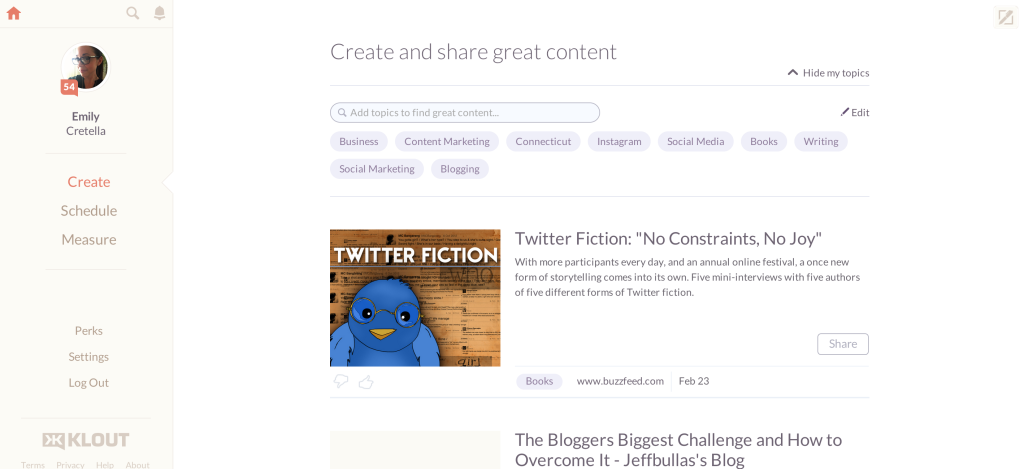 In this instance, Klout is suggesting content from sources I often frequent (JeffBullas.com, PRDaily.com and Social Media Examiner), as well as sources that are new to me. You can "teach" Klout even more about your preferences by giving suggested content thumbs up to indicate you want to see similar content, or thumbs down to see less content of that type.
Klout also tags standout content using four categories:
Hidden Gem: Content your audience most likely has not seen before
Hot off the Press: Content recently published by a reputable source
On the Rise: Content that is beginning to trend
Crowd Pleaser: Content your audience is sure to like

The dashboard lets you create content by sharing your own content or the content suggestions Klout provides. You can schedule distribution to reach your followers at optimal times, and you can measure and track your impact: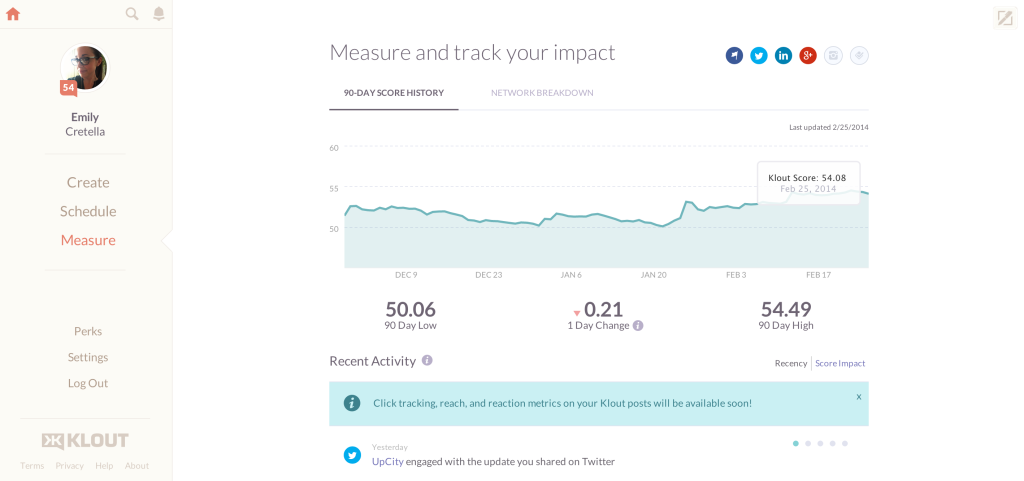 You can even break down your impact by social platform: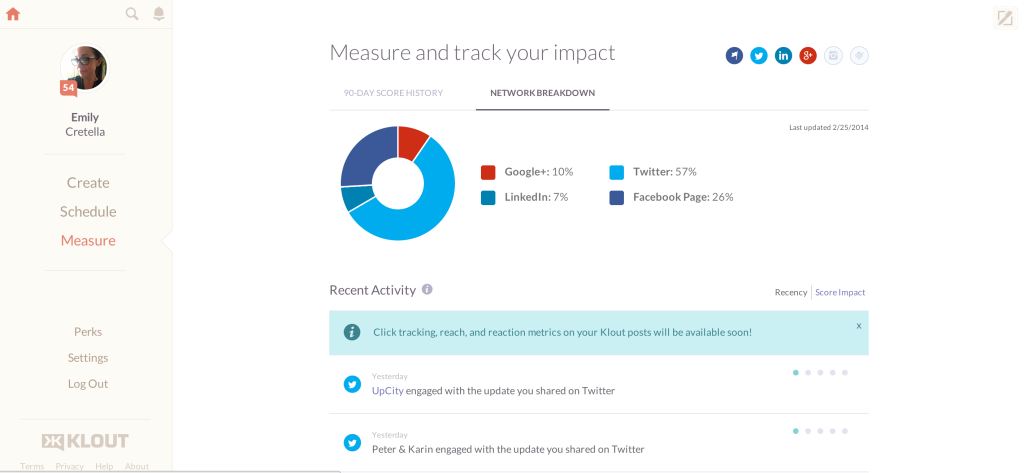 The best thing about the new Klout platform is its philosophy – the belief that creating and sharing smart content is the best way to increase your influence online. This sets it apart from other content curation platforms and message scheduling services because it's content-oriented rather than task-oriented. It's not only about the act of sharing – it's about WHAT you're sharing.
Not everything about the new platform is splendid, however. There's no ideal way to sort your content suggestions at the moment, and sometimes the content suggestions simply miss the mark.
Klout acknowledges that this shift is a work in progress, and overall it's a promising one. I'm extremely interested to see how this platform evolves – and gains its own clout – over time.
What do you think? Have you tried the new Klout? Share your reactions in the comments below. 
(Image, edited: eschipul)
Emily is the owner of Cursive Content Marketing. She has been content marketing since the sixth grade, when she created a neighborhood newspaper to build her babysitting authority. (It totally worked.) Today, she helps brands drive business with smart content.
BE A CURSIVE INSIDER.
Get weekly EASY, actionable tips you can use right away to strengthen your school story.