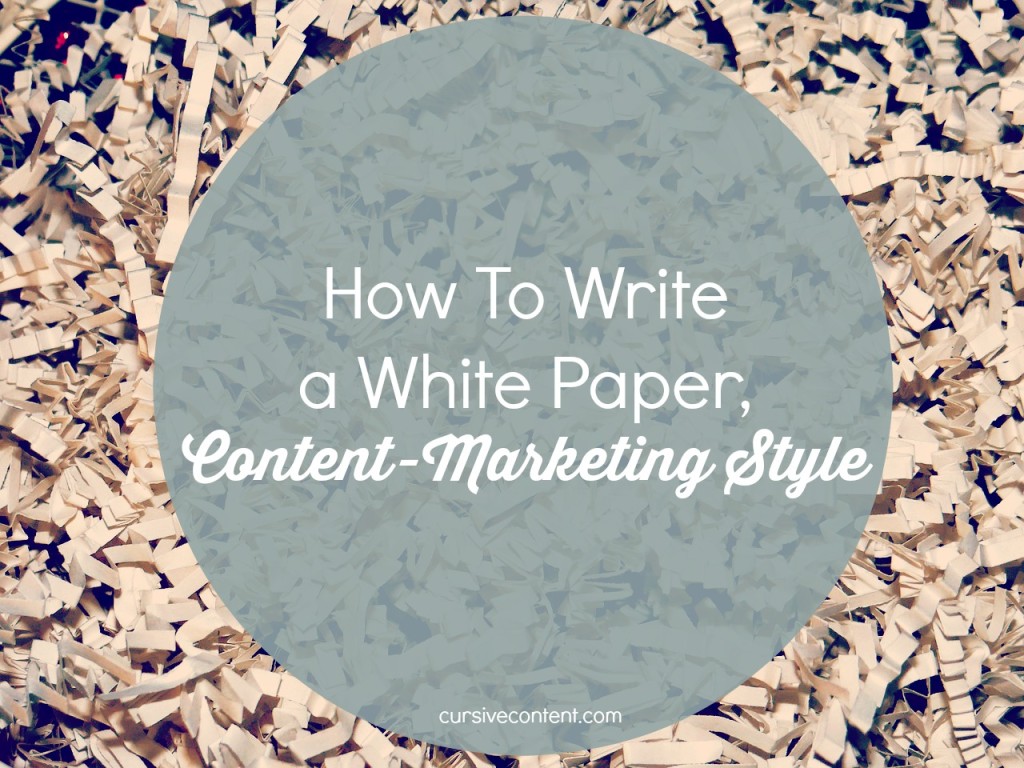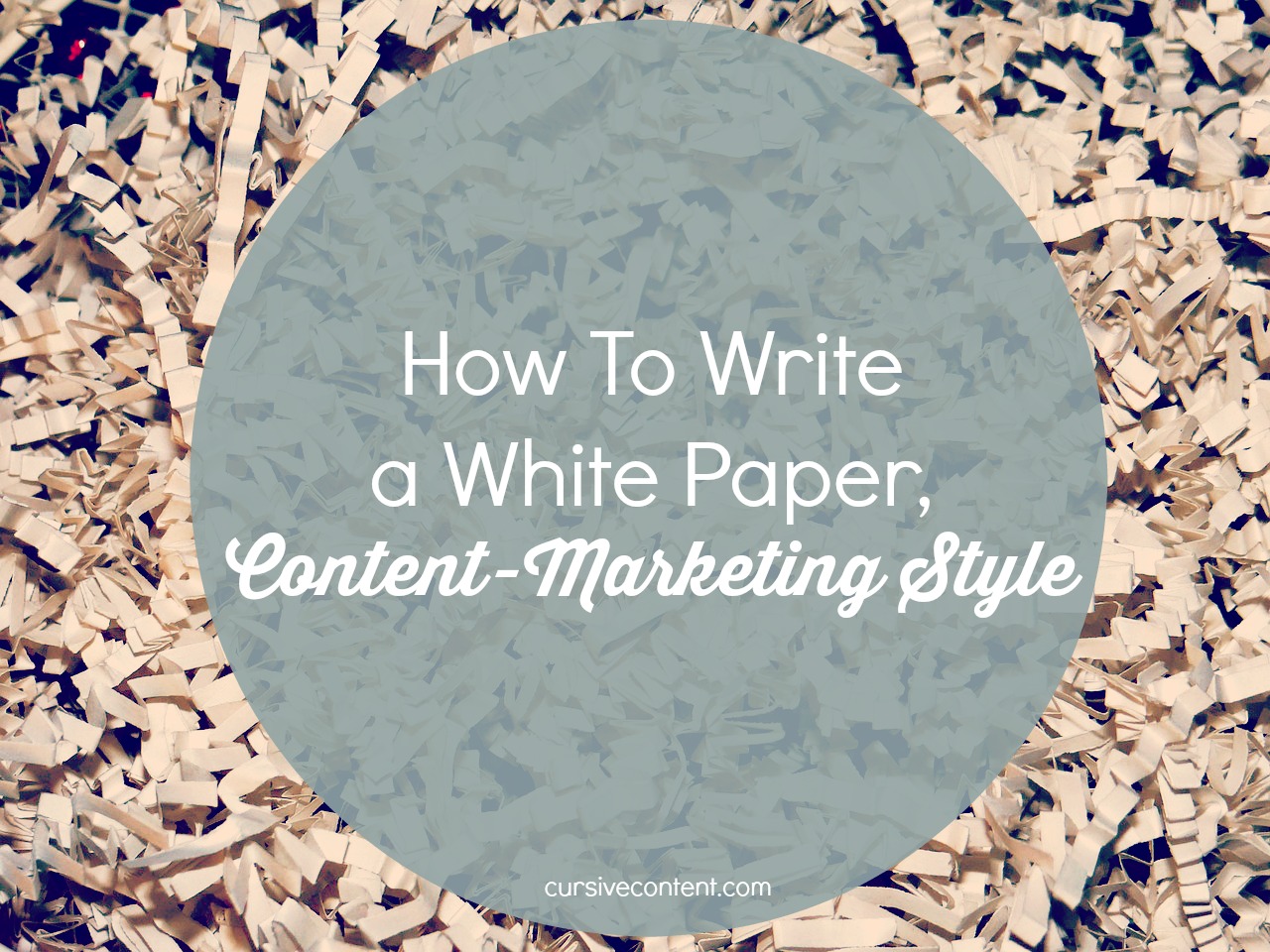 While white papers are usually no longer white, or even on paper, they are still an important part of a content marketing strategy. In fact, 57% of B2B marketers rate white papers as an effective content marketing tactic.*
So how can you effectively incorporate white papers into your content marketing efforts?
Here are the 20 best tips we've found for writing a white paper that aligns with and strengthens your content marketing:
What Makes a Good White Paper?
"A white paper is a persuasive essay that uses facts and logic to promote a certain product, service, or viewpoint. The content of a white paper provides useful information for business people seeking to understand an issue, solve a problem, or make a decision. The format of a white paper is somewhere between a technical manual and a glossy brochure… between a dry-as-dust academic paper and an annual report." – That White Paper Guy
"A good white paper will respect the following points: Discuss a relevant topic for the targeted reader • Include unbiased and objective reasoning • Contain adequate technical details and illustrations • Quote credible and verified references." – DecisionNewsMedia
"Your download needs to clearly and plainly state its 'promise.' In other words, what will the prospect learn if he takes the time to register for the goods? How are you going to make his life better/easier/more fun? That's what he cares about. That's what will make you stand out." – Savvy B2B Marketing 
"The best examples [of white papers] include: 1) Rich, substantive content that educates, not sells. 2) New ideas that prompt and provoke innovative thinking. 3) A clearly communicated point of view on issues that are highly relevant and timely. 4) Statistically sound data and well-researched findings." – Roanne Neuwirth for Content Marketing Institute
"Online consumers are increasingly looking to content that offers tips, tools and resources to help them cope with day-to-day life, solve common problems or discover which products are best for their needs." – Angela Stringfellow for American Express OPEN Forum
How Do I Write a White Paper?
"The 80% white paper rule states that at least 80% of your white paper should be educational and only 20% of the white paper should be promotional. This 80% of educational content should be the first part of the white paper (it is also called the magazine section) and the 20% of the promotional part of the white paper should be the second part (it is also called the brochure section)." – The White Paper Blog
"Put 'the bottom line' at the top. Attention is greatest at the paper beginning – that's where you should put a summary, including the conclusions. Use headlines and paragraph summaries to hold reader interest. Build trust by supporting factual claims."- DecisionNewsMedia
"The trick to a good white paper is to educate instead of sell. Save the selling for the last couple paragraphs of the paper. In that process, you can establish yourself as an expert in the mind of the reader. Some of those people will want to come back and find out more about what you have to sell." – Michael Stelzner for Inbound Now
"Always keep your white papers to a minimum of 3 pages and a maximum of 14 pages. If your white paper gets too long you could divide it into a series of white papers and make it easy for your readers to choose a specific white paper from a series and read it individually. A short white paper which is about 14 pages long will be easier to read than a long 20 to 50 page white paper and white papers are normally read by decision makers of a company who have very little time on their hands. They will always prefer reading a short white paper to a long white paper." – Mitt Ray for SocialMouths
"Write titles and executive summaries that incorporate the keywords your prospects are using so your paper rises to the top in the search results." – Savvy B2B Marketing 
"You cannot start interviewing experts or wordsmithing until you have an outline addressing the major elements of the paper, detailing supporting topics, and revealing a clear path from the problem all the way to the solution and call to action. The marketing team, writer, subject matter experts, executives, and other stakeholders involved in the project each bring their own point of view. And everyone involved in the project will be able to identify missing elements or spots where more or less emphasis should be placed. This is a critical collaborative exchange that can take from several days to a few weeks, depending on the project scope and availability of involved parties." – Manya Chylinski for Content Marketing Institute
"Use the third person in the white paper. Though the pronouns "I" and "we" (first person) or "you" and "your" (second person) may seem friendly in a white paper at first blush, they may actually alienate the reader. Most whitepaper readers expect to gain useful, credible information in a professional business context. The casual tone of the first or second person is inconsistent with this expectation. Use of the third person is almost always a better choice for professional business writing." – Steve Hoffman for MarketingProfs
"Present proof for your claims. If you make a claim, be prepared to back it up. Dig up facts, figures, and quotes from experts and reliable sources. If Joe says homeowners can save half their plumbing bills by following his list, he should have an article in Time magazine or USA Today for proof." – Gordon Graham for DuctTape Marketing
"A white paper succeeds to the extent that it offers a stimulating level of education, explanation, and discussion not present in abbreviated forms of collateral. In this context, the crucial distinction between the white paper and the brief, press release, or sales pitch is that the white paper aspires to more than ephemeral status." – Pragmatic Marketing
"According to the White Paper Writer Industry Report which surveyed 600+ writers in 2007, the typical white paper takes between 24 and 50 hours to complete. …Like any corporate writing project, you must allow time for interviews, research, outlining, drafting and perhaps coming up with diagrams." – That White Paper Guy
How Can I Repurpose Old White Papers?
"Establish your perspective on the topic and define the storyline with the white paper and build a range of accompanying content pieces to expand on key themes, highlight experts, uncover research nuggets, and drive different conversations." – Roanne Neuwirth for Content Marketing Institute
"[When you have] a white paper that, while still relevant, is old and boring, [you can]:
Create an ebook by freshening up the copy and having a graphic designer add some intriguing visuals.
Develop a video series by pulling topics from the white paper and expanding on them. Keep the videos short—this will help hold viewer interest and make it quicker, easier and less expensive for you to complete them.
Write a series of blog posts on the topic. If there's new information out there since you wrote the white paper, add in updated stats and your thoughts based on the new details."
– Stacy Firth for Cursive Content Marketing
"An effective sales tool that a company can use is a webinar. The webinar allows for a company to present its findings to concerned professionals all over the world without the expense and constraints of an industry conference. Webinars can be a revenue stream, a prospecting tool, and a very valuable stepping stone of a sales cycle where sales interaction with a prospect is first realized. A webinar can be the perfect format to present the research in a straightforward manner, while allowing for feedback and questions at the same time." – Jared Fabac for The YouMoz Blog
"Your white paper is likely to be a relatively substantial document. (Many white papers are 10 pages long or longer.) Pull out the main points of each section, and break them up into short, specific blog posts or articles that you can put on your website or pitch to other sites and publications." – Kathryn Hawkins for Quick Books
"Sales teams should be fully equipped to promote a new or relevant white paper. A one-page executive summary, a brochure or a PowerPoint presentation are all excellent outlets for repurposing content. The sales team is in front of prospects and in the perfect position to reinforce the benefits of reading the white paper, thus nudging prospects further into the sales cycle." – Julie Steed Copywriting
Do you have any tips to add to this list? Add them to the comments. And don't forget to subscribe below for more tips on crafting and sharing a story that will engage your audience and grow your business. 
Emily is the owner of Cursive Content Marketing. She has been content marketing since the sixth grade, when she created a neighborhood newspaper to build her babysitting authority. (It totally worked.) Today, she helps brands drive business with smart content.
BE A CURSIVE INSIDER.
Get weekly EASY, actionable tips you can use right away to strengthen your school story.