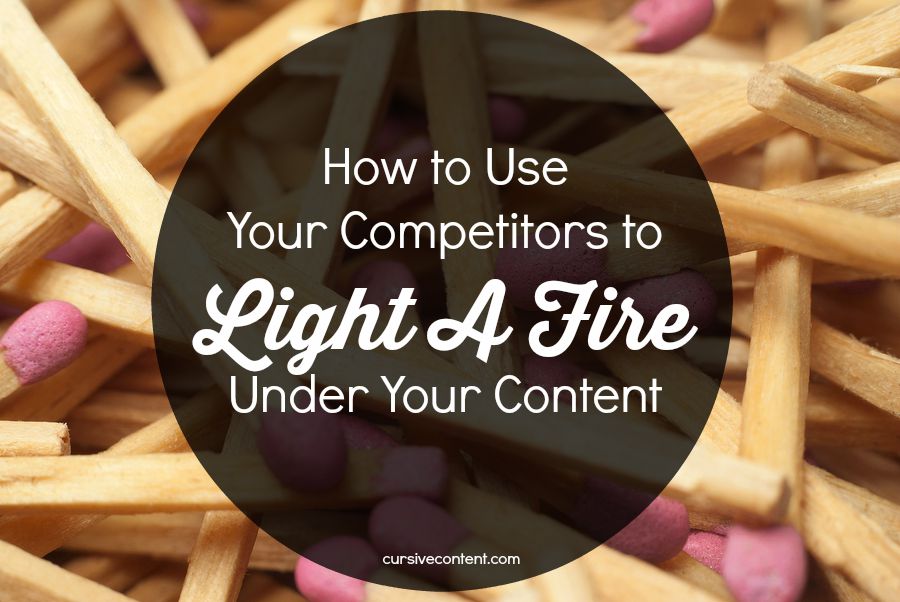 Sometimes I read something someone else has written, and I'm all: "Ughhhh. Why didn't I write that? It's perfect!" And then I go cry and eat ice cream.
Kidding, kidding. Kind of.
Because when you're trying to write content that stands out online, it's hard not to be discouraged when you read something that says what you want to say, exactly how you would want to say it.
So what do I tell myself when I have these ridiculous "Wah! No fair!" moments?
Get over it.
Here's the thing (and it's a secret that every content creator realizes sooner or later):
Everything has been written. But not everything has been written by YOU.
Most topics that you want to write about have been explored before. But not with your style, tone or perspective.
So before you get totally disheartened by all the great content out there, decide to turn that discouraged moment into a moment of inspiration.
Instead, use your competitors to spark greatness in your story.
It's possible to do. And trust me, it will make you a better content developer and help you create a unique voice in your market space.
Here's how to do it:
1. Write Down Your Ideas First.
If you are working on a new content project, start with a little brainstorming. What does your audience need to know about the topic? What makes you different? Then, dive into the creative writing process. Craft draft headlines, key phrases, or calls-to-action.
I believe this is the most important step in the writing process. Why? For one, it makes you feel better about your idea if you develop it before you see how others are approaching the same topic. It also helps fend off the urge to simply mimic or rewrite your competitors' copy.
While your final version may be nothing like your initial draft, the discovery and thinking process will be invaluable once you move on to the next phases.
2. Get Your Spy On.
Now that you know what you want to write about, it's time to do some research. How are your competitors approaching the topic (if they are)? What are they promoting? What differences are they highlighting?
There are many ways to monitor your competitors' content: set up Google alerts for their brands or your industry; subscribe to their blogs and newsletters; follow them on social media; join their mailing lists.
One research tool I just discovered is Moat.com, which allows you to type in a brand name to see a sampling of their advertisements. One of my current clients is in the home décor space, so I recently used Moat to do a little reconnaissance on Serena & Lily, a strong and inspiring competitive brand:
As you can see in the ad to the left, the service also gives you information on when and where the ad ran. It's a pretty neat way to see a large sampling at once while limiting your snooping time.
3. Smack Inspiration In Your Face.
Ok, so your competitors are awesome. Now, take those feelings of I-wish-I-wrote-that discouragement, and spin them around. Be inspired by the great work these brands have done, and decide to make yours even better.
One way to do this is to create an inspiration board with your favorite examples of branded content. Include examples from both your competitors and brands with the same target audience who have a style and tone you want to emulate.
For my home décor client, that inspirational brand is J.Crew – the clothing brand targets the same audience base, and their copywriting is what the kids would call on fleek.
My inspiration board hangs over my desk, and when I'm writing new content I just look up and ask WWJCS? … "What Would J.Crew Say?" It sounds super cheesy, but it really works. There have been many times when I've applied the WWJCS? rule after writing, only to rewrite words and phrases that need a personality punch.
Those are just three ways to turn competitor envy into competitive inspiration. Remember: inspiration is a lot different than copying. Don't be scared of it.
Sharing is caring! If you know someone in need of some content development mojo, go ahead and send them over here. We love meeting new friends. 
Emily is the owner of Cursive Content Marketing. She has been content marketing since the sixth grade, when she created a neighborhood newspaper to build her babysitting authority. (It totally worked.) Today, she helps brands drive business with smart content.
BE A CURSIVE INSIDER.
Get weekly EASY, actionable tips you can use right away to strengthen your school story.