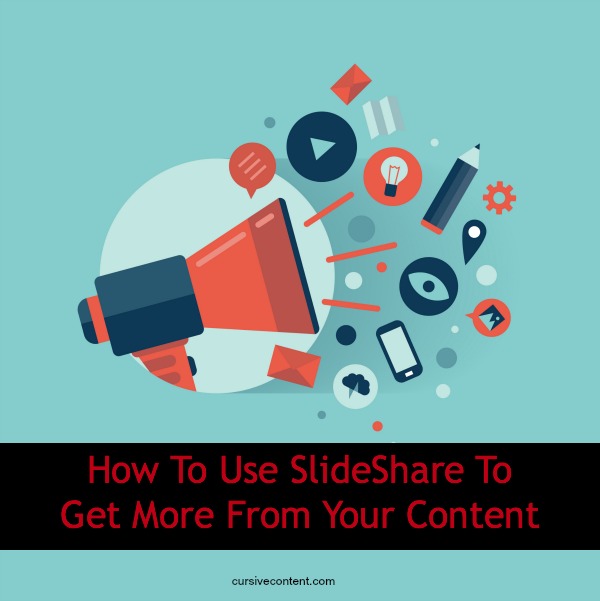 There are more than 238 million people on SlideShare. Actually, that stat was outdated before I finished writing this sentence, because it's growing at more than two members per second. And in that same second, there were more than 1,140 slides viewed1. It's considered the most professional content sharing platform on the web. If you weren't curious about SlideShare before, I bet you are now.
SlideShare's reach goes far beyond its own domain—you can easily share your presentations on Facebook, Twitter and LinkedIn. You can also embed your SlideShare on a web page or within a blog post (like I've done below). You can find people within your industry who are creating great content and follow them (and hopefully they'll follow you back). Your ability to share and find outstanding content can increase significantly. Those millions of eyes that are on SlideShare each day can now be viewing YOUR work. Here's how you can leverage your existing content using SlideShare:
Enhance your words with images.
As infographics and e-books have already proven, people are drawn to visual content. In fact, according to MDG Advertising, content with compelling visuals averages 94% more views than content without images. The thing that's great about SlideShare is that it gives you an avenue to take your existing content and make it more visually appealing. And the really wonderful thing about it (especially for those striving —and struggling— to create original content on a regular basis) is that it gives more legs to what you already have, allowing you to reach a new audience on a new platform, all without having to create something from scratch.
Take a look at your existing blog posts, presentations, e-books and videos. There are probably quite a few gems there worthy of spending some time to turn into a SlideShare. Of course, that's not to say you can't develop content specifically for SlideShare, but its sweet spot for content marketers is being able to repurpose.
Repurpose, but rework it first.
Don't kick your feet up and take the rest of the day off, though—there's still work to do. You can't just cut and paste your copy into a presentation deck and call it a day. If your content was originally created for another format, you're going to need to edit it down and tweak it to be right for a presentation-style format. You can also set up Google Authorship for SlideShare– an important step for all the content you create around the web (see easy step-by-step instructions here, and note that you need at least three followers in order to set up Authorship).
Once you've edited your copy, you need intriguing visuals to go along with that great content. Don't have the budget to hire a designer to create your SlideShares for you? That's not a deal breaker, since a fundamental knowledge of programs like PowerPoint or Keynote will allow you to create a presentation for SlideShare.
Before you get started, take some time to educate yourself. First, browse other SlideShare presentations. What made you want to click on them? What made others not so appealing? This will help you find what visuals pull people in, and help you recreate that general feeling in your own presentation. Then, consider the visual approach you'll take. Is there a visual theme you can use that ties in with your content? There are many high-quality stock photo libraries out there that won't break your budget, and there are free photo libraries (like this and this) where you might be able to find images. Steer clear of overused stock images and outdated, unprofessional design approaches (like Comic Sans and Word Art—yuck). Finding the best images is where a lot of your time creating a SlideShare presentation will be spent– but it's critical to its success, so know that the time spent is valuable.
As with everything you create, stick to brand standards and aim to achieve a consistency across all your SlideShare presentations. If you do have the budget, having a graphic designer develop at least the occasional SlideShare for you is a great idea. Since they're pros, chances are they can help you make a greater visual impact.
Analyze data, capture leads.
SlideShare offers free or paid accounts, and neatly outlines all of the differences here, but the benefits of the paid accounts include lead capture and analytics along with the ability to add video and brand your page. If you really want to get the most out of SlideShare, a Pro account is the best option.
If you're unsure and just starting out, the free version is still worthwhile. It also gives you time to prove to your boss (or yourself) that the engagement you get on SlideShare will be worth a financial investment.
Now what?
As with all of your content marketing efforts, you get out what you put in. There's a lot to learn about this platform, so explore what's out there, create your own presentations and continue to learn as you go.
Want to talk more about SlideShare and how it can fit into your 2014 content marketing strategy? We'd love to chat.

Stacy is a content marketing strategist & writer at Cursive Content Marketing. She has more than a decade of marketing experience with a focus on strategy, writing and the interactive experience. Stacy is driven by her strategic outlook, life-long love of words and her innate curiosity. And coffee, of course.
BE A CURSIVE INSIDER.
Get weekly EASY, actionable tips you can use right away to strengthen your school story.