We get it: all this blogging stuff sounds great in theory, right?
You know how important it is to create a central hub for your school story. To provide content that helps your audience move forward in their decision-making process. To enhance your SEO. To position your school as a resource. To engage your students and staff in creative content development.
It all makes sense. But what doesn't make sense? How to get it all done.
We get it.
Because we help our clients with it all the time. We work with them to create the smart, in-depth content strategies they need to get their school blogs up and running successfully. We help them plot every point so that once they're launched, their content creation and sharing process is seamless and maintainable.
And now we want to help you.
Today, we are so excited to introduce you to School Blog School, a six-week, guided online program that will help you develop the strategy and story you need to create a successful school blog.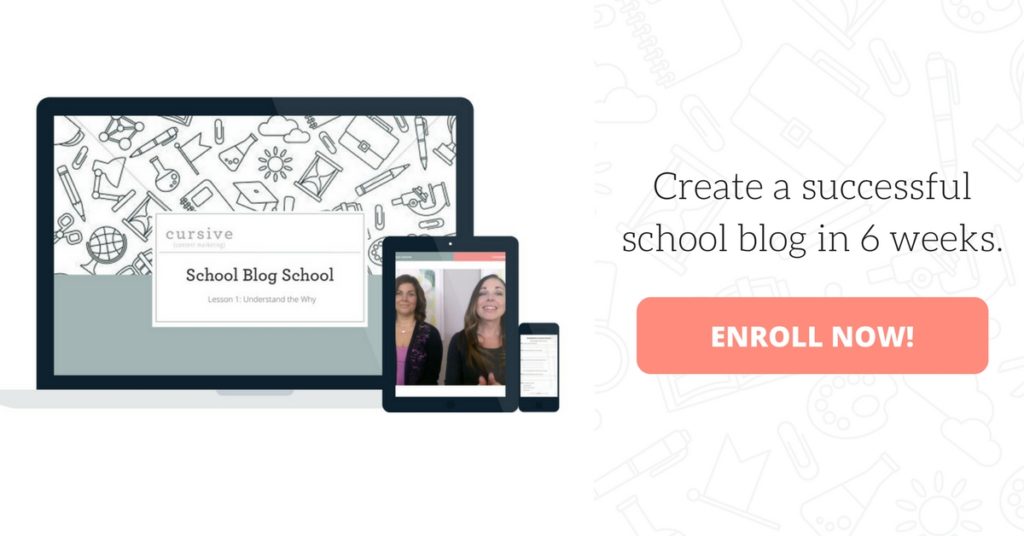 This program takes all of the one-on-one tactics we use to create blog action plans for our clients and transforms them into six weekly video/slideshow lessons and a full library of 15+ worksheets, templates and resources — PLUS, our personal support.
(Yep, each week we will host live Q&A sessions with program students, where we'll answer your questions and help guide you through the coursework.)
When you complete the program, you'll have:
A full blog strategy and structure
A defined blog audience
A blog vision
An understanding of competitor publications
An editorial calendar
Actual blog post content
Ideas for lead generation and gated content (and much more)
In addition to all of the core course goodness, we created a limited-time bonus, The Tech Mini Course, for everyone who enrolls before February 22. In this on-demand, 5-lesson mini course, website expert Katie Williamsen will teach you exactly how to build and run your blog efficiently from a technical aspect.
(And she's also offering School Blog School students individual, one-on-one consulting sessions with her for tech support!)
That means you'll not only have a smart strategy and compelling content, but also the knowledge and support you need to actually BUILD your school blog. Sweet, right?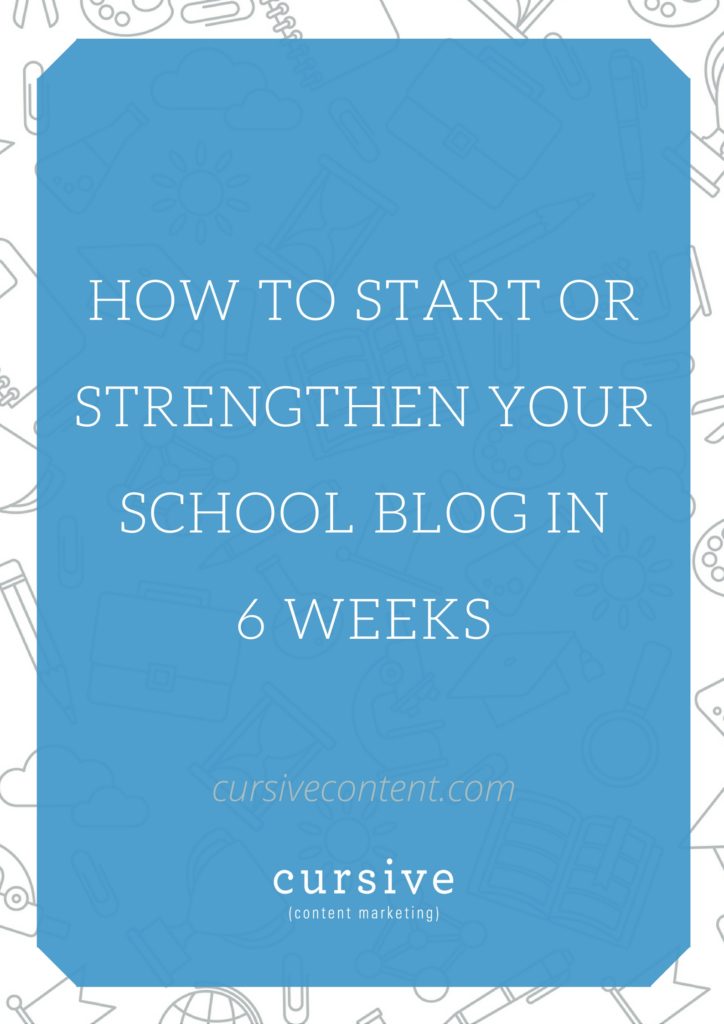 School Blog School Weekly Lessons
Ok, let's take a look at what you can expect to learn as a School Blog School student, week-by-week:
WEEK #1: Define Your Strategy
Define your blog's goals and objectives, develop an audience persona and brainstorm content themes/pillars.
WEEK #2: Set the Tone (& Vision)
Complete a competitive analysis, and create the components of your blog's personality, including your blog vision statement and tone.
WEEK #3: Build Your Foundation
Outline the technical structure of your school's blog (name, pages, categories, sidebars, etc.), develop a manageable editorial calendar, and define calls-to-action and follow-through processes.
WEEK #4: Write Your Story
Learn how to perform topic/keyword research, blog post writing techniques and best practices, and how to create outlines for actual blog posts.
WEEK #5: Build Your List
Create content that converts, such as gated content and opt-ins, lead generation opportunities, and email marketing strategies.
WEEK #6: Promote Your Content
Go behind content development and develop social sharing strategies and tactics for repurposing content.
.. and a bonus on-demand lesson: Support With Visuals
Get a tutorial on online photo editors Canva and PicMonkey; learn how to create easy, consistent graphic templates; access free imagery resources; and create "Click-to-Tweet" graphics.
Now, back to the Tech Mini Course bonus. That course alone includes 5 lessons that you can access as soon as you enroll:
Lesson 1: An introduction to WordPress.org features and benefits
Lesson 2: How to purchase a domain name and hosting
Lesson 3: How to install WordPress.org and your chosen blog theme
Lesson 4: An in-depth WordPress setup tutorial
Lesson 5: WordPress maintenance best practices
The Tech Mini Course also includes these bonus downloads:
Blog tech guide, featuring hosting, themes, plugins and other resources
Blog workflow document
Monthly WordPress maintenance checklist
PLUS, you'll get a 30-minute, one-on-one tech help session with Katie via phone or Skype.
So that's School Blog School. And that's why we're so excited about it. We KNOW this program is exactly what you need to create the school blog you've always envisioned, and we are so excited to connect with you within it.
How to Enroll
Enrollment is open until March 1, and class begins on March 6, but remember– the tech bonus is only available until February 22, so the sooner you enroll, the more you'll get from the course.
Still need more information?
Click here to download a Program Overview PDF (to share with anyone on your team), or watch our School Blog School introduction video:
Remember: If School Blog School sounds like a good fit for you, now is the best time to enroll. Trust us; you want Katie's bonus. It will answer many tech-related questions that all too often slow down (or stop!) schools from launching and maintaining their blogs.
Questions about School Blog School?
We're happy to answer them! Email us for more information, or to share any questions or concerns you may have about enrolling.
We hope you see you in class on March 6, 2017!
Emily is the owner of Cursive Content Marketing. She has been content marketing since the sixth grade, when she created a neighborhood newspaper to build her babysitting authority. (It totally worked.) Today, she helps brands drive business with smart content.
BE A CURSIVE INSIDER.
Get weekly EASY, actionable tips you can use right away to strengthen your school story.