When you think of Thanksgiving, what's the first thing that comes to mind?
Spending time with family and loved ones
Eating until you enter a turkey-induced haze
Getting out of work as early as possible on Wednesday to begin your long weekend
All of the above
Whatever you select (ahem, #4, thanks), I'd like to add one more item for your consideration:
Giving thanks for the people in your professional life.
Too often we forget to express gratitude for the partners, coworkers, customers and clients who allow us to be fulfilled, successful professionals at the place we spend much of our time and energy — our jobs.
The idea of taking time to say thank you, with a human connection, prompted me to write last year's post "This Week, Skip The Blog & Write A Letter. Here's Why."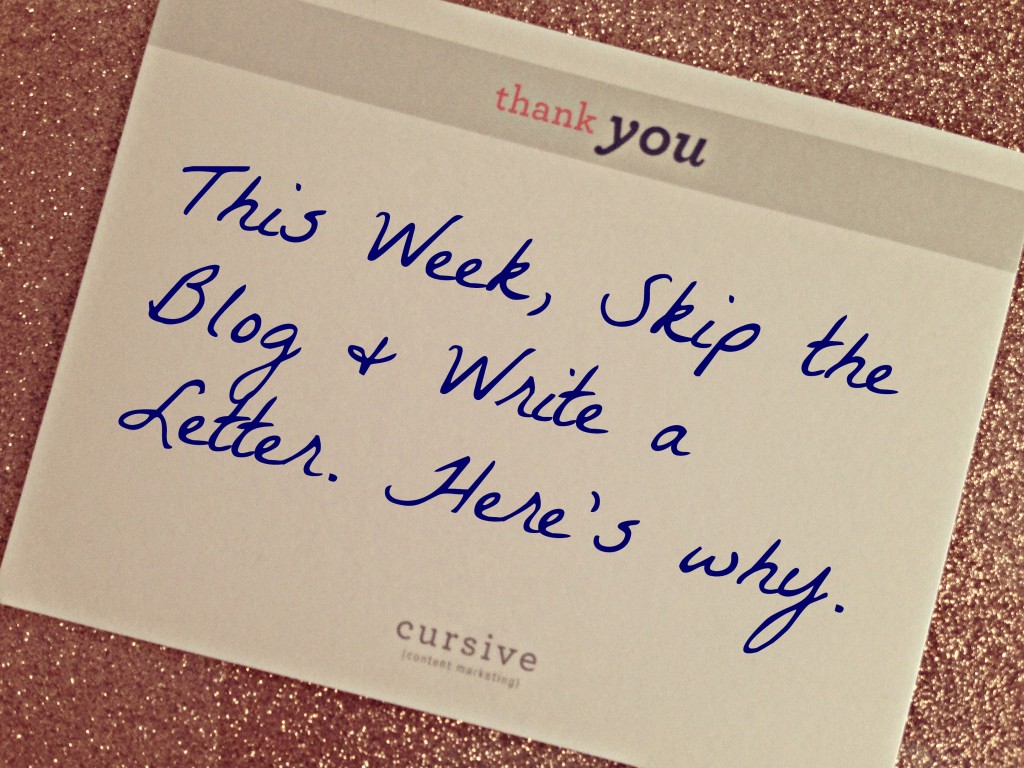 Revisiting the post reminded me that gratitude is timeless. The overwhelming feeling of thankfulness I felt at this time last year has only increased, and it's important to take the time — to MAKE the time — to act on that feeling.
So this week, instead of a lengthy blog post, I'm stepping back to make those connections, and I implore you to do the same. Go back and read this post. And then write a letter. Or call someone up. And express that gratitude.
You'll be thankful you did.
Emily is the owner of Cursive Content Marketing. She has been content marketing since the sixth grade, when she created a neighborhood newspaper to build her babysitting authority. (It totally worked.) Today, she helps brands drive business with smart content.
BE A CURSIVE INSIDER.
Get weekly EASY, actionable tips you can use right away to strengthen your school story.