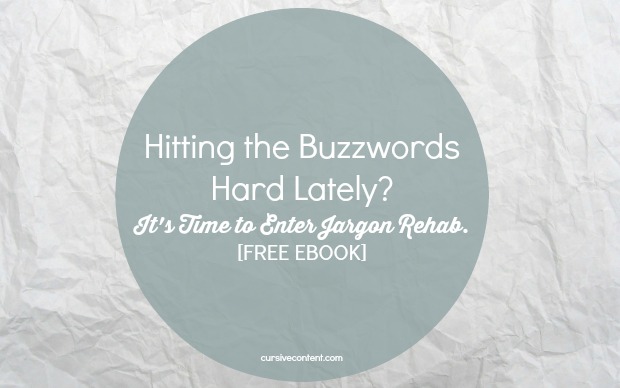 You're under deadline to create a new brochure/blog post/sell sheet. But your calendar is booked solid with meetings.
You look at the clock and try to guess what time you'll make it home for dinner. 8 p.m.? 10 p.m.? You seriously contemplate spending the night in the office. No one would notice if you wore the same outfit tomorrow, right?
Feeling desperate, you open up an old content document. You select "Copy All". And you paste it into your mean, unforgiving blank Word document. A few tweaks and edits, and it works … sort of. It works enough, for now. You'll go back and make it better later.
Unless you're booked for another meeting.
We've all been there.
We've all had those moments when we don't have the time to sit down and create something new. Or we can't get into the right mindset to write brilliant copy. (Writing is hard.) Or we're so used to reading something about our company that we become blind to the actual meaning of the words.
It's at these moments of weakness that we allow something to sneak in and kill our content marketing efforts.
Jargon.
More than buzzwords and catch phrases, jargon is words and phrases that become part of our daily business vernacular … yet mean little to our audiences. Hollow adjectives, overused promises, standard features and benefits — this content is written more for us than for the individuals we are trying to influence.
When we rely on jargon to tell our business story, we are doing our audiences a huge disservice by hiding the valuable, meaningful parts of our story behind an impenetrable wall. We are creating a barrier between the brand and the people who matter most to its success.
It's a big problem. But recovery is possible.
We created a FREE eBook to help you cut the nonsense and tell the business story your audience wants to hear. It's called Jargon Rehab, and it's available now. [Click the image to download.]
Jargon Rehab is more than an eBook. It's a workbook with easy-to-follow exercises that will help you discover and communicate the real value you bring to your audiences. After going through Jargon Rehab, you will:
Recognize both the meaningless and the meaningful components of your story 
Rediscover the special spark that gives your business power and influence 
Understand content marketing and the importance of "selling" with your storytelling
Have specific action steps you can take to create a content-focused marketing plan
If you think your business is too straightforward, too complex or simply too boring to have an interesting story, you're wrong. You have a story to tell that no one else can tell. And when well-told, that story can be your most valuable business advantage.
It's time to come together to put an end to meaningless business jargon. Download Jargon Rehab now.
Emily is the owner of Cursive Content Marketing. She has been content marketing since the sixth grade, when she created a neighborhood newspaper to build her babysitting authority. (It totally worked.) Today, she helps brands drive business with smart content.
BE A CURSIVE INSIDER.
Get weekly EASY, actionable tips you can use right away to strengthen your school story.