The summer before I started seventh grade, a new store opened in the mall.
They had the. coolest. clothes. If I could have made my whole middle school wardrobe from that store, I would have been in heaven. Everything that was there, I wanted. The store itself was great. I wanted to live there. The people working there were amazing. I wanted to be friends with them.
At the very least, I NEEDED a first-day-of-school outfit from this store. The same outfit purchased at any other store would not have been the same.
Why? Because my affiliation with the store made me feel cool by association. Because having a piece of that store gave me a piece of something bigger, something that I wanted to be associated with– and something that I felt reflected me: my personality and style.
Yes, I was in middle school, a time when most people are struggling to fit in. But I've found that feeling still exists in adulthood. We all want to find our people. We all want a community that we can rely on. We all want to feel like we fit, somewhere.
We join marketing associations, we take group classes at the gym, we create book clubs, we attend conferences, we convene a neighborhood block party.
So it's no surprise that the college-bound generation feels the same:
"Millennials want to feel connected and involved when it comes to their purchases" – Meaghan Moraes for HubSpot

75 percent of Millennials see themselves as authentic and are not willing to compromise their family and personal values.– Bentley University Center for Women & Business

"Millennials value relationships and connectedness, not only with people but also with brands. They want to feel a real connection with the companies they buy from." – Lindsay Tjepkema for Business2Community
Now, higher ed marketers: What are you doing to make your school THE place where your ideal student just…fits?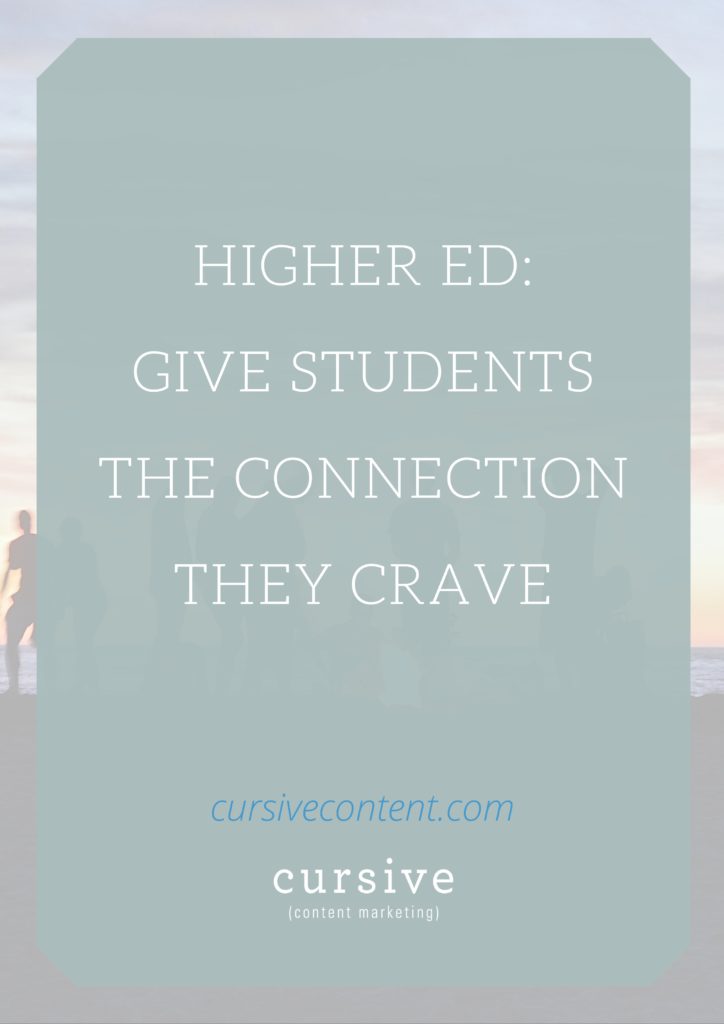 College selection is often the first BIG decision that teenagers get to make on their own. So, when they're looking for a place to spend some of the most impactful years of their life, they want to find a place they can identify with.
Yes, you need the right programs and extracurriculars. But school choice is also about that feeling.
So how do you create content that gives your ideal student that feeling of connection?
Know your audience.
3 Stats to Give Higher Ed Marketers a New Outlook on College Selection
10 Ways to Ensure Millennials Connect With Your Content
From Interested to Enrolled: How to Create Content for Every Step of the Journey
How to Make Parents Love Your Website (And Your School)
20 Best Tips for Connecting with Millennials
Tell your authentic story.
Uncover Your School's Personality in One Afternoon
Your School's Voice and Tone: What They Are, Why They Matter
Does Your School Website Tell the FULL Story? If Not, Here's How to Fix It.
When Should You Use Storytelling in School Communications?
How to Write Irresistible Headlines for Your School Website
How Content Can Help You Manage Your School's Reputation
4 Ways to Keep Internal Jargon Off Your School Website
Why Your School Website Should Show, Not Tell
School Website Content: Keep It, Save It, Trash It [A Checklist]
How to Develop Stronger Enrollment Marketing Content

Provide opportunities for connection.
Is Your School Marketing BIG Enough?
The Content Marketing Essentials All School Marketers Need
5 Unique Pages to Add to Your School Website
Why Building a Community Online is Important to Schools
Get creative.
5 Creative Exercises to Inspire School Marketers
How to Create Great Content Through Smarter Brainstorming
6 Resources for Brainstorming, Creativity and Motivation
Timesaving Tips for Brainstorming Success
Remember: millennials crave authenticity and connection. When you share your school's personality, you create avenues to develop the type of relationship they want. They type of relationship that will motivate them to invest their future–and their finances– in what your school has to offer.
For more content marketing insights, sign up for our enewsletter. Each week, we send you one actionable tip that will help you create a stronger school story.
Stacy is a content marketing strategist & writer at Cursive Content Marketing. She has more than a decade of marketing experience with a focus on strategy, writing and the interactive experience. Stacy is driven by her strategic outlook, life-long love of words and her innate curiosity. And coffee, of course.
BE A CURSIVE INSIDER.
Get weekly EASY, actionable tips you can use right away to strengthen your school story.