If a tweet gets sent, but it doesn't get any interaction, does it make an impact?
Ehh, not really.
Which is why Twitter advertising can be so appealing. Because the point of social media is to make an impact, and if paying to promote your content can help reach that goal, you should go for it (of course, great content is key).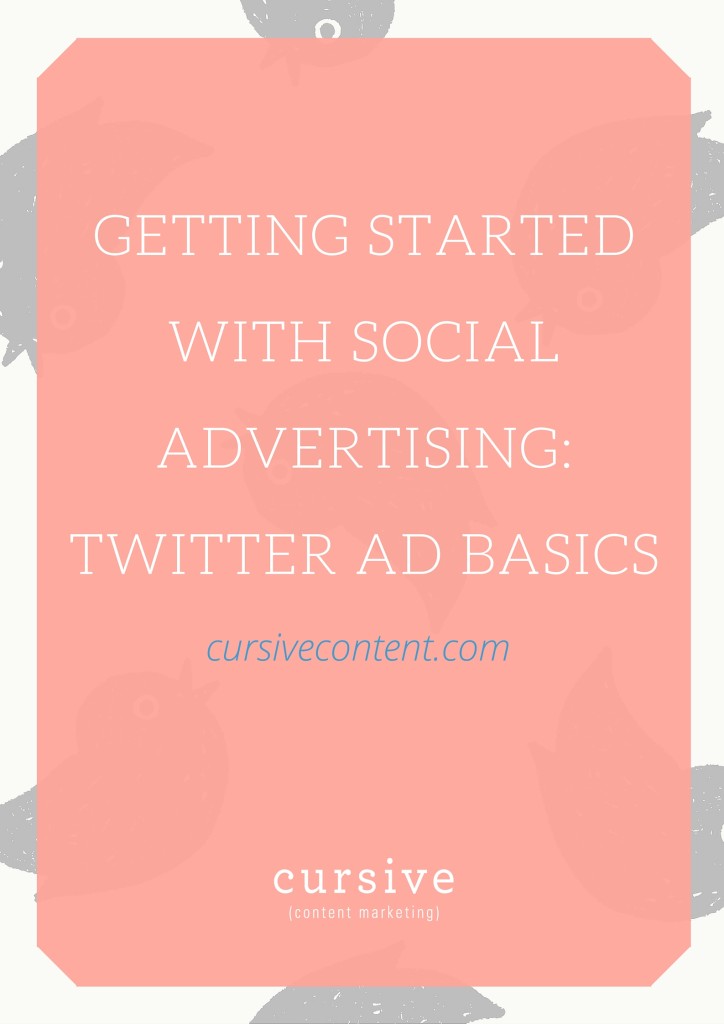 You have probably noticed a few different advertising options as you browse Twitter (in case they've escaped you: they're marked with a yellow icon and the word "Promoted"). Let's take a closer look at Twitter's advertising options and how you can create an ad campaign that helps boost your presence.
Choosing Your Campaign
Like Facebook, Twitter uses your objectives to help you choose the best advertising campaign. You can select from:
Followers – This is a good choice if your goal is to increase your Twitter following. In this case, your account is what is being promoted. The users you have targeted will see your promoted account in their feed and in their "Who to Follow" suggestions. The ad would look something like this: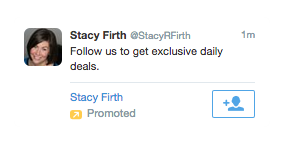 Website Clicks/Conversions – If your goal is to increase click-throughs, this is the option for you. The ad includes text, and image and a button that links to your website. These ads appear in timelines and search results and look like this: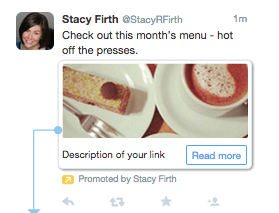 Tweet Engagement – If your objective is to increase replies, retweets and favorites, a Tweet Engagement campaign is the best choice. With these ads, you use the same Twitter Card format as website click/conversion ads, but the ad will not include the CTA button. Tweet engagement ads appear in timelines and search results.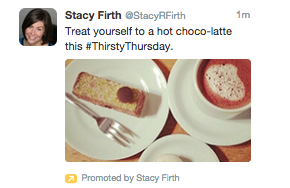 App Installs/ Engagements – Have an app you want to promote? Twitter has the solution. Again using the Twitter Card format with a text, and image and a CTA button, these ads create a direct link to your app. App ads are only shown in mobile timelines.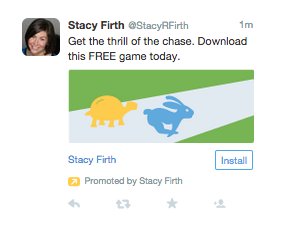 Leads on Twitter – Great for growing your email list, Leads allow Twitter users to click a CTA button and automatically send you their email address. Ads appear in timelines and search results, and look like this: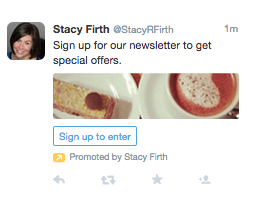 If you don't want to set up a campaign, you can also choose the "Promoted Tweets" option, which allows you to promote new or existing tweets.
After selecting your objective, you can set up the rest of your campaign…
Creating Your Ad
Setup will differ depending on the type of campaign you selected, and may include text only, as shown here: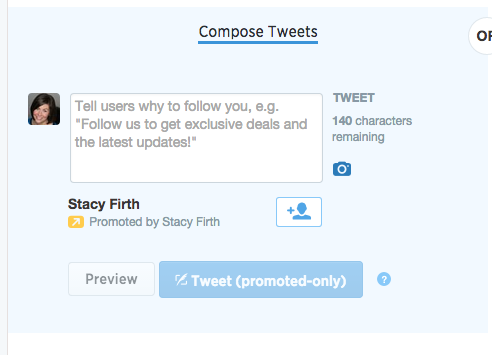 Or it might also include the Card format, as pictured here: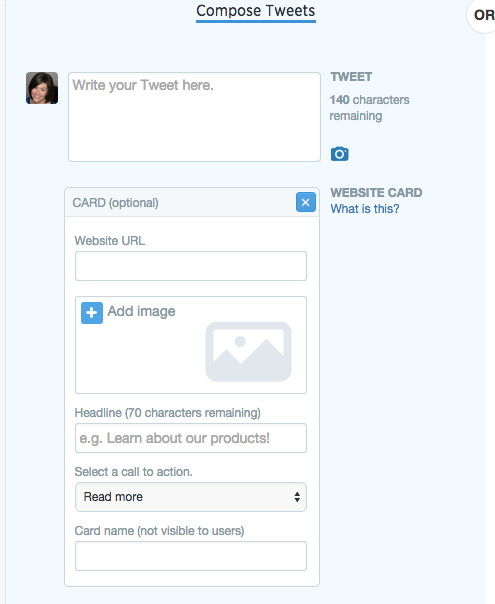 You can also select from a list of existing tweets, although in most cases it makes sense to create a new tweet based on your advertising objectives.
Choosing Your Audience
You can target your audience by a variety of factors that range from broad to super-specific, including:
Location
Gender
Language
Devices
Mobile Carriers
Keywords
Interests (i.e., cooking or gardening)
Behaviors/lifestyle (i.e., pet owners or single people)
You can also exclude groups of people based on behaviors, or based on your own list of email addresses or Twitter IDs to exclude.
As you establish your criteria, Twitter will show you the estimated audience size.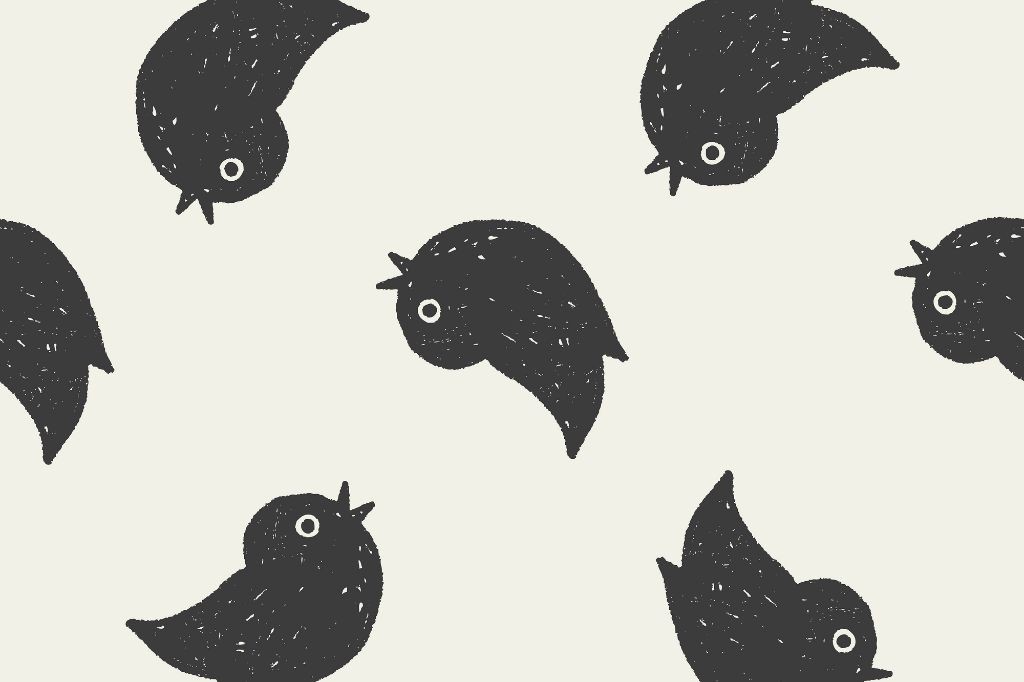 Setting Your Budget
You will need to set a daily maximum budget, and it is also recommended that you set a total budget for the campaign.
You can then choose between automatic and manual bidding. Since Twitter uses auction-based pricing, what you will actually pay is less concrete and is based on other advertisers. With an automatic bid, your bid will be optimized in order to achieve the best results at the lowest price possible within your overall budget.
Depending on your campaign type, you might see two options for manual bid: target and maximum. If you choose target bid, Twitter will optimize bids to reach an average cost that equals your target bid. With the maximum bid option, you tell Twitter the max you want to pay (to keep it competitive, Twitter will show you a range of what other advertisers are bidding).
You can also choose how quickly your budget is spent each day by changing the pace settings. With a standard setting, your ads will be evenly spaced throughout the day, but with the accelerated setting, your ads will be shown as often as possible (this option works well for ads with related time restrictions or deadlines).
How you are charged depends on the campaign type you have set up:
 Followers: You are charged for new followers as a result of the campaign ad(s).
 Website Clicks/Conversions: You are charged for website clicks coming from the campaign ad(s).
 Tweet Engagement: You are charged for replies, retweets and favorites on the promoted tweets.
 App Installs/Engagement: You are charged for clicks to install the app that come from the  campaign ad.
 Leads: You are charged for leads generated from the campaign ad(s).
Going For It
While the options might seem complex, a Twitter ad is simple to set up. As with Facebook advertising, choosing your objective and narrowing your target audience are the most critical steps.
If you would like to learn more about Twitter advertising, visit their Business Help Center.
Now that we get the basics of Twitter advertising, what about Pinterest? LinkedIn? Don't worry; we've got you covered. Sign up below for our free weekly email and you won't miss the next installment in this series.