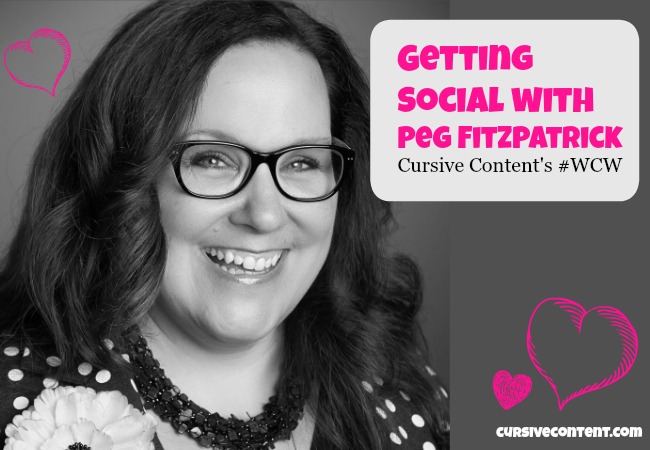 Today's #WCW is known for rockin' a positive attitude all over the Internet. She's an author, a marketing pro and the queen of social media.
Oh, and she just published an already-acclaimed book with THE Guy Kawasaki (but we'll get to that later).
She's Peg Fitzpatrick, and she proves that being authentic and building relationships online can take you places.
Peg and Guy work together to develop social media marketing strategies and innovate the world of social media. She's also the director of digital marketing for Kreussler Inc., and has spearheaded successful social-media campaigns for Motorola, Audi, Canva, Google and Virgin, as well as having been a brand ambassador for Kimpton Hotels.
Her first book with Guy, The Art of Social Media: Power Tips for Power Users
, includes more than 100 practical tips, tricks and insights, giving readers a ground-up strategy to produce a focused, thorough and compelling presence on the most popular social-media platforms. It was published December 4, 2014 and already has a five-star rating on Amazon.
Peg! You're this week's #WCW because of your crazy social media and writing skills. How did you become so crush-worthy?
Oh shoot – how awesome is that question? Social media is my passion and my job so I love it, but it's part of excelling in my job to keep up on the latest trends and tricks. I love writing about the things I learn about and I'm blessed that people enjoy reading about it.
What tips do you have for women marketers who aspire to be where you are today?
Working hard is the key to success in any arena. One of the ways that I found success with social media was connecting with people who were authors. I created an online book club called #MyBookClub. I read a book each month and featured the author in a Twitter chat, where we talked about their book.
Finding a unique way to connect with people who shared my love of reading and social media turned out to be a great thing! I connected with publishers and authors. My first guest on #MyBookClub was Guy Kawasaki with his book Enchantment. It generated over 4 million impressions on Twitter.
How can you do something like this? Create something unique that you're passionate about and connect with interesting people in the space where you want to build expertise. Don't stalk influencers, but connect in meaningful ways and create a community around a passion.
What makes you most excited about marketing and communications and how they're evolving?
I love that traditional marketing and PR are evolving into today's social media marketing. I feel like I caught the wave of social media early and I'm so grateful that I was in this space, at this time. I think the evolution of visual marketing and social media are still happening, and I love trying all the new things out!
What is your favorite thing to do when you're not crushing the business world?
I love reading and spending time with my family. We've travelled quite a bit, and I love photography too!
Who is your #WCW and why?
One of my fave #WCW's is Aliza Licht @DKNY on Twitter. She's the Global PR person for Donna Karan International and does amazing things with social media and PR for her brand. She's just so smart and fun!
Thank you to Peg and to all of our upcoming #WCWs!
If you have a suggestion for a future #WCW who is taking the marketing world by storm, let us know. And sign up for our newsletter to ensure you never miss meeting a kick-ass marketing role model.
Emily is the owner of Cursive Content Marketing. She has been content marketing since the sixth grade, when she created a neighborhood newspaper to build her babysitting authority. (It totally worked.) Today, she helps brands drive business with smart content.
BE A CURSIVE INSIDER.
Get weekly EASY, actionable tips you can use right away to strengthen your school story.