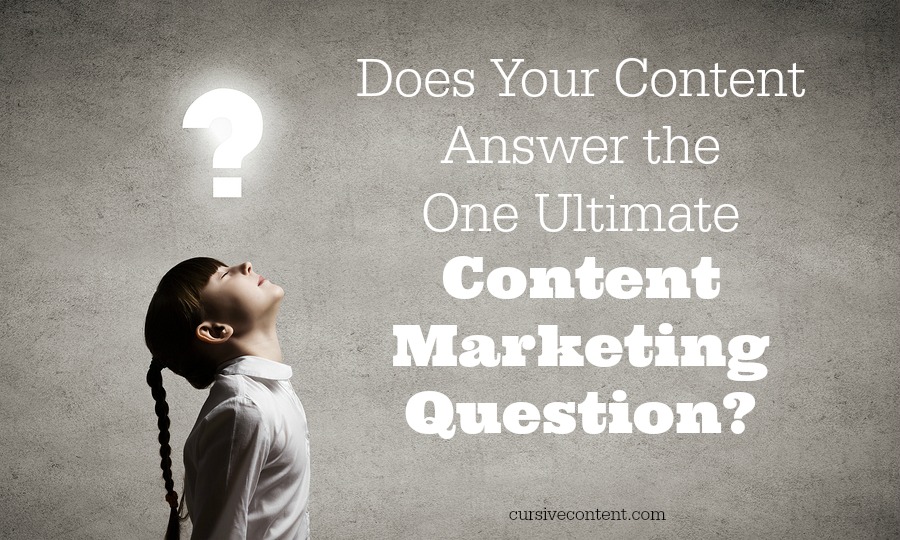 Last week I met with a client who is getting ready to launch a (really, really exciting) content marketing initiative. We've been working together on the strategy for months, and the internal team is pushing to make our shared vision a reality.
The technical and design aspects are well underway. So what's left? The content.
My client is lucky. They have a team of capable and creative marketers striving to develop stories that will truly connect with their audience … and ultimately drive the success of the project.
Yet, the writers are feeling … overwhelmed. The content categories are broad, and the topic possibilities feel endless. And even though they have an editorial calendar in place, it's still too easy to lose focus and get lost in a story idea.
So I gave them a challenge.
I asked them to answer the one ultimate content marketing question. The question that, I argued, every single piece of content they are writing must answer.
What is the point?
Or, in more business-appropriate terms:
What is the BIG objective of producing content?
It seems simple, but it's important. Because if you can't define the objective, then your content cannot meet the big objective. And that means you are simply producing content, not content marketing.
Here's an important part of the challenge: The BIG objective cannot be self-serving. The big objective should be value that you provide to your audience.
For my client, that big objective is to empower young women. This is separate and above the product they offer, yet they want their target audience to be empowered and strong … and, ultimately, to see their product as something that can help young women achieve this.
Once my client was reminded of the BIG objective, it was easy to look at each piece of content and ask:
What is the direct objective of this single piece of content? How will it help us achieve the BIG objective?
I like this exercise because it helps make broad topics approachable. It gives you an angle and a focus. And it separates the content from the content marketing.
I encourage you to write your own BIG objective in BIG, BOLD LETTERS and hang it on your wall. When you sit down to write, ask yourself how your words will help make that BIG objective a reality. And then tell a BIG, BOLD story.
Need help defining your own BIG objective? Sign up for a Script Your Story session to get your content marketing on track for 2015.