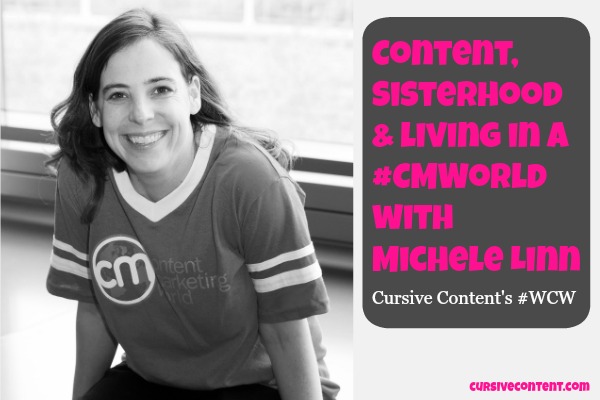 We are so excited to introduce you to this week's #WCW, because not only is she killing it as Vice President of Content at Content Marketing Institute, but she is also an inspiring writer and mother who is making work work for her life and her family.
Michele Linn shared her secrets for success (hard work!) and growth (read up!), and the importance of having a sisterhood of support.
Be prepared – you're about to have a serious new girl crush.
Hey Michele! You're this week's #WCW because of your crazy content marketing skills. How did you become so crush-worthy?
Long story short, I worked as a tech writer then a product marketing manager for a technology company for about 10 years. I never found that job to be particularly fulfilling, and I used the birth of my first daughter about seven years ago to reinvent my career. In April 2008, after being back to work for two months after my maternity leave, I quit somewhat on a whim. Truthfully, I had no idea how to get freelance work, but I made it my mission to figure it out. I knew I wanted a job I loved with flexible hours.
The more I learned about marketing and writing at the time, the more interested I became in content marketing. Fast forward several months, and I connected with a group of five other women online who were all building a freelance business like myself. We started the (now defunct) blog, Savvy B2B Marketing where I blogged regularly and started to steadily build a client base.
In 2010, I connected with Joe Pulizzi. He emailed me about a typo on my website (which I was mortified about), but I was thrilled he reached out as his blog was one I followed consistently. We started a conversation, and one thing led to another. He told me he was starting a new company called Content Marketing Institute and asked if I wanted to manage the blog and help with other editorial needs. It's been such a joy (and sometimes a challenge) to be part of the amazing team at CMI. We are constantly growing and changing, so I have learned a lot!
What tips do you have for women marketers who aspire to be where you are today?
I have had many friends (and moms) who remark how lucky I am to be doing what I'm doing. Without question, I was extremely lucky to connect with Joe when he was launching CMI (something I am truly grateful for each day), but even if that had not happened, I'm confident I would still be happy (and busy).
What is the secret? Honestly, there isn't one – besides marrying a person who is supportive of your dreams and willing to help with the kids. But, there is A LOT of work involved. I worked hours and hours trying to build my little business. While I had some initial successes, my work hit a lull, and it took a solid 6 months for me to find a client base (which I hear is pretty common). Soon there after, I had more clients than I knew what to do with.
If you are looking for specific tips, though, here are a few:
If you have kids (especially the kind like mine who resist naps), find reliable child care. I have tried many different scenarios, and I have found it works best for me to have dedicated time to work and dedicated time to spend with my kids (Of course, these do cross at times!)
Don't give up. Have realistic expectations and remember results of any kind rarely happen overnight (both in your career and in your content marketing efforts).
Read (or listen) and learn as much as you can. While you need to learn about your craft, anything you learn about is useful, as things outside your industry are often the best sources of inspiration.
Write consistently. It's ideal if you can get published as a way to build your reputation, but even if that does not happen, writing has a way of helping you formulate your thoughts.
Find like-minded women who are going through what you are going through. Honestly, I can't express how much my "Savvy Sisters" and a few other freelance friends helped when I was in the early stages of building my freelance career. We emailed constantly about everything from balancing kids and work to what to charge for certain projects. These women were my life line.
What makes you most excited about marketing and communications and how they're evolving?
I sincerely am thankful every day that I am in this field. The industry is changing so quickly, so there is always something to learn (and learning = growing). I also think there is something very special about the content marketing community. The people in this field are very generous with their ideas and time. I truly feel like we're all learning and "in this together." In fact, I was just telling our somewhat new blog manager that I have never been at a conference where so many people hug each other.
Looking at content marketing trends, I'm recently most excited about the idea of intelligent content. In full disclosure, CMI recently purchased Intelligent Content Conference, but I'll be honest: I wasn't all that excited to learn about what I thought would be a world of DITA and XML. Rather, what I have learned seems to me will be the next generation of content marketing. If we structure our content in a deliberate way, we can truly start to use it in many different ways. (Want to know more? This post from Joe explains it well.)
What is your favorite thing to do when you're not crushing the content marketing world (or, for you, #CMWorld)?
I have small kids at home, so I relish the simple things in life. For instance, I am thrilled when I have an uninterrupted conversation with my husband. Or I love playing with my kids and listening to their unadulterated thoughts and laughter.
Beyond simple family pleasures, one of my favorite places to be is outside hiking with my girlfriends (or being in Italy drinking wine in Tuscany if I were to be able to take a kid-free vacation!).
Who is your #WCW and why?
I am a big fan of Dianna Huff. She and I connected early in my freelance career, and not only have I been impressed with the way she conducts business, but I also consider her to be a wonderful role model for other women who value both business and work life balance. For instance, she recently wrote a post about her career evolution.
If I could have a second #WCM, I's love to give a shout out to Sarah Mitchell. She's been a friend since my early days as  a freelancer. I so respect what Sarah has been doing including what she is doing to help organizations create brand newsrooms.
Thank you to Michele and to all of our upcoming #WCWs!
If you have a suggestion for a future #WCW who is taking the marketing world by storm, let us know. And sign up for our newsletter below to ensure you never miss meeting a kick-ass marketing role model.
Emily is the owner of Cursive Content Marketing. She has been content marketing since the sixth grade, when she created a neighborhood newspaper to build her babysitting authority. (It totally worked.) Today, she helps brands drive business with smart content.
BE A CURSIVE INSIDER.
Get weekly EASY, actionable tips you can use right away to strengthen your school story.