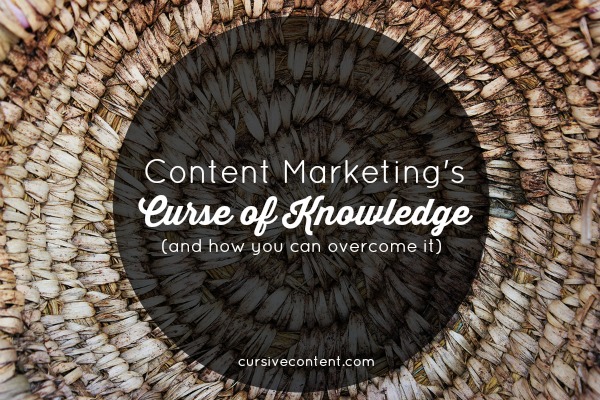 What does it take to write a blog, author an ebook or publish an enewsletter?
Content. Lots and lots of content.
In order to develop content you need ideas, and that's where a lot of people get stuck. They never even begin, because they think they don't have anything to say.
It's the curse of knowledge, and the good news is, it's easy to overcome—once you know where to start.
Expertise
Transform that "curse" into a benefit. Your expertise is useful to your audience, once you understand where your expertise lies and how to communicate it clearly. Consider the niche areas where you hold authority and have valuable knowledge to share.
FAQ
The questions you get from your audience are priceless. When you note the questions you hear most frequently, you will have insight into the general topics your audience cares about, but also the exact things they want to know.
Industry Trends & News
You can use your expertise to filter and dissect industry news and trends in a way your audience can understand and apply. That turns you into a valuable resource, and by keeping on top of what's making headlines in your industry, you will be increasing your own knowledge, solidifying your role as a thought leader.
Internal Resources
Turn to the strongest members of your team for insight. They have knowledge, experiences and perspectives that will differ from your own, and you can turn that valuable information into content your audience will love.
Stop being blinded by your own knowledge and instead, start using that knowledge to create great content. The truth is, you have so many more ideas than you realize—and your audience will thank you for it.
Ready to overcome the curse? Check out our Script Your Story sessions, perfect for marketers and business owners who want to create a realistic plan for content and social media marketing.
Stacy is a content marketing strategist & writer at Cursive Content Marketing. She has more than a decade of marketing experience with a focus on strategy, writing and the interactive experience. Stacy is driven by her strategic outlook, life-long love of words and her innate curiosity. And coffee, of course.
BE A CURSIVE INSIDER.
Get weekly EASY, actionable tips you can use right away to strengthen your school story.