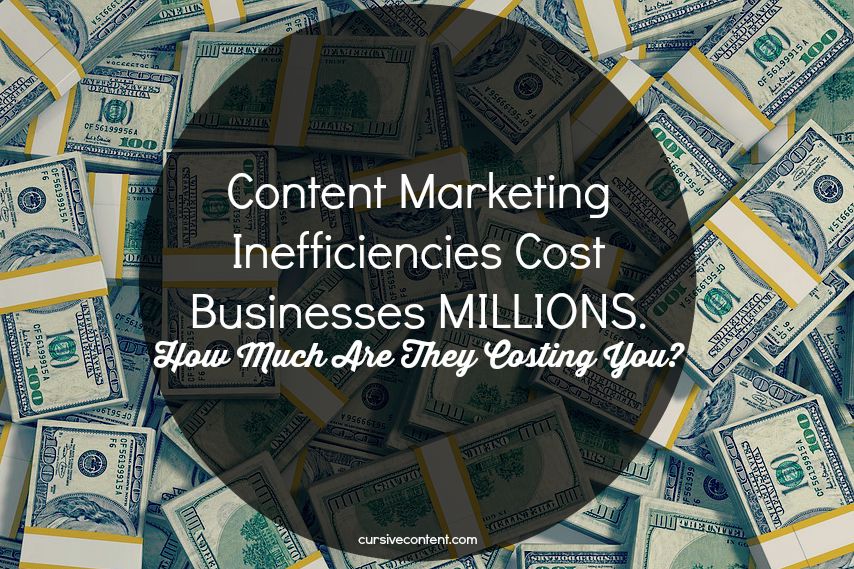 You know when you're in a taxi, and the driver chooses a route that you just know is not the most direct way to get to your destination? And all you can do is watch the extra time — and fare — add up, while you silently fume in the backseat?
Well, imagine if that extra fare added up to nearly $1 billion. Because that's how much B2B companies are wasting annually by taking inefficient routes in their content marketing plan.
A recent study sponsored by Kapost and conducted by Gleanster Research uncovered just how big the inefficiency problem is in B2B content marketing. Gleanster surveyed 3,408 B2B companies with more than 250 employees to learn more about content marketing processes, and found that:
B2B firms in the US alone spend more than $5.2B a year on content creation efforts — and approximately 55% of the annual marketing budget is for content production and creation, and excludes promotion.
Poorly managed content management processes leading to an estimated $958M each year in inefficient and ineffective content marketing spend.
The average organization, with inefficient processes, has marketing cycle times that are on average 240% slower than companies that invested in content operations optimization.
Average firms produce 300% less content than companies that achieved the highest revenue growth in 2014.
So, average organizations are spending more, are more inefficient, have slower marketing cycle times, and are producing 300% less content than organizations invested in streamlining content processes.
Wow.
Ok, the waste here is a little scary. But before you freak out and pull the plug on your content operation, think of this as a warning and an opportunity. Right now, you're probably running with some level of inefficiency. Which means, there's room for improvement.
The August issue of BMA Buzz asked Content Marketing Institute's Robert Rose and TopRank Online Marketing's Lee Odden to discuss content marketing inefficiencies.
"It makes sense that these inefficiencies exist, with such a myriad of solutions and perspectives on how to get content marketing done. Companies have so many different approaches and resources allocated that fragmented efforts result, creating duplicity and inefficiencies."
"Unfortunately, most marketing organizations have become nothing other than on-demand content vending machines for other parts of the business. This argues for a stronger and more structured content marketing function to exist, in order to create more efficient and effective results."
So how do you create a "stronger and more structured content marketing function"? It all begins with strategy.
If you want to rid your processes of inefficiencies, revisit (or create!) your content marketing strategy. See if you're still on task, or where you've fallen away from the goal. Reevaluate your goals, or the methods you're using to reach them. And document everything.
Want more info on creating a smart content marketing strategy? Well here you go:
Emily is the owner of Cursive Content Marketing. She has been content marketing since the sixth grade, when she created a neighborhood newspaper to build her babysitting authority. (It totally worked.) Today, she helps brands drive business with smart content.
BE A CURSIVE INSIDER.
Get weekly EASY, actionable tips you can use right away to strengthen your school story.