[tooltip text="TOOLTIP TEXT"][/tooltip]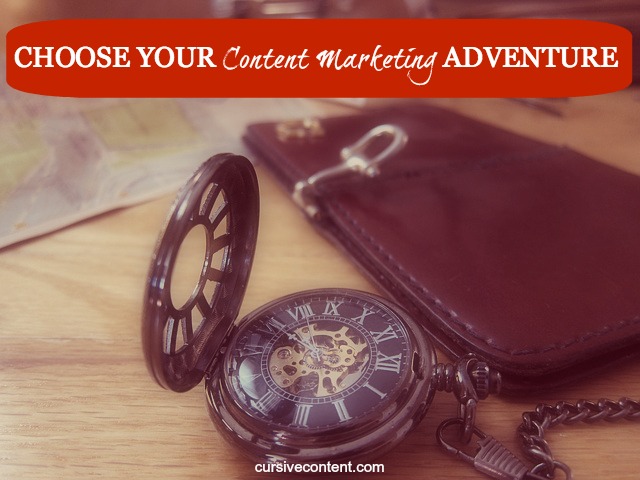 When you're making the case for content marketing to newbies or naysayers, it can often feel like you're talking in a circle.
You know the (awesome) benefits of using content to help your audience while boosting your brand, but how do you get others to follow the same path of logic and come to the same (awesome) conclusion?
We're here to help. Introducing Choose Your Own Adventure: Content Marketing Edition.
For those of you who weren't mega-fans of this series of children's books like I was back in the 1980s, Choose Your Own Adventure books were basically reading games that allowed you to make choices that determined the plot outcomes. At the end of each chapter, you had to choose which action to take, and that choice would determine where in the book you kept reading – and what happened to your favorite characters.
Want to play? 
I'll take you through a typical conversation with someone who is on the fence or uninformed about content marketing. Depending on where your conversation with that person goes, you'll make choices and follow the reading path accordingly. Ok, let's do this.
Chapter One: The antagonist is skeptical. "What, exactly, is content marketing?" she asks.
You quickly give her the ultimate definition of content marketing.
If she nods in appreciation of your quick and thoughtful definition, skip to Chapter Two.
If she regards you with a blank and unimpressed stare, pull out the following articles and expertly walk her through the key points: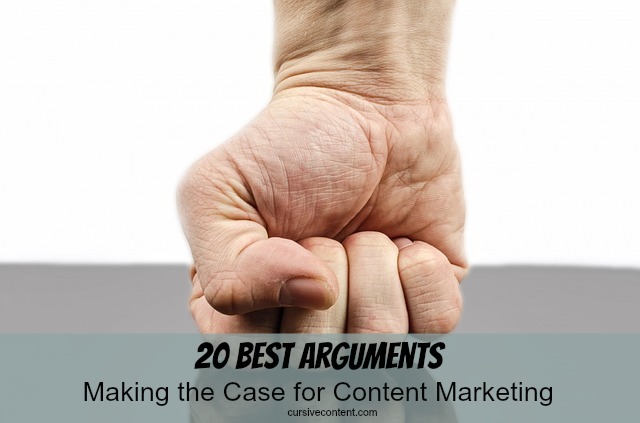 Chapter Two: The antagonist suddenly knows it all. Dismissively: "Isn't this just inbound marketing?"
"Well…" You know this conversation could quickly be derailed, so you give her the key points from Is Content Marketing Really Inbound Marketing, or Vice Versa? Here's What You Need to Know.
If you can see the invisible lightbulb go on, skip merrily to Chapter Three.
If she looks dazed and confused, show her the handy chart you've printed out from What's The Difference Between Content Marketing & Inbound Marketing? (And Does It Matter?).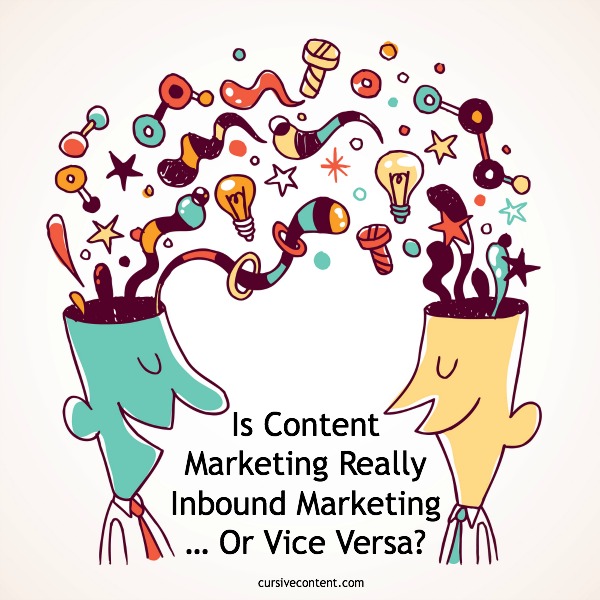 Chapter Three: The antagonist leans back in her chair. "Ok, makes sense," she says. "But does it work?"
You nod fervently (but not too fervently – try to keep it together, buddy) and pull out 12 Stats that Prove Content Marketing is a Must for Marketers.
If she raises her eyebrows in impressed surprise, move that conversation on to Chapter Four.
If her silence screams "Yeah? So?", back those stats up with: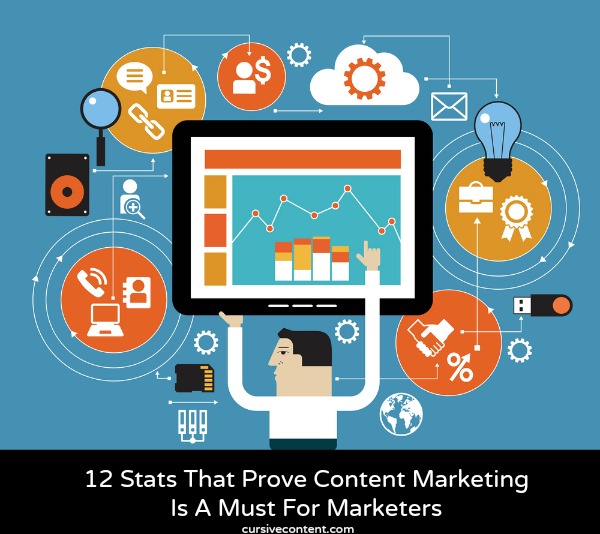 Chapter Four: The antagonist leans forward. You've got her attention. "So, hypothetically, if we were to go this route, where would we start?"
You keep that excitement inside, friend, and show her Confidence Before Content: How To Find Your Content Marketing Sweet Spot.
If she starts looking at her calendar for a date to get the team together, sit back and glide into Chapter Five.
If you can see her mentally shifting back into the "maybe we should stick with what we've been doing" comfort zone, hurry up and explain: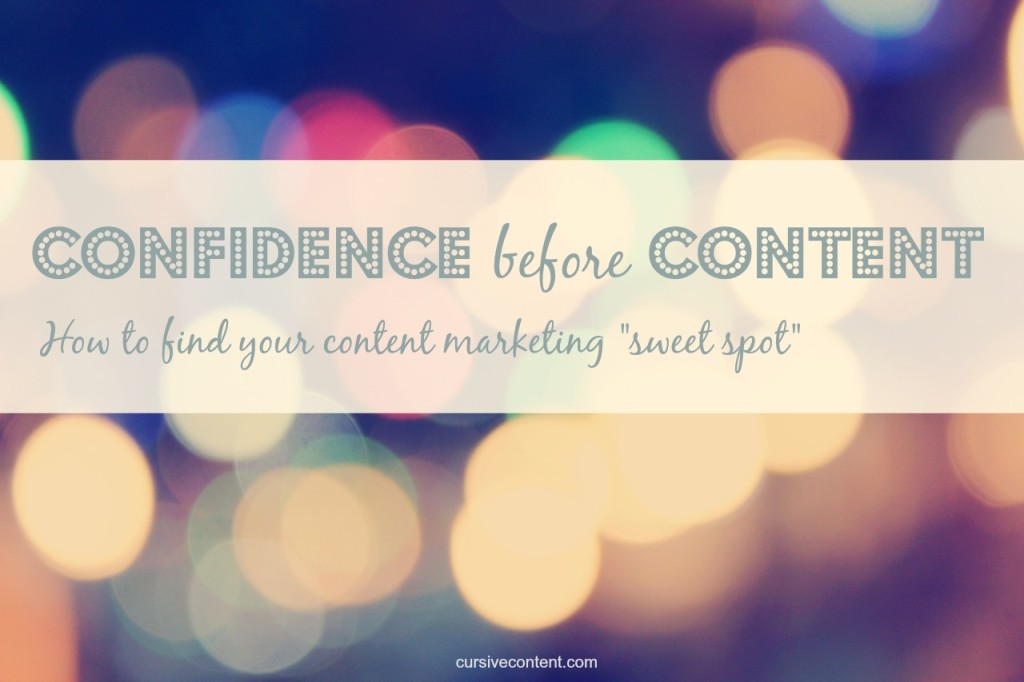 Chapter Five: She's sold. (Go you!) Now it's time for logistics. She asks: "How on earth are we going to pull this off?"
You introduce options with Should You Hire or Outsource for Content Marketing Success?
If she knows the direction she wants to take, be on your jolly way to Chapter Six.
If she's still thrown by the logistics, share: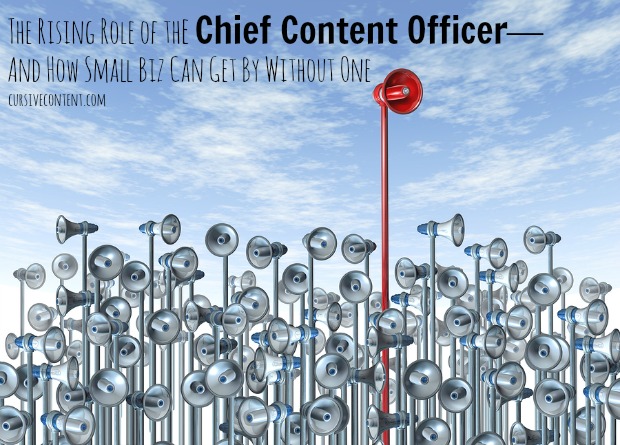 Chapter Six: It's all you now. Your content marketing strategy is in place. Now you have to keep it going – and show the results. You question: "How am I going to keep up this momentum?"
You go back to your bag of tricks and read 8 Secret Daily Habits from the World's Best Content Marketers.
If it gives you the motivation you need, you've made it to the end … which is really just the beginning. 
If you need more content to pump you up, you revisit: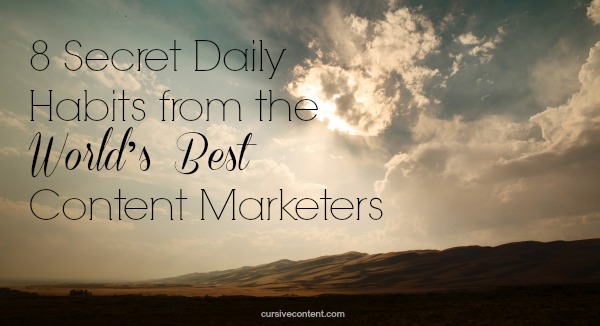 Congratulations! You reached the end of the adventure without killing the protagonist's content marketing dreams!
You deserve a celebration. Or a drink. Or, a thorough read of all the articles included above. Because you never know when you'll be sucked back into a Choose Your Own Content Marketing Adventure.
Let's keep this adventure going in the comments below or over on Twitter or Google+.
Emily is the owner of Cursive Content Marketing. She has been content marketing since the sixth grade, when she created a neighborhood newspaper to build her babysitting authority. (It totally worked.) Today, she helps brands drive business with smart content.
BE A CURSIVE INSIDER.
Get weekly EASY, actionable tips you can use right away to strengthen your school story.