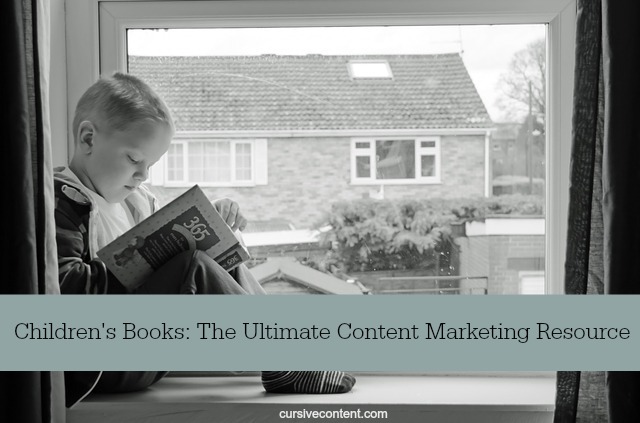 Bedtime in my house goes like this:
Three-year-old: "Ok, just one more book, Mommy, I promise."
Two-year-old: "One more! One more!"
Me: "Ok, just one. And then it's time for bed. For real. I'm not kidding."
We all know how this story ends (hint: it's not with just one more book).
And you know what? As much as I insist the next book is the last, I usually don't mind when our bedtime reading extends beyond bedtime.
Why? Because kids books are AWESOME.   
If you don't have little bookworms in your house like myself, it may have been a while since you've cracked open a Seuss or Carle or Dahl. And that's too bad. These guys really knew how to tell a story.
Children's books are compelling. They're funny. They're emotional. They're endlessly re-readable (trust me, I know from experience). And they're a great source of inspiration and guidance for marketers and bloggers.
Here are the top storytelling tips all content marketers can take away from reading children's books:
Shoot for timeless.
The Cat in the Hat never ages (that dapper fellow). Published by Dr. Seuss almost 70 years ago, it has been a favorite for generations – and it still has my little ones rolling on the floor every night.
The Cat is a lovably absurd and entertaining character. His hijinks aren't confined by the era in which they were written (except when The Cat in the Hat Comes Back and ruins dad's expensive $10 shoes). And the clear yet creative rhymes that tell his story are still memorized and repeated like a childhood mantra.
The lesson: Channel most of your energy into exploring themes that will be meaningful to your audience both today and in the future. While it's fine to supplement your in-depth content with timely pieces, don't limit the life of your top content by tying it to tips, trends or news that will be old tomorrow. Instead, create evergreen pieces that answer customer questions or needs that are ongoing, and you will continue to attract readers long after the initial publication date.
Cut the fluff.
Let me tell you the difference between the good children's books and the horrible ones:
The good ones flow from start to end like a pretty unspooling ribbon. (Think: Where The Wild Things Are or The Giving Tree.)
The horrible ones ramble on with lengthy descriptions and weak word choices, forcing parents to live-edit for brevity (and sanity). (Think: Any mass-market character book based on a cartoon.)
The lesson: Edit your content, cutting extra words, unnecessary details and overused phrases. Read it out loud to see how it flows. Even try reading it to someone else. Check for these writing mistakes. And then edit again.
Explore.
Classics like Curious George and Harold And The Purple Crayon inspire readers to explore places, situations or simply their imaginations and emotions. They bring young readers along on adventures and challenge the ways they view the world around them.They encourage kids to be kids.
The lesson: Be curious. Explore a topic or a question in a unique way. Write down your own opinion before you read the opinions of others. Dig for new facts, or offer a new perspective. Do your research.
Be helpful.
In one of my current favorite children's books Dragons Love Tacos, the taco-loving dragons accidentally burn down a kid's house (with their steamy salsa breath) … but then help him rebuild it. And no one has mastered the art of helpful anti-helping like the quirky classic character Amelia Bedelia. Both are fun and lighthearted stories, yet showcase kindness, caring and friendship.
The lesson: Aim to develop content that will help your audience with an authentic need. Put their interests before your own. Be a friend, be a resource, start a relationship … and they'll reward you with their loyalty.
Get visual.
Visuals help sell a story – even to toddlers. Author/artists like Eric Carle and Sandra Boynton create whimsical stories that are strengthened immensely by their signature artwork. Their colorful characters and visual styles are just as important as their storytelling skills, and have helped them create a lasting legacy in children's literature.
The lesson: Use visuals to support your content. Devote time to finding or creating imagery that will help bring your content to life and keep your reader engaged. Don't worry, there are many content marketing imagery resources out there to help you.
Are you now thinking about your favorite book from childhood? Good!
What made it your favorite? What made you want to read it again and again until the binding broke and the pages wore thin? Think about that the next time you sit down to write something magical.
And if that doesn't work, try writing your next blog post with a big purple crayon. 
Have any tips or advice you'd like to add to this story? Share in the comments below, or join the conversation on Twitter or Google+!