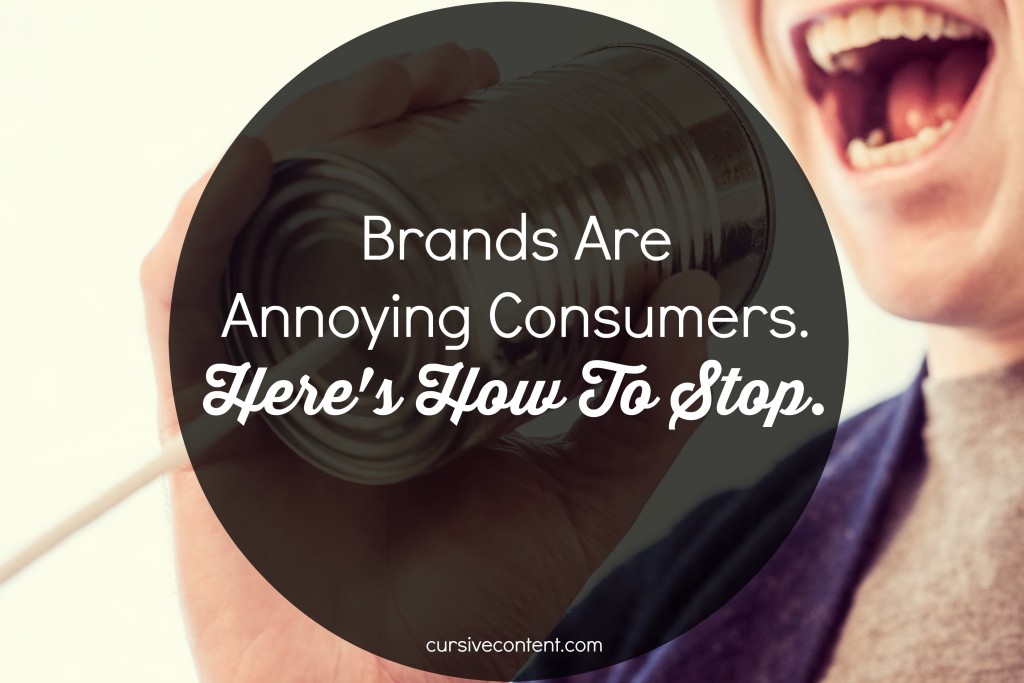 Nothing annoys me more than when my kids continue to do something I've asked them to stop. (Like, jumping from the coffee table to the couch. Or, jumping from the couch to the chair. Or, jumping in general.)
But what makes it worse is when they act like they're surprised that I'm annoyed by their repeat offenses. Because, by now they should know better. I mean, it's been years.
It's annoying, right? When you tell someone not to do something and they keep doing it anyway? Right?
Right, brands?
Marketing Daily reports on a recent Marketo survey of more than 2,200 consumers worldwide. It found:
Nearly two-thirds (63%) of consumers said they are highly annoyed with brands' continued practice of repeating generic advertising messages.
"Highly annoyed" is not the ideal way you want your audience described. Yet most brands are annoying a significant percentage of their customer base by ignoring their pleas to stop the traditional, generic advertising.
The poll shows that consumers are sick of being "shouted at" by brands. They want less ad frequency, more personalization and relevant context across various channels. It also found:
78.6% of consumers will only use a brand's coupons or other offers if they are directly tied to their previous brand interactions.
Consumers are building relationships with brands — and they want brands to acknowledge where that relationship stands. They expect personal experiences, based on their wants, needs and interests.
Chandar Pattabhiram, group vice president of product and corporate marketing at Marketo, told Marketing Daily: "[Marketers] need to adopt a consistent way of communicating with customers across interaction points based on who they are and what they do. And they need to do it across every step of the journey."
Right now, Pattabhiram concludes, marketers are still focused on brand awareness when they need to place more emphasis on consumer experience.
So how can you make sure your marketing is not annoying consumers?
Get to know your customers — create buyer personas that help you define their wants, needs, and challenges.
Understand the customer journey, and the decision-making points your customers pass through on the way to purchase.
Create content that helps your customers move ahead in their decision-making process at their own pace.
Overall, remember that you are marketing to an actual person, not a "consumer." As Pattabhiram said: ""[Marketers] are talking at us rather than engaging with us, and we, as consumers, are beginning to tune them out."
Never miss the content marketing news and research you should know about — sign up below to get our weekly articles delivered to your inbox.
Emily is the owner of Cursive Content Marketing. She has been content marketing since the sixth grade, when she created a neighborhood newspaper to build her babysitting authority. (It totally worked.) Today, she helps brands drive business with smart content.
BE A CURSIVE INSIDER.
Get weekly EASY, actionable tips you can use right away to strengthen your school story.