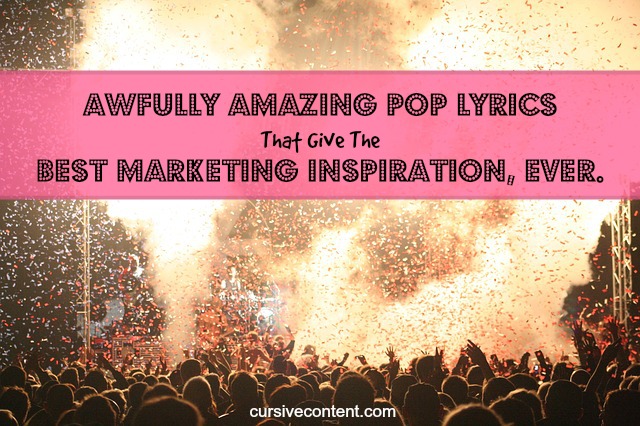 Who knew that Britney Spears, Beyonce and Michael Jackson were also motivational coaches for marketing professionals?
I did. I did. 
Because whenever I hear Britney telling me to "Work, bitch!" or Beyonce lamenting "Got me looking so crazy right now!", I know that in reality, they're saying: "Hey girl! You're doing a great job! Keep at it!" Or, "I know the client seems clueless. But it's not his fault he just discovered QR codes!"
So to thank these divalicious pop artists for the extra oomph, I helped them out by making a few minor proofreading edits to their lyrics. Just a couple tweaks here and there in order to show you, my fellow marketers, what they REALLY mean when they're telling us that we can stand under their umbrella (ella, ella. Thanks, Ri Ri).
Print 'em, pin 'em and use 'em for inspiration to get you through these next few crazy weeks of summer.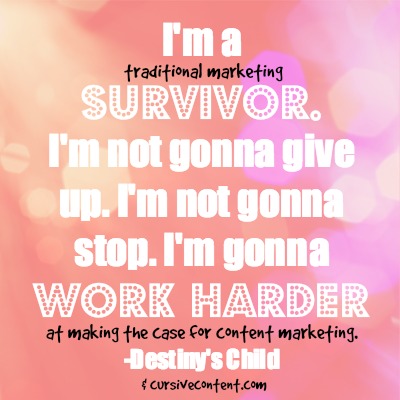 We all know how hard it can be the make the case for content to people who don't want to hear it. But take a lesson from Destiny's Child, my friends. Don't stop. Work harder.
Your friends and colleagues sick of hearing you talk about the importance of creating authentic content? Do what Katy Perry would do: Roar louder.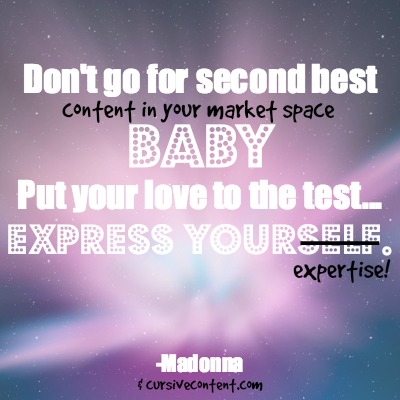 Even Madonna knows it's not enough to simply create content. You have to strive to create the best content in your market space. Express that expertise!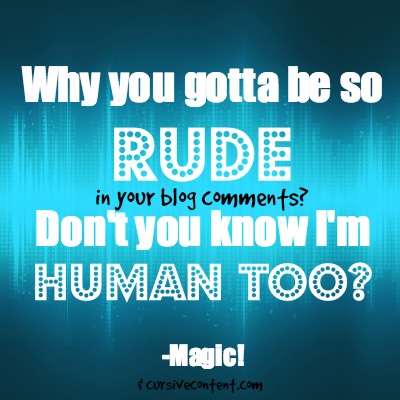 Open discourse is lovely. And so are Internet trolls. Why you gotta be so rude and spammy, trolls? Can't we all just get along?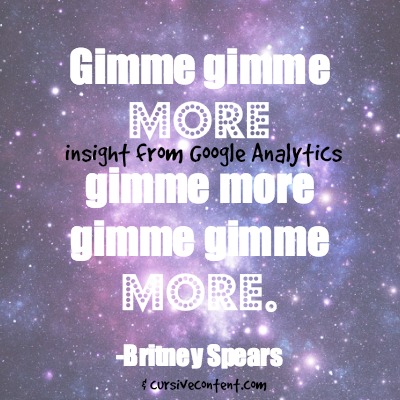 You can learn a lot from Google Analytics. And, like Britney so eloquently says, you could always be learning more. Use it wisely.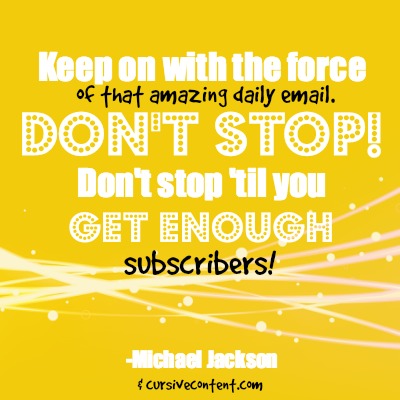 Creating a strong email following is a critical component of content marketing. Mr. Jackson says don't stop 'til you get enough. But what's enough? Hmmm….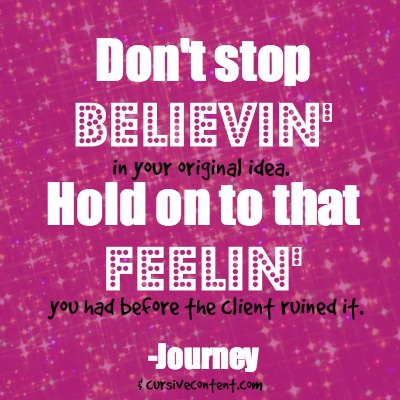 Finally, don't let your summer lovin' be crushed by naysayer clients. Your strategy kicked ass! Your design was awesome! Remember how good you felt right before you presented it to the client?
Now keep that feeling in your heart, and go change the entire thing.
Want some more content marketing love and inspiration? Learn more about our Script Your Story sessions.
Emily is the owner of Cursive Content Marketing. She has been content marketing since the sixth grade, when she created a neighborhood newspaper to build her babysitting authority. (It totally worked.) Today, she helps brands drive business with smart content.
BE A CURSIVE INSIDER.
Get weekly EASY, actionable tips you can use right away to strengthen your school story.